When deciding which Hawaiian islands to visit, it can be a very tough decision, as there is so much to see and do on all of them.  I wanted to pick two islands that were going to provide different experiences, so I decided on the Big Island to go with my Kauai visit.  As much as I love the beach and relaxing, I like gathering new experiences wherever I go, and the Big Island certainly was intriguing with its volcano and the opportunity to scuba dive with the manta rays, known as one of the world's best dives.   With the volcano on one side of the island and the diving on the other, I wasn't sure where to stay, and if it would require a lot of time in the car switching hotels.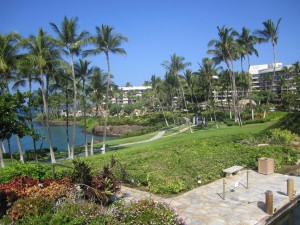 Then I called the Hilton Waikoloa Village and they were so helpful in figuring out the best itinerary. It turns out they work with Hawaii Forest and Trail, a company that provides full day tours to the volcano, so you can plant yourself on the west coast and leave the rest to them.
The Hilton Waikoloa Village is an amazing resort and a beautiful and fun place to stay as a couple or with your family.  There is so much to do as a family such as the dolphin quest, where you can have an interactive experience with the dolphins.  I've never been to resort that has it on premise, so this is definitely a big treat.  It's also great to have the opportunity to watch the dolphins from your hotel room terrace!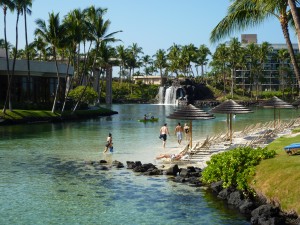 There is a huge pool and waterslide, Club Keiki, the camp for kids, so you can have some alone time, and the lagoon where you can rent paddleboats, water bikes, kayaks, and snorkel equipment through Ocean Sports.  This past summer I had seen a lot of people doing the stand up paddleboarding and I always wanted to try it, but I was a bit hesitant.  However, with Ocean Sports, they will give you a quick lesson and you can practice in the calm waters, which is a great place to get acclimated with the board, keeping your balance and learning how to maneuver yourself around the lagoon.
If you are here as a couple, don't worry, you won't be surrounded by screaming children, as the resort is vast in size…so big that it even has a monorail running through it!  I've stayed at resorts in the past where you would not want to stay  if you were on your honeymoon, but this is not one of them.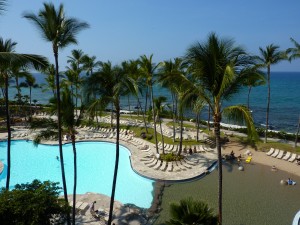 I was only here for two full days, so I did not get a chance to eat dinner at the resort, as I was diving one night and on the volcano tour the other, but there are some great restaurants to choose from for all your meals with a wide variety of cuisine from Japanese to traditional Hawaiian cuisine, and something for everyone's budget.  For breakfast, I hit up the lagoon spoon, which serves a very generous portion of your choice of two cereals and two toppings with milk for just $4.95.  For lunch, there is everything from inexpensive take-out from the marketplace, a casual poolside grill to a sit down restaurant.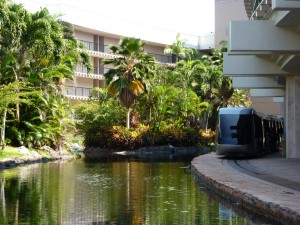 There is also a shuttle that goes back and forth to the shops in the Waikoloa Village which includes a supermarket in case you'd like to stock up.  For couples looking to unwind, relax and stay in shape, there is the Kohala Spa and fitness center.
One of my favorite parts of this stay was unquestionably the room and its terrace. The bed was extremely comfy (like it is at all Hilton hotels) and we stayed in a room overlooking the ocean and pool, so each night, we were able to leave our terrace door open to fall asleep to the sound of the ocean and wake up to the gorgeous sun and the sound of the waves below.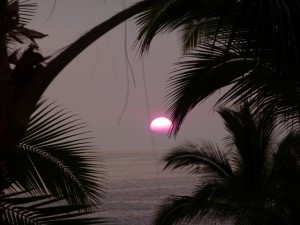 There is nothing more serene and beautiful than the sound of the ocean and the view of palm trees.  It's very easy to start your day, as it's extremely difficult to stay in bed with this around you!
The Hilton Waikoloa Village has everything you can ever ask for in a Hawaiian resort…breathtaking scenery and views, lots of activities, shopping, a wide variety of cuisine choices, and a friendly staff.   For your trip to the Big Island, there's no better choice than the Hilton Waikola Village for amazing beauty, comfort and fun!