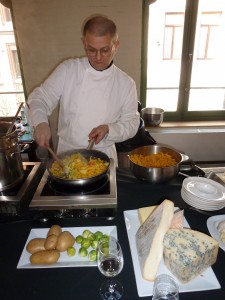 Since arriving in Brussels on Thursday morning, I have been to tastings, cooking demonstrations, and have been eating and eating and eating.  Today was the kickoff of Brusselicious 2012, the year of gastronomy hear in Brussels and I can't think of any better time to visit than now to take advantage of the incredible talent of so many of the local chefs.   You may have been to a Belgium restaurant at home and enjoyed the frites or extensive varieties of beers, but nothing compares to the staples such as chocolate made on premise at a quaint shop, the true Belgian waffle you can get on the street (there are two kinds…one from Brussels and one from Leige and you must try both!), the mussels and french fries, croquettes and cheeses.  Today we had a cooking demonstration for lunch, in which a few top chefs in the area showed us how they made their magic, all incorporating brussels sprouts, and of course we got to eat what was made, which was delicious!  The dishes included everything healthy and simple but creative options from the top restaurant, Lola,  to more creamy  creations from the fine Italian restaurants.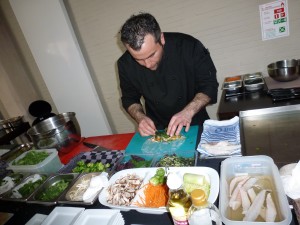 Dinner was prepared by Michelin star rated chefs and the mixture of taste and creativity made for a mouthwatering experience of seafood and meat dishes.
Throughout Brussels, there are many cheese, pastry,  and chocolate shops and stands to grab a quick croquette or waffle.  You can do your own eating and walking tour and eat all day!  Another option is a tram experience in which you can take a two hour tour around the city while enjoying fine dining and drinks all for just 75 Euros, which will include the tour, your upscale meal, two glasses of white and red wine and champagne.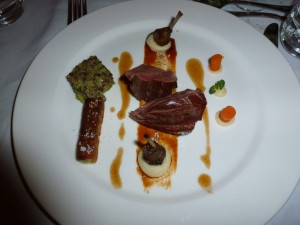 While in Brussels, we stayed at the Royal Windsor Hotel, which was centrally located and comfortable, with a gym and delicious breakfast buffet offered.  The hotel's breakfast was part of the 20 hotels offering a Brusselicious breakfast, which included at least eight local items, such as a Saint Love jam from the town of Durbuy, actually the smallest city in the world and the jam is all made in one home with some very interesting combinations.  With all of the eating and drinking, every morning I had high hopes of working it off, but instead the breakfast buffet and tastings won out!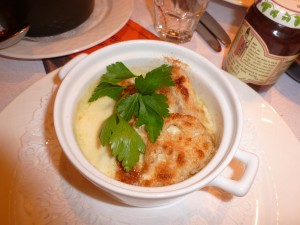 While there is a lot to do in Brussels, you may also opt to take a quick train ride of about one hour to another fun city, Leige.  In Leige, we stayed at the Crowne Plaza, which I highly recommend!  As a historical site, a good part of its original architecture was preserved but the rooms are ultra modern with very comfortable beds and amenities.  They also have a comprehensive gym and spa facility, which again I chose eating instead of working out, so unfortunately, did not get to partake.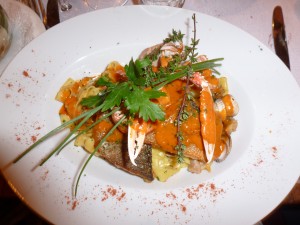 The restaurants and nightlife in Leige are a lot of fun.  During the day, you can take a walking tour of the historical city or go shopping, and at night, try dishes such as the boulet de liege or boulet liegois, which are meatballs under a sauce consisting of a regional spread made from apples and pears.  It is absolutely to die for!  We also tried the frog legs, which were actually very good ( not like the kind you get off the Chinese buffet in the U.S!)  We went to Bistrot d'en Face for dinner and for after dinner drinks, you must try some of the local gin like liquor, known as genever, at a place called Maison du Peket.  They mix the liquor with various fruits from kiwi to lemon and then light them on a fire.  At first, the thought of a flame going down my throat as I sucked the shot out through a straw frightened me, but you know what they say, when in Belgium….!  Let's just say it added a bit of a warmth going down and I don't understand how the bachelor party I was hanging out with were able to down one after another.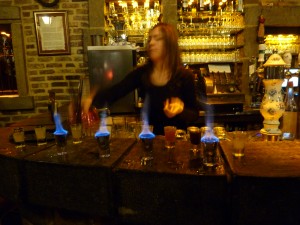 The next day it was back to Brussels for a stay at the Dominican Hotel, which was a hip, very comfortable hotel with a nice bar, lounge area and gym.  It was convenient to everything and the breakfast was terrific!  For our last dinner, we enjoyed more of the food we were able to sample at the tasting a few days earlier from the phenomenal chefs at Lola, a perfect way to end what was a terrific few days in Brussels and Leige!
If you are deciding where your next trip will be, definitely check out Belgium and start in Brussels.  If you are like me and enjoy eating your way through a country, you will more than enjoy your time here!  There are some exciting things going on throughout 2012, so check out their websites to read all about Belgium and the many gastronomy events!  www.visitbelgium.com or www.visitbelgium.com/belgianbites