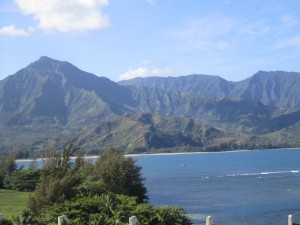 Kauai is a magical place.  It's an island that welcomes you with warm alohas, gorgeous blue skies filled with little puffy white clouds, but not enough to take away the sunshine, a fascinating coastline, and a remarkable canyon.  Kaua'i will sweep you off your feet with its beauty and romance.  If you are celebrating an engagement, wedding, anniversary, or just a special getaway, Kaua'i will enchant you with its beautiful hotels, hiking, sailing, scuba diving and perhaps one of the most breathtaking ways to see the island, by helicopter.   The oldest of the Hawaiian islands, Kaua'i is beautiful throughout, but has a different flare depending on where you are on the island.   My trip took me around the island with the opportunity to explore different properties.  Below is a suggested itinerary if you'd like to do what we did, or you may choose to plant yourself at one resort and explore the island each day by car.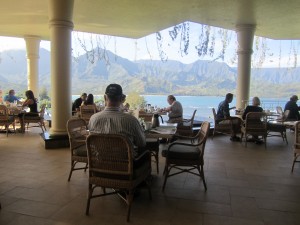 Start off in the north at the prestigious St. Regis.  You'll enjoy a magnificent view of Hanalei Bay.  Eating their delicious and comprehensive breakfast buffet overlooking the mountains and water each morning does wonders for your soul.   Plus, you can feel a little less guilty about how much you eat, because the morning boot camp class will give you an invigorating workout on the beach.  With the view of palm trees and the ocean, you'll be motivated for any workout, no matter how challenging!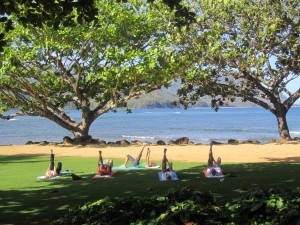 Their spa is also a great place to unwind and enjoy treatments utilizing organically grown products from the island.   If you choose to stay on Poipu Beach, the Sheraton Kauai Resort is a great choice.  With an oceanview room, you will enjoy gorgeous sunsets on your own private terrace.  The beach is beautiful and if you like relaxing at the property, they have two great restaurants, which also provide great sunset views.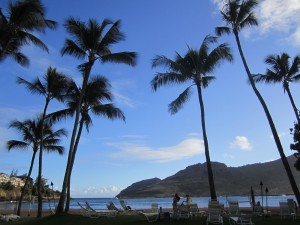 After dinner, hang out with friends at the bar or relax on the beach with your loved one and listen to the sound of the waves and feel the tropical breeze around you.   Another option for accommodations is the Kaua'i Marriott Resort and Beach Club.   This is a great property if you're looking for something close to the airport.  They provide a complimentary shuttle and also provide free parking, which is a nice perk if you rent a car.  You can also get some great souvenirs at unexpected stores like Walmart , Kmart and Cosco, all very closeby.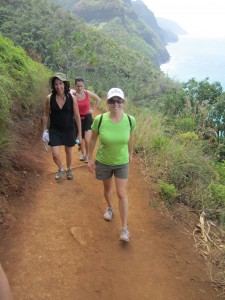 When in Kaua'i, there are many activities from which to choose.  I would recommend choosing activities that enable you to see the amazing scenery of the island by sea, on foot and by air.   Kayak Kaua'i  offers hiking and kayaking tours as well as surfing and paddle board lessons, which are very popular in Hawaii.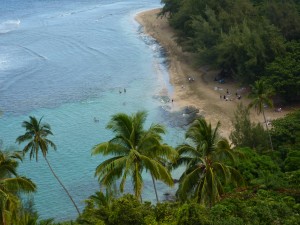 Hiking the Na Pali coast will provide you with sweeping views of the ocean from above.  We hiked the first two miles and stopped for lunch on some rocks at the beach.  It is a great hike, but can be slippery at times and a little challenging at others.  However, I saw people of all ages and body types on the trail.
Taking a sail up the coast and looking up is equally breathtaking.  Captain Andy's Sailing Adventures will take you on a half day sail up the Na Pali coast and  if you look close enough, you can see the hikers climbing the mountains you were climbing the day before.  You'll pass by caves, and if you choose to take a zodiac ride, they will take inside some of them.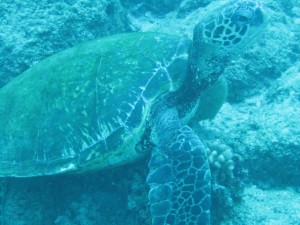 After a great sail, you'll stop to snorkel and possibly see some nice sized turtles swimming around with you.  After working up an appetite, you'll come back on the boat for a freshly cooked bbq lunch and drinks.
You'll also want to spend part of a day exploring Waimea Canyon.  Even if you don't have a chance or want to hike it, there is an easy drive up to 4000 feet in elevation with a few lookout points along the way for some great picture taking.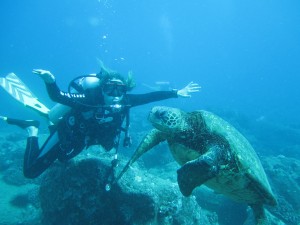 The Allerton Estate Tour of the National Tropical Botanical Gardens is a beautiful place to stop as well.
If you're a seasoned scuba diver or even a beginner, SeaSport Divers is a top dive operation located in Kauai with multiple locations, with the main store in Poipu Beach. Their other store is on the east side of the island in KAPAA.  Seasport Divers is a multiple Rodale's Readers Choice Award Winner.  They were Voted #1 on Kauai, #5 in the Pacific and Indian oceans and rate as one of the 10 Best Scuba Diving Operators in the US, with a straight "A" rating.  Seasport Divers is the only scuba Diving Company on Kauai with multiple locations.  I had such a great dive experience with them.  From the moment I walked in the door, Frank was extremely welcoming and set me up with everything I needed.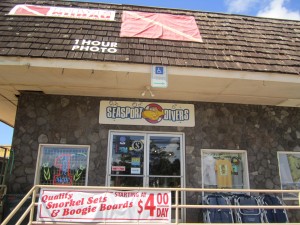 I felt a sense of confidence with this company, especially during the safety briefing.  They were extremely thorough before even getting on the boat.  A lot of dive companies do not explain as much as he did or go into such detail.  While on the boat, divemasters James, Meghan and Frank, made sure all of our gear was set up and working properly.  Captain Andrew led us to the amazing dive sites of Nukumoi and Sheraton Caverns.  While down under, they always made sure everyone was together and when one diver decided to take off on his own, Frank took measures to find him immediately.   James was great with the new divers and took them in a separate group so they didn't feel the pressure of keeping up with everyone else for their first time out.  Meghan took us down for the second dive in which there were huge turtles everywhere!  I've never seen so many turtles in one place, so it was a real treat.  She captured everything on video so one could take it home to always remember the dive.  Frank, James and Meghan were not only a skilled group of divemasters, but also a fun one, and made the Kauai dive a memorable one.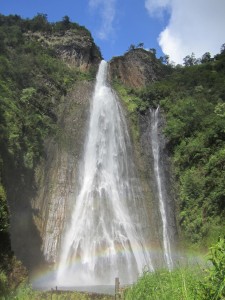 Perhaps the most spectacular way to see the landscape of the island is by helicopter.   Island Helicopters offers an exclusive Jurassic Falls Landing Adventure.  In addition to your hour and half ride over the island, you will land at the Manawaiopuna Falls, the falls used in the movie Jurassic Park and only accessible by air.  As we rode deeper into the Waimea Canyon and along the coastline, I was overcome with emotion by the sheer beauty.  With everything we had seen while hiking and from the water, I couldn't imagine it could get anymore gorgeous.  But it did and I think I had a huge smile my face for the entire ride.  If you're looking for romance, do not leave this out!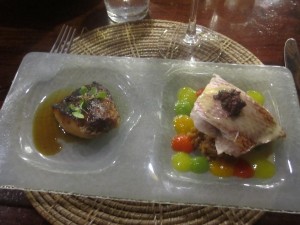 All of the food on the island was delicious with lots of fresh fish.  However, one restaurant is an absolute must visit.  Joesslin's Tapa's Bar and Grill is a favorite among locals and tourists and for good reason.  The world renowned chef, Jean Marie Josselin prepares organic, fresh dishes in with impeccable style and creativity.  Many of the dishes we tasted included ingredients I had never had before, but were local to the region.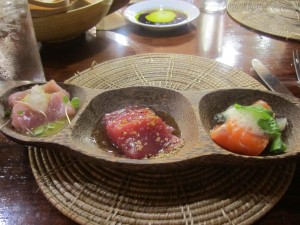 The dining experience was incredible and you should definitely make a dinner stop here.
I've seen some places over these past few years, but I can definitely understand why so many people visit Kaua'i for their honeymoons.  It exudes romance without even trying.  As soon as you step off the plane, an air of relaxation will fulfill you and you'll realize you're in Paradise!  As they say in Hawaii, Mahalo for reading my article and I hope I've inspired you to begin or renew your relationship in Kaua'i!