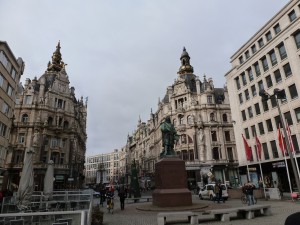 When I planned my European getaway, I was going to be in Paris on February 15 and I thought, oh it's too bad I won't be there on Valentine's Day.  However, I had no idea I'd be in another romantic city, which was also a great place to be for Valentine's Day.  I was in Antwerp, and I was surrounded by diamonds and chocolate!  Can you ask for a more appropriate setting?  I think not!   Antwerp is considered to be the diamond capital of the world, with 70% of all diamonds coming from Antwerp.  You can find any type of diamond your heart desires, and in the process learn all about what is most important when choosing the right cut, color and clarity.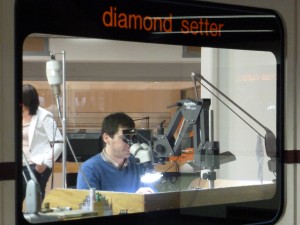 Diamondland is the place to go to learn about everything you need to know.  You can go in anytime and ask to be seen upstairs, where you can watch the people at work and also ask any and all questions.  For novices, it's a great place to go to learn about what aspects are really important in choosing a diamond and if you are ready to make the big purchase, there is no shortage of stones from which to choose.  In addition to your standard designs, they even had ones in the shape of an animal if you are just that close with your pet!  The diamond trade has been going on in Antwerp for more than 700 years.
In addition to it being the place to go for everything diamond related, it 's also a big shopping mecca, with Meir being the most famous shopping street in Antwerp.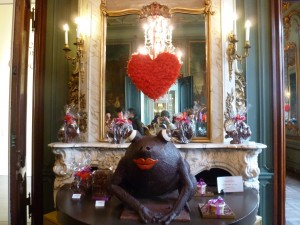 As you take in all the modern European shops, you can enjoy buildings from the 18th and 19th centuries.  If it's a nice day out, relax at one of the cafes with outdoor terraces.  While Antwerp is a bustling city, people tend to go at a more relaxed pace.  With the various districts, you will sure find something for everyone's interests, from antiques and collectibles to vintage designs and gadgets of the fifties and sixties.  There are also some really delicious restaurants such as Het Pomphuis and Zuiderterras on the River Scheldt, and when the weather is nice, you should take a cruise.  The port of Antwerp is currently the second largest port in Europe and the most important gateway in Europe.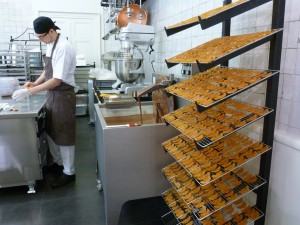 There are also some great museums and churches to visit, so hopefully you will have more time than the one day I spent there, but I did get a taste for the great city and I know I'd definitely go back.
A perfect place to stay while in Antwerp is the Radisson Blu Astrid Hotel, which is right in city center across from the train station, making it very convenient if you are coming or going somewhere else in Belgium.  We were running out of the hotel in Bruges to catch the train to Antwerp and by mistake I left all of our Rail Europe passes at the hotel!  We thought we would have to go back and get them, but the staff at the Radisson Blu was so helpful and arranged for them to be sent to us the next day.  They definitely made my life a lot easier and were so helpful.  The lobby is sleek with a great bar and restaurant and they serve an expansive breakfast, known as the best in the city.  They also offer free wifi, which is always a big plus when traveling.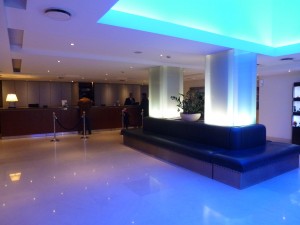 I've stayed at Radisson Blu hotels before and I really like the brand.  I've stayed at their properties in Scandinavia and now in Europe.  You can rest assured you will always be getting a quality hotel with good service and accommodations.  For more information on Antwerp and everything Flanders, check out www.visitflanders.us