After a short taxi ride to Union Station in Toronto, I hopped aboard VIA rail, which is a great way to travel throughout Canada!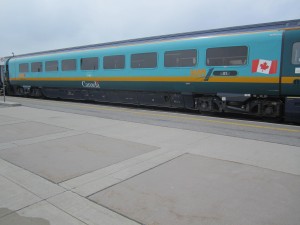 It was about an hour and a half ride to Cobourg, which is just outside Port Hope, Ontario, the home of the Dorset Manor Spa.   VIA rail is very comfortable, whether you are riding in coach or business class.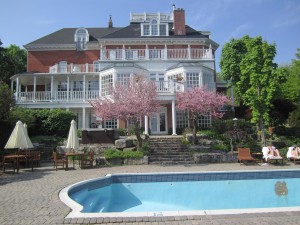 In business class, you will be spoiled with wide seats, free drinks and a great meal.  The food was outstanding.  I had salmon cakes with basmati rice and vegetables and it was better than any airline food I've had!  There is also free wi-fi on board, which makes the trip fly by.
Upon arrival into Cobourg, a representative from the Dorset Manor Spa was there to greet me and take me to the spa.   As soon as I stepped into the old Victorian home overlooking Lake Ontario with beautiful lush views, I knew it would be easy to relax.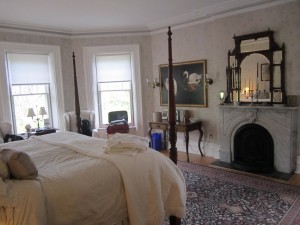 I began my day with a delicious lunch full of fresh vegetables from their gardens and a delicious potato and leek soup followed up by a fruit cup for dessert.  After lunch, I changed into my robe for what was going to be a day full of two treatments, the first called Caribbean Therapy in Which Rob, who is an awesome therapist, exfoliated my skin and then massaged seaweed all over!   After he wrapped me up, he proceeded to massage my neck and scalp, which got me into total relaxation mode.  After showering off the seaweed, he followed it up with a 20 minute massage which focused on releasing the muscles around my shoulders and pulling them back, which most people should get done since they sit at a computer all day or drive a lot.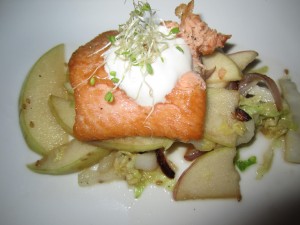 After my session with Rob, my skin was as smooth as butter!  I definitely need to exfoliate more often!  I had an hour before my next session, so I had some of their homemade tea and an apple as I took in the sun on my room's balcony.  It was then time for my 90 minute Swedish massage which was just as out of this world as the last treatment.  I told her the area on my body that was hurting and I wish I could tell you what she did throughout the session, but I fell into a deep sleep!
After dinner, which was also extremely good, especially the trout over warm apple appetizer and the sorbet for dessert, I relaxed in the outdoor whirlpool and sauna before settling into my Victorian style room full of antiques and soft classical music playing in the background.   Dorset Manor Spa is the sister spa to the widely popular St. Anne Spa, which has been voted Canada's number one spa for five years in a row.  I am told this is just a smaller version of that spa.  It doesn't have the wellness classes of St. Anne's, but instead of being set on a large property, you have the quaint town of Port Hope to work to.  The therapists work at both, so you are going to get the same caliber of treatment no matter where you stay.  It's really the perfect place to go if you're looking for a quiet retreat.  It has just nine luxurious guestrooms, making for a very intimate setting.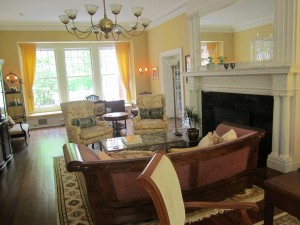 I slept like a baby and while I didn't sleep long enough in what was such a comfortable bed, the nutritious breakfast woke me up.  The multigrain pancakes topped with apples were delicious!  Every breakfast also comes with a continental bar including fruit, yogurt, granola and pastries and your choices or juices or tea/coffee.   After checking out, I did a quick tour through Port Hope and Cobourg and was back on VIA train for my next stop in Ottawa.