After two packed days of touring, shopping and eating my way through Copenhagen, I am back on SAS for my direct flight back to Newark.  I absolutely love Copenhagen airport and SAS's economy extra's seats and airport procedures.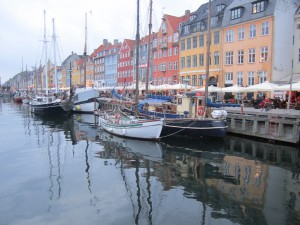 As an economy extra passenger, not only do you have the benefit of more legroom and wider seats, but a big bonus in the ability to check in with the business class and avoid the long lines.  There is also a fast track through security, which means I had extra time for last minute shopping at Copenhagen airport!  They have a huge selection of stores in addition to your souvenir shops.   They know how to do it right, also providing free carts throughout the airport so you can wheel you way to your gate and don't have the standard back pain from lugging your suitcases!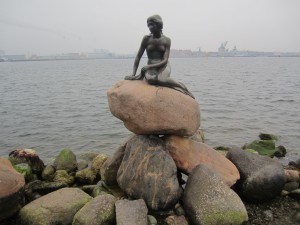 If you ever have the option to fly or stopover in Copenhagen airport, try to check out the airport!  The train into the city center and metro are also conveniently located, making it unnecessary to get a cab.
I fell in love with Copenhagen, its way of life and people.  It's a beautiful city with many museums, romantic castles, canals, delicious restaurants, and an active nightlife.  From what I saw, people looked happy, and a big reason for this is probably because they are always getting fresh air and exercise, as they ride their bikes everywhere.  They commute to work by bike, go to dinner by bike, and even park them outside the nightclubs.  The city has really done a great job in carving out bike lanes, but be careful not to walk in them..it could be dangerous for you!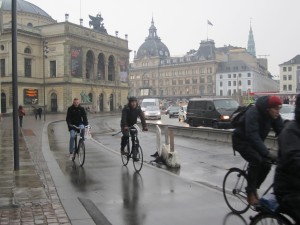 One of the traditional foods in Copenhagen is the Smørrebrød, an open-faced sandwich with either meat or fish served on one piece of bread. For lunch the first day, we ate at Cap Horn along the canal in Nyhavn.  I ordered their their sampler which included mini sandwiches of  herring, salmon, and corned beef.  We had some phenominal dinners at some pretty hip restaurants including Kødbyens Fiskebar and Madklubben Bistro de-luxe.  Unlike in restaurants in NYC, one never feels rushed and you can spend hours enjoying your meal and company.  Delicious bread is also in ample supply.  Fiskebar prepares all of it's meals from local fisherman and gardens and the freshness and quality of each dish is remarkable.  Located in the meatpacking district, this is a great hotspot for an evening out or for dinner and drinks before heading out to the bars.  They have an extensive wine and cocktail list and their raw bar is  incredible.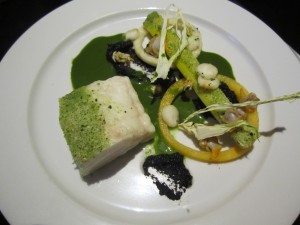 I tried the Danish oysters which were unike anything I've ever tasted!  They were huge!  At Madklubben, they make the menu very simple.  Appetizers are 50 DKK each, entrees 100 DKK, sides 25 DKK and dessert, 50 DKK.  On some dishes like the steak and fish, there is an extra charge, but it's still really reasonable.  Again the food was full of flavor and really fresh.  I told them I was lactose intollerant and they made sure everything was made without cream/milk/butter.
I would recommend taking a canal tour on your first day in Copenhagen as a great way to acclimate yourself with the city and see all of the highlights from the water.  There are different neighborhoods, all with different character.  From the main shopping area, Strøget, with the high end shops to Nørrebro, which has more a middle eastern/west village feel to  the offbeat community of Christiana. In 1971, many young and homeless people moved in, without the city's permission, proclaiming Christiania a "free city," which means they are free from the rules and regulations of the rest of Copenhagen.  Unless you like to hang out with the druggies and homeless, you probably don't want to spend a lot of time here.  And definitely don't try to take any pictures!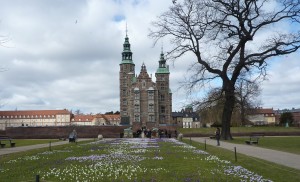 There are a number of museums and castles to see.  Since I only had two days there, I went to the Museum of Danish Resistance and the Rosenborg Castle, which were both great experiences.  If you have the opportunity to visit Copenhagen in the spring or summer, definitely pay a visit to Tivoli Gardens.  There are so many places to visit in this world, but I would definitely go back to Denmark when the weather is really nice.  I hear it's also really a great place to visit during Christmas time as there are many Christmas markets.  No matter when you go, the people, restaurants and neighborhoods will be the same, and that will be a great time!  Pictures coming soon!