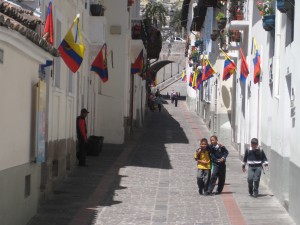 I'm in the middle of the world surrounded by so many multicultural and multi-ethnic groups. I flew into Quito on Thursday morning aboard LAN Airlines. I had never flown with LAN before, but they had a non-stop flight from JFK to Guayaquil and then an easy transfer from Guayaquil to Quito. I was really impressed with the service both in the airport and aboard the 6.5 hour flight. The plane was comfortable and since it wasn't overbooked, I got to lay out across a whole row, which is always a welcome bonus. Every seat had a personalized entertainment television with great movies, music, and games. Upon arriving in Quito, I checked into the Best Western Plaza and Casino. My suite style room was very spacious and comfortable and they gave me some casino money to start with, so that was fun of course. While it was a nice hotel, it's more for business travelers, as the main nightlife is about 15 minutes away. However, cabs are so inexpensive, that you'll be able to go back and forth easily for around three or four dollars. Remember to ask for a room on a high floor though because if they have private parties going on like they did when I was there, you won't get to sleep before 2am.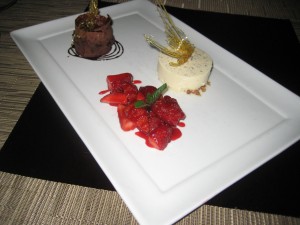 That night I had dinner at a phenomenal restaurant, Zazu. We had the tasting menu and chef Alexander came out after each course to explain the delectable seafood and duck dishes were eating. Every Peruvian and Ecuadorian style course had intense flavor and was made from the freshest ingredients. The next day I met my guide, Mauricio Baus, and we headed to the Old City of Quito. It was quite amazing seeing the transformation from the new part to the old, more colonial buildings dating back hundreds of years. Since I was only going to be in the area for two days, we had to make the most of our morning and he did a great job fitting as much in as possible in the short amount of time. We saw a few churches, two made of gold, the grandest of them all being the Campania de Jesus Church. This church took over 100 years to build from 1605 to 1765. Independence square is the heart of the city and you can see the multi cultural and multi ethnic groups of Ecuador gathering in one place. There are over 20 indigenous groups and 87 churches in the old part of Quito. UNESCO named it a cultural heritage site in 1978. San Fransicsco square is also a great place to hang out with the great Panama hat store. Another place you'll want to check out is the Escuela Taller.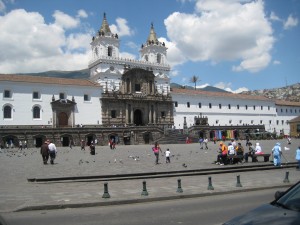 I was so impressed with the woodworking skills of the students there and it made me see just how much work goes into each carving. The fair trade store sells some great Ecuadorian chocolate and you can go downstairs to see some of the artistic crafts made locally that are also for sale. The City Museum is a great place to see the evolution and history of Ecuador and its people.
One thing I have to say about my stay in Quito was that I never had one bad meal. Each one was so delicious and what I loved most was that everywhere we went I was able to get freshly squeezed juices such Naranjilla and tree tomato which were my favorites. For lunch at the hotel Patio Anduluz, we sat in a beautiful atrium and I had a delicious avocoado stuffed with shrimp. I love avocado so I was in heaven because it comes naturally in so many dishes! For an entrée, I had the sea and earth, a mixture of langostina and beef piled high with grilled veggies.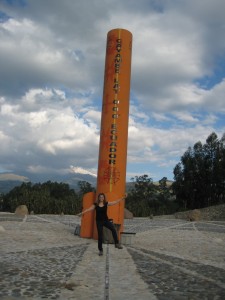 After lunch, we drove to the Mitad del Mundo- the middle of the world, and I stood on the equator with one foot in each hemisphere with mountains as the backdrop. You can see exactly what time it is based on the shadow that hits the sundial. It was interesting to hear the scientific way in which they figure it all out and for just a $1 donation, they will explain it to you.
As we made our way to Otavalo, we stopped in Cyambe at Rosadex, an amazing rose farm. It's like nothing I've ever seen before. The Ecuadorian rose can grow to great lengths because of the sun on the equator. There is a whole production team who then take them from the greenhouse and cuts them to the starndard length depending on where they are bring shipped. The vibrancy and bright variety of colors was breathtaking. Gloria is the owner and showed us her beautiful home filled with generations of antiques and gorgeous roses of many colors and scents and a beautiful rose pond out front. She and her husband will gladly welcome visitors who would like to tour the farm and her home.
That night we stayed at the Hacienda Cusin, a great place to stay if you'd like to check out the popular indigenous market in Otavalo. While they are open everyday, Saturday is their big day and if you get there around 9am, you can see the animal market, which is quite the experience!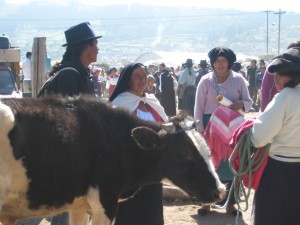 The locals come out to sell their animals and others from various parts of Ecuador bargain for a good deal. It was amazing how many goats, bulls, cows, roosters, and pigs were there, many being pulled on a leash and others just being held by their owner.
For those sensitive to animals, you may want to skip the market, but it definitely is something to see if you'd like to get a sense for the life in the Otavalo community.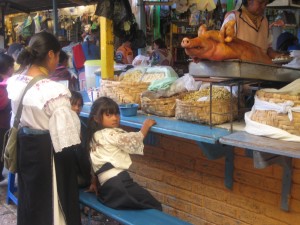 After the animal market, I walked around the other market which had many locals selling items made in Ecuador such as handbags, panama hats, sweaters, shawls, etc. Be sure to walk all the way back towards the church so you can experience a part of the market that most tourists don't go to. Inside the fruit and vegetable market back there, you can get a bite to eat, but after seeing all of the meats hanging and the full pigs with their heads roasted and out on display, you may think twice.I saved my appetite for lunch at the Hacienda Pinsaqui, where I had a delicious shrimp cerviche with corn kernels to sprinkle in, traditional way of eating ceviche in Ecuador, and trout with veggies and rice. The gardens at the hacienda are beautiful and definitely a great spot for pictures and relaxing.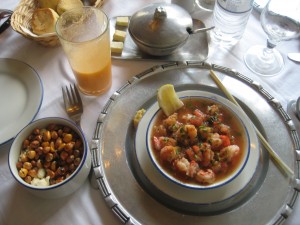 The drive back was beautiful, with the mountains, valleys and deep canyons around us. Since it was Saturday night when we got back to Quito, I went out to have a bite to eat at the in the heart of  the Mariscal region of Quito. This is where most people go Thursday through Saturday nights to hang out. The square is filled with restaurants and bars with live music as well as a casino.The next morning I was off to the airport for my trip to the Galapagos. Read all about that in my next few entries!