As I sit here writing this blog entry, the sound of the ocean waves are behind me and the Fijian musicians are to my right playing their soft guitar music and singing along in their harmonious voices.  I love how so many Fijians are into their music and have the most beautiful voices.  When we paid a visit to the village yesterday, it was precious hearing the young boys and girls singing along to the men who were playing their guitars.  It will be difficult to leave in the morning, but it has been an outstanding stay.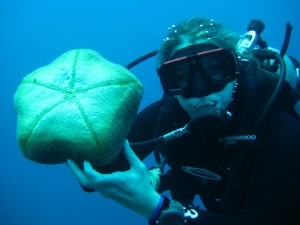 After a single tank dive today with Ally, I took the day trip the resort offers to Tavoro Waterfalls on Taveuni Island.  Despite the muddy conditions from the rain the night before, it was a beautiful hike.  You have the option of stopping at three separate waterfalls and if the water is calm and rocks not slippery, go for a swim in the waterfalls, which we did in the first one.  There was a couple getting married at one of the waterfalls and they had an arch made up purely of flowers and plants.  It was beautiful and a great backdrop for the special occasion. The resort packs a nice lunch consisting of salad, fruits, and quiche and has cookies and tea waiting for you after the long, but exhilarating hike.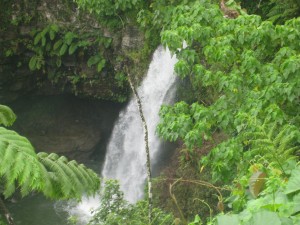 I'm about to sit down to a delicious dinner (I have not had one bad meal here) in their open air dining area.  It also makes the perfect gathering place for anyone who must be on their computers since they have free wi-fi (I wouldn't be if I wasn't working!) or if you just want to hang out and have a drink.  There is always peaceful music playing in the background and you are pretty much forced to relax.  Plus everyone around you is on Fiji time, so I had to be told to just slow down and not worry about running to be anywhere at a certain time.
As a family run resort, they really strive to make everyone happy and they do an excellent job of it.  I also felt completely safe and as though everyone was looking out for me to make sure I didn't have to worry about a thing.  For instance, when I got back from my muddy hike and asked for a scrub brush for my sneakers, they took them instead and said they'd have them clean for me by the morning.  The owners still have an active role in the resort and so many who work there are related to one another, so it really is one big family and they sure make you feel like an integral part of it when spending your days and nights with them.