Whether you've just started dating or have been married for awhile with kids, everyone needs a little jolt in their relationship from time to time.  While it may be tough to get away for a long period of time, all you need is one weekend and a trip to the Poconos for an unforgettable experience.  I recently stayed at the Cove Haven Resort, nestled on a cove of Pennsylvania's largest man-made lake, Lake Wallenpaupack.  The resort is one of the three all-inclusive Caesars Pocono Resorts, which means you can pay for one and play at all three, which are located throughout the Poconos.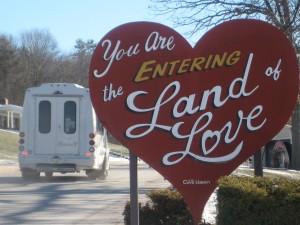 Most of us have heard or seen pictures of heart shaped pools and champagne glass jacuzzis.  Well, that's exactly what you'll get at Cove Haven!  When you drive into the property, you'll probably get a good laugh, as the signs remind you of the 60s, and the rooms are definitely what the pictures show!  While some may think it's cheesy, it's exactly what you'd expect in the Poconos.  Our room had a round bed surrounded my mirrors on the ceiling and walls, a heart-shaped swimming pool, sauna, massage table, and a 7 foot champagne glass jacuzzi.  How could you not get in the mood with a room like this?!
Since the resort is all-inclusive, a breakfast buffet and dinner are included, as well as all of the activities on the property, including snowmobiling, indoor archery, ice skating, roller skating, racquetball, the swimming pools, and fitness center.  They also plan fun activities throughout the day, such as the X-rated Match Game and basketball tournaments.  After dinner, there is nightly entertainment, usually consisting of a comedian and a band.
While there's plenty to do at the resort, you can spend a day at the nearby outlets, go skiing, or try your luck at  the Mount Airy Casino.    So instead of freezing in your home,  get your blood flowing at Cove Haven, Paradise Stream, or Pocono Palace!