It's been a busy few days of diving, hiking, snorkeling, kayaking, swimming, massages and visits to neighboring villages so I'm a little behind on the blog of my Fiji trip, but all I can say is Matangi, vinaka for making my stay magical, adventurous and breathtaking.  Matangi is a private island resort located off of Taveuni, an island in the north of Fiji only accessible by boat.  After a quick one hour flight from Nadi aboard a prop plane, I was in Taveuni and then enjoyed a beautifully scenic drive through the lushest landscapes to board my boat to the resort.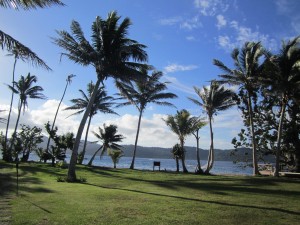 Matangi is what I had always envisioned as the South Pacific.  Bures with a beach view, a ton of palm trees, hammocks, crystal blue waters, and the most loving staff you could ever imagine.  As soon as you arrive, they make you feel like family, which is what I'm finding with  most of the Fijian people I have met.  They are so sweet and it's sincere.  Of course being from New York originally, I was skeptical of their overly sweet nature at first, but it's   genuine.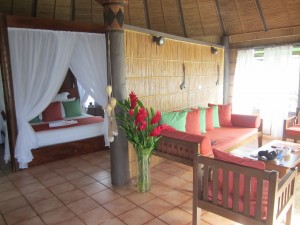 In addition to their friendly hospitality, they go out of their way to make sure you are fully pleased with every aspect of your stay.  They take great pride in your happiness and it shows in the cleanliness of your bures to the delicious, freshly prepared meals with your dietary restrictions in mind to making sure the activites you partake in are most enjoyable.
My bure is beachfront with it's own porch with a day bed and two rocking chairs and  a hammock a few feet away by the water.  My favorite parts are the outside shower made of rocks, and the wonderful coconut cream shampoo, conditioner and bath gel.  After going diving everyday, my hair can be a complete knotty mess, and their conditioner is the first one on my trip able to make it feel silky smooth afterwards!  Showering under the stars is definitely romantic as is the mosquito netting they put around your bed at night.  In addition to keeping out any stray mosquitos, it actually sets a nice ambiance in white and get this, there is an AC unit above your bed that just cools off your bed and doesn't waste a lot of energy since it's confined to inside your netting, so you can keep your windows open to feel the warm South Pacific breeze or my favorite, the rooster wakeup call in the morning.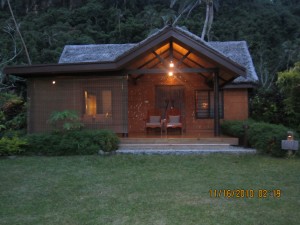 Roosters in the morning, frogs hopping around on my porch at night…it makes me smile.
As I mentioned, this resort is so romantic and superb for honeymoons, proposals, anniversaries, or just because.  If you are traveling solo like me, you can come to unwind.  You can be on your own as much as you'd like or partake in a number of organized activities throughout the day so you never have to feel alone.  Since I love to dive and Taveuni is known for it's soft coral, I chose to dive with Ally every day of my trip.  She is wonderful!!!  She is extremely knowledgeable and will make sure your dives are a wonderful experience.  She has been diving for a very long time, but  still gets excited when she sees so much of what's under the sea and the enthusiasm is contagious, although it's certainly not difficult to fall in love with all of the coral and fish.  I have never seen such amazing soft and hard coral and huge fish one minute and schools of tiny fish surrounding you the next.  Today, I found myself singing "A Whole New World" to myself underwater.  It really is an experience like no other and not only did Ally point out some wonderful finds on the dive, but she also sat with me afterwards to go through my pictures and identify everything.  This morning we did two dives and she took me out on a night dive tonight right off the shore, which was a treat.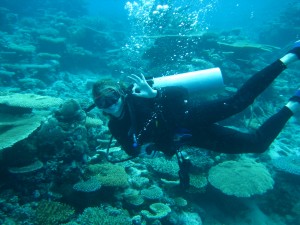 We saw a lot of sea grass, anemone, pufferfish and a really cute crab making it's way along the ocean floor.   In between dives on the first day, we stopped at Horseshoe Bay, one of the places on the list of 100o places to see before you die.  They bring couples there to have their own private picnic and enjoy the secluded beach on their own for the afternoon.   Definitely worth a visit!
In additon to diving, there are many other activities that are included in your stay such as a visit to the nearby village, Vatusoqosoqo which was developed in the late 1700s on the island of Qamea.  I went by boat to the village and I thoroughly enjoyed the experience.  It's easy to stay on a resort for your whole trip and never see anything besides that, but I always like getting out and seeing  the local culture and people.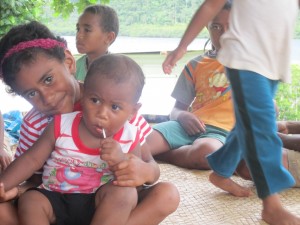 All I can say is the Fijian children were absolutely adorable and they made me laugh with them.   They love seeing pictures taken of themselves and the older ones take pride in sharing their customs and traditions.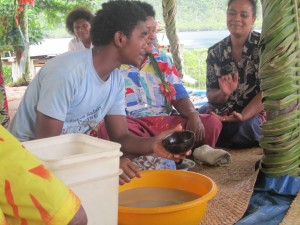 We sat in for a Kava ceremony where they make this traditional drink from the kava plant and everyone sits around and drinks from a wooden bowl.  I tried it for the first time and all I can say is my throat and tongue went numb!  It's an organic narcotic so if you drink a bunch, you'll be feeling nice and relaxed!
I can write so much more, but for now, I need to get to bed so I can wake up for my dive and then hike to the waterfall tomorrow. Oh yeah, one more thing, you do need to hike and swim here to work off the incredible homemade pastries made of peanut butter, chocolate and sponge cake they leave out 24/7 and the cookies in your room.   As Ally would say, they should be illegal!