Ever since my group exercise instructor showed me pictures from her honeymoon in St. Lucia over 10 years ago, the island has intrigued me from the beauty and romance her pictures captured.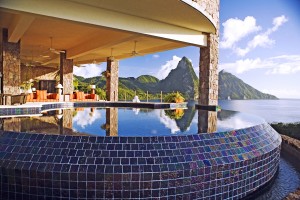 When I had the opportunity to visit the resorts of Jade Mountain and Anse Chastanet,  I did some brief research online but nothing could have prepared me for the breathtaking scenery I was about to experience and the sanctuary I would call home for three nights.   Archictect Owner Nick Troubetzkoy's built Jade Mountain and Anse Chastanet on Morne Chastanet, overlooking St. Lucia's Piton World Heritage site and the Caribbean Sea.  Jade Mountain is a resort within the resort of Anse Chastanet.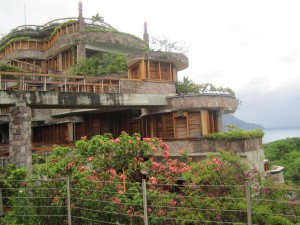 His philosophy of building in harmony with Caribbean nature forces one to unwind and just be in the moment with your partner or in touch with yourself if you choose to come to the resorts to unwind and reflect.
Stepping into your sanctuary, which is what they call the rooms, took my breath away.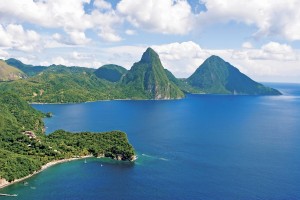 The fourth wall is gone, so an open view of the incredible twin Pitons is seen from your bed, elevated bathroom, which features a hot tub for two, living room and your own private infinity pool in which you can control the colors inside the pool.  There is no formal separation between the rooms so everything flows into one another.
As a guest of Jade Mountain, it is easy to see why this five diamond resort has won numerous awards and recognitions over the years.  In addition to the amazing setting for this property, the service is unparalleled.  Upon check-in, you are given a mini cell phone that calls reception and your own personal Majordomo who is there to service your every need.  If you would like a complementary shuttle down to the beach or to one of the restaurants at either of the resorts, or if you'd like to take advantage of their outstanding room service, all you have to do is call them to let them know you'd like a meal or snack and then place the order form in a bag which you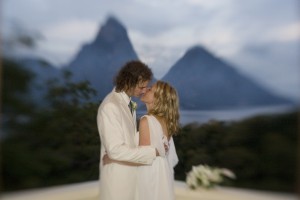 hang from the outside of your door with the time you'd like it delivered.  I decided to have two breakfasts and one dinner in the room, tried the Indian restaurant one night and the restaurant at the top of Jade Mountain another, and all meals were delicious.  With a wide variety of local, Caribbean and international foods to choose from, as well as a vegetarian restaurant and options on each menu, your biggest concern will be choosing what to order.  However, if you elect the all-inclusive option for your meal plan, you can sample a bunch of different flavors.  Since I love trying new food, I chose to get some of the entrees in appetizer sizes so I could try a variety of options.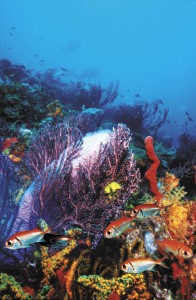 One could easily stay in their sanctuary all day and reconnect with nature and each other.  There are no televisions or radios in the room, which you'll soon realize is not needed, but if you must keep in touch with the outside world, they do have an optional wireless internet hookup.  In the morning, the sounds of the many birds will wake you up naturally as the sunlight shines in and the amazing galaxy of stars will relax you as you unwind from the day.  However, if you'd like to add some activity to your day, they offer everything from scuba diving and kayaking to biking with Scuba St. Lucia, Kayak St. Lucia, and Bike St. Lucia.  I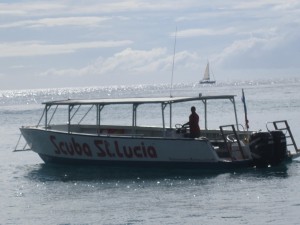 went scuba diving for two boat dives and a shore dive at the Anse Chastanet Reef.  Some of the famous dive sites include Pinnacles and Superman's Flight at the base of the Piton Mountain, the setting for part of Superman II.  The dive operation is a five star Padi shop and  all of the dive masters are great at helping you out with your equipment if needed and pointing out some great finds during the dive.   You can also join many complementary tours into town  or to the rainforest or choose from an excursion like a visit to the botanical garden and volcano.  If you're looking to  treat yourself to some more rest and relaxation, take advantage of their terrific therapists and get a solo or couples treatment in the spa, in your sanctuary or on the beach.  I had the traditional Swedish massage and the therapist was great.  I've had some back and neck issues in the past, have had massages to know what is good and what's not, and after this fifty minute treatment, my aches were gone!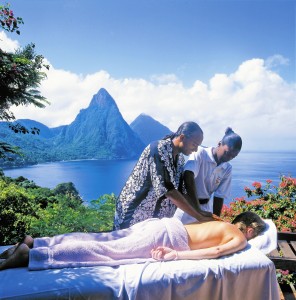 Many couples are looking to go somewhere beautiful and romantic for their destination wedding or for a special anniversary, or maybe just to renew their relationship.  I can't think of a better place than the magic and serenity of Jade Mountain and Anse Chastanet.  They offer many wedding packages and will prepare everything for you…all you have to do is arrive two days prior to the wedding day, which is a perfect way to transition from your everyday busy life into a perfectly relaxed state for your big day.   With the beautiful backdrop of the Piton Mountains, there is no better place to spend your wedding or honeymoon than Jade Mountain and Anse Chastanet in gorgeous St. Lucia.  Keep in mind the prices are not those of your average Caribbean resort, but this is far from your average resort.  If you're looking to treat yourself to an experience to last a lifetime, treat yourself to Jade Mountain and Anse Chastanet.