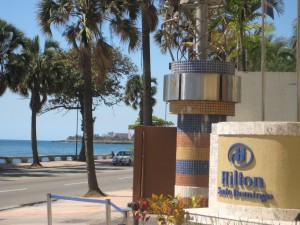 The Dominican Republic is the perfect escape.  In less than four hours, you can be soaking up the sun at a prestigious resort, or taking in the culture of its capital city, Santo Domingo.   We decided to do both.  We left from New York and took a direct flight from JFK to Santo Domingo aboard one of my favorite airlines, Jet Blue.  I personally love Jet Blue for their friendly and accommodating crew, the extra spacious legroom, personalized TVs, blue chips and mini bottles of water.   After landing, we hopped in a cab to the Hilton Santo Domingo, about 30 minutes from the airport.  I highly recommend getting around by cab and transfer companies.  There aren't many traffic lights and driving can get pretty chaotic.   Situated along the shores of the crystal-blue Caribbean Sea, Santo Domingo is the country's largest metropolitan area and dates back to the early 1500s.  While it's popular for business travelers, you'll only need a day or two to explore the Colonial Zone, a UN designated World Heritage Site, and home to the first cathedral, monastery, university, customs house, and hospital in the "New World."  There are museums, forts and historical buildings dating back to the time of Christopher Columbus' arrival in 1492, as well as a long block of cigar and souvenir shops. If you want a true Dominican dinner, La Conuco is a fun restaurant with an incredible meringue and salsa show and delicious traditional dishes.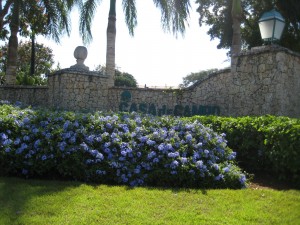 The 21 story Hilton Santo Domingo is the only hotel in Santo Domingo to earn a AAA four diamond rating.  The rooms are modern and immaculate and the food spectacular.  Sol y Sombra is one of the restaurants which offers magnificent views of the Caribbean Sea and serves sit- down meals as well as a delicious Dominican breakfast buffet.  The Hilton also has a spacious gym overlooking the sea, a swimming pool, sundeck and poolside bar.  The casino on the second floor is the newest and largest in Santo Domingo.
After experiencing much of the culture and people of Santo Domingo, we were picked up by Tropical Tours and transferred to La Romana, a two hour ride from Santo Domingo.  Tropical Tours offers transportation, tours and excursions.  Its spacious van fits up to seven people, so if you have a group, it definitely cuts down the cost.  Even as two people, it made our travels so much easier.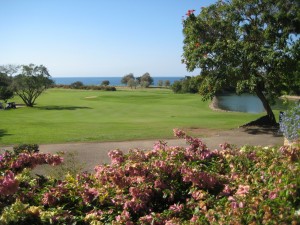 As soon as you arrive at Casa de Campo, you know your relaxation has begun.   After a quick and informative check-in, your luggage is loaded onto a golf cart and you're driven to your room.  Guests can stay in a spacious hotel room or suite, a private villa, or in a luxury apartment. Outside your room is your own golf cart to use throughout your stay since the resort is just too big to get around by foot alone.   A 7,000 acre playground on the southeastern coast of the Dominican Republic, Casa de Campo is the perfect place to bring your family, as there are so many activities for both adults and kids.  If you are coming as a couple, you'll find the resort very romantic, and unlike some other resorts, you'll barely know there are children there.  Everyday there are various organized activities such as a kayak tour down the Chavon River, horseback riding, or a snorkeling trip.  Do as much or as little as you'd like.  You can relax at the private LaMinitasBeach and drink pina coladas or rent a peddle boat, sailboat, or kayak and enjoy the delicious food at The Beach Club by "Le Cirque."   The marina is home to many shops and restaurants, including "La Casita" which serves outstanding seafood and Spanish cuisine.  As a guest at Casa de Campo, you have the option of paying separately for everything, or signing up for one of their all-inclusive packages.  Considering the caliber of the cuisine, you are definitely going to want to take advantage of their incredible restaurants.  Lago Grill offers a great buffet breakfast with an omelet station, fresh juices, fruits, and breads.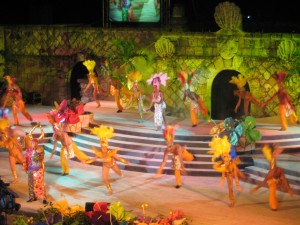 Casa de Campo is home to the most comprehensive shooting facility in the Caribbean and offers true in the wild shooting experiences for shooters of all ages and skill levels.  To my surprise, I shattered a few of the clay pigeons as they flew through the air, and did better than my boyfriend!  If you're an avid golfer, Casa de Campo's three Pete Dye-designed resort courses are among the finest in the world.  The famous "Teeth of the Dog" with seven sea-side holes consistently ranks as the #1 course in the Caribbean on Golf Magazine's "Top 100 Courses of the World."  The resort also features tennis courts, and deep sea and river fishing.
Altos de Chavon is a part of the resort not to be missed.  It is an artists village consisting of cobblestone streets, quaint shops, exclusive boutiques, art galleries, magnificent restaurants such as La Piazzetta, and an archeological museum.  The Grecian-style amphitheater is a magnificent spot to watch Kandela, a Caribbean style musical review which features spectacular singers and dancers under the stars.
Casa de Campo works with "Scuba Fun," a local dive center, to offer snorkeling and diving trips to the islands of Catalina, Saona, and Catalinita, and the Piscina natural which is crystal clear water 3-5 feet deep with white sand and giant starfish.   I highly recommend taking a half or full day to enjoy the beauty and the fun that John Sack and his crew provide on each of his boats.  Depending on the trip you take, you can see huge sting rays, Nurse sharks, and the spotted eagle rays.  A buffet lunch on the island is also included.
After a day of activities, you'll want to unwind and pamper yourself at the eco-friendly Cygalle healing spa, which offers indoor and outdoor services.  The luxury spa makes their own products at their on-site spa pharmacy, which contain no chemical preservatives.  I highly recommend one of the body treatments, in which you are exfoliated, painted with clay or a puree made fresh that day, and then treated to a mini massage.
They don't call themselves "Caribbean's most complete resort" for nothing.  With so much to do, you can spend weeks at Casa de Campo.  But if you're like me who only had a couple of days to get away, the resort will rejuvenate and energize you in no time at all.