I am just about to leave from my two day stay at Castaway Island Resort.  I had two great dives yesterday to the sites Supermarket and Magic, which is the beginning of the Great Barrier Reef and was spectacular.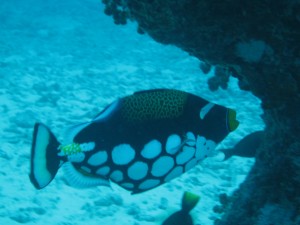 We watched white tip baby reef sharks swim around us and saw a green turtle during our safety stop as well as a ton of incredible coral and many species of fish.   Jerry, the dive master who took me diving was terrific! I can understand why Castaway's dive shop is rated a five star Padi operation.  He was so concerned about me (and my lower back issues) the entire dive including the rough boat ride back because of the weather.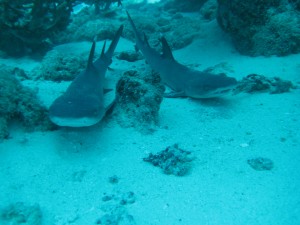 By nature, I am not very good at relaxing.  I always feel I have to be doing something, but I can finally say that after just three days in Fiji, I am calm and at peace just sitting here facing the ocean surrounded by palm trees, a warm breeze and the soft Fijian music playing behind me.  I had a 30 minute massage yesterday which was wonderful.  I wasn't sure I could relax in just 30 minutes, but the therapist did a great job, plus the fact that the table was set in the middle of the lush trees and plants with birds chirping made for the perfect setting.
After these few days, I can understand why Castaway Island has a 50% return business rate.  The staff is so friendly and welcoming, remembering everyone's name and making sure you feel like family.  They are terrific with the kids and have a kids camp so the adults can do their own thing while their children enjoy many organized activities with each other and the staff.  I can't stress how wonderful the staff is with each child.  If I had small children, I would feel completely comfortable leaving them for the day so I could go out and dive or enjoy the many other watersports they offer as part of your stay.   All of the guests are also so friendly to one another, probably because of the atmosphere the staff sets, and I enjoyed meeting couples and families from many parts of the world, primarily Australia, since they are only three hours away.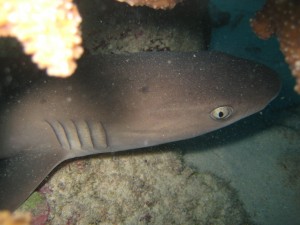 I'm about to board the boat to go back to the mainland before flying out of Nadi to the north, but not before enjoying a walk on the beach, a peaceful rest in the hammock and breakfast filled with fresh fruits, an egg and french toast station, and some traditional Fijian dishes.  I'll miss you Castaway family, but looking forward to my next adventure in Fiji.  Fijime some more relaxation and adventure!