A close girlfriend was getting married in Harwich, MA on Cape Cod and when I realized my baby would be six weeks old at the time of the affair, I didn't think it would be possible to go. My pediatrician was telling us not to take her to a hotel room which could be filled with germs or to a crowded wedding, and of course the thought
of a five hour car ride was daunting.  However, as it got closer and I had a better handle on what my baby was like at that stage, I felt adventurous and wanted to give it a shot.  In addition, I found a great place to stay that made my decision that much easier.
We drove a few hours from New York City and stopped halfway in Mystic, Connecticut, which was a great place for a break to eat.  My husband tried the pizza from Mystic Pizza and I was ever so happy to have oysters from one of the many restaurants on the water, since I had to abstain for nine months.  It's a great area for walking and taking in the beautiful scenery.  We then got back in the car and drove another couple of hours to Chatham and the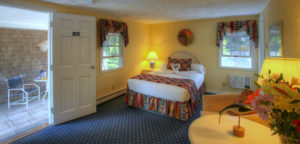 Pleasant Bay Village.  When I saw Pleasant Bay Village online, I knew it wasn't a cookie cutter hotel and had rooms that were perfect for traveling with a family.  With accommodations to suit many needs, they offer efficiencies with a full kitchen, outdoor furniture, and a BBQ grill, as well as standard and  deluxe rooms with two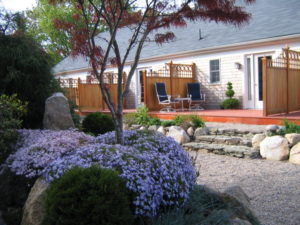 queen beds and a sitting area outside.  All rooms are non-smoking and have air-conditioning, heat, high definition flat screen televisions, small refrigerators, irons, ironing boards, hair dryers, phones, private bathrooms and daily housekeeping.  They are a green property and, utilizing a 22kW photovoltaic array to generate approximately 25% of their annual electricity and a solar thermal system to reduce consumption of natural gas.  They also use non-toxic cleaners which I think is great if traveling with infants.  So many times the hotel room can smell from the products used to clean them.  They have been awarded the Green Leaders Gold Level Certification by TripAdvisor, Cape and Islands Green Verification and are recognized as an Energy Star partner.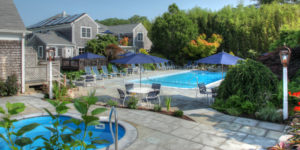 In addition to the meticulously clean and comfortable accommodations, Pleasant Bay Village also offers a heated outdoor pool near a beautiful waterfall, a hot tub surrounded by an Asian inspired rock garden and Japanese maples.  A zen garden sits close to the waterfall and a Japanese Koi pond and makes for a great spot to relax and meditate.  They serve a gourmet breakfast in their lobby which is furnished with 18th century antiques and lunch is served poolside in July and August.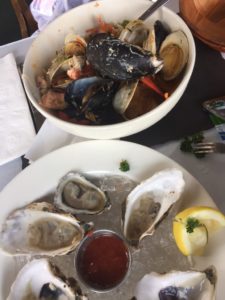 Just five minutes from Chatham center, main street is a great spot to browse boutique shops and enjoy fresh seafood at restaurants such as the Impudent Oyster (and yes, I got amazing oysters here too!).  Be sure to make a reservation for dinner, as it does fill up quickly.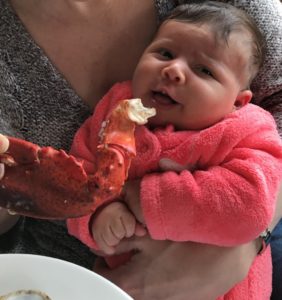 We went for a late lunch around 2:30 which was perfect for our first meal out with the baby! It's a quieter time than their busy lunch and dinner hours.  Beautiful beaches are also nearby and great for catching the sunset.
All in all, I would recommend Cape Cod as a trip for those at any age!  If you find the right accommodations to make your visit an easy one, you can make it a great family vacation – even if my daughter did cry and had to be taken out during lunch!