Ok, maybe it's not to Europe, but it's a close second and if you want to feel as though you are there but without the long flight, check out Quebec City, Canada!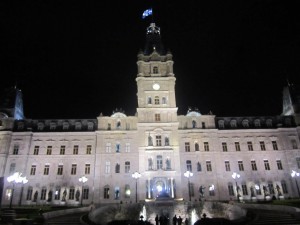 Surprisingly, I think there are regions of Canada that are drastically overlooked by Americans.   I had heard of Quebec City for their ice hotel, but I never knew just how romantic and charming the walking city is.  That's right, it is a walking city, and you are guaranteed a terrific workout with all of its hills and steps, so be prepared!  I decided to go when their summer music festival (Festival d'été de Québec) was in full swing.   For the past 44 years, the festival has offered musical shows for 11 days on multiple stages.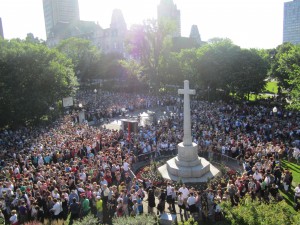 Thousands of people pour into the streets, making for a very lively atmosphere in Québec City.  The main stage is situated in the Plaines of Abraham and when we were there, we saw Ben Harper, Aaron Neville and Elton John.   There were so many other genres of music represented.  I just wish I had more time to see other performances.  However, as you walk throughout town, you will pass other stages and can stop and listen and you venture to your next destination.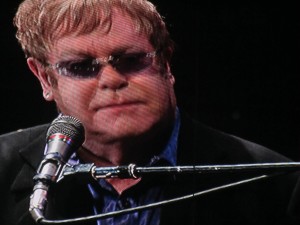 The Elton John concert was spectacular.  The sound system was phenomenal and I hear there were over 60,000 people who piled into and around the park to hear him rock out on the piano.  Tickets to the festival are fairly inexpensive, with a day pass going for $30 and other options for multiple days.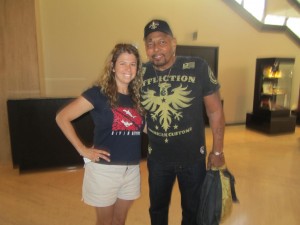 We stayed at the Hilton, which was a very nice four-star hotel centrally located and perfect for going to and from the festival and the rest of the city.  Québec City is also known for its quaint bed an breakfasts.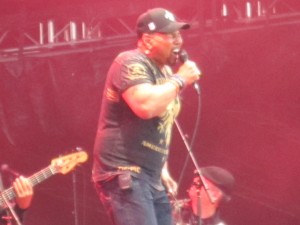 I think Québec City was especially energetic because of the festival.  However, if you choose to go any other time of year, you will have an amazing time.  It is a romantic city with lots of history and fun cafes and shops.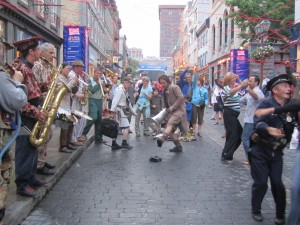 If you like the city life, you can spend the day strolling the cobblestone streets, admiring the only fortified city north of Mexico.  UNESCO names the Historic District of Québec City a World Heritage Site in 1985.  If you like to balance your trips with nature as well, check out Vallée Bras-du-Nord.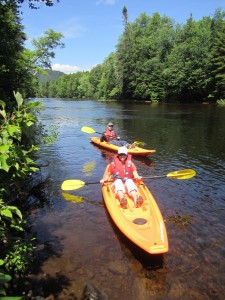 Just a 40 minute drive outside of Québec City and you can enjoy mountain biking, canyoning, horseback riding, canoe and kayaking, and hiking to the majestic waterfall.  One can go for the day or stay for a few, as they have lodges every few miles along the trails.  Most people venture out on his or her own, but you can hire a guide.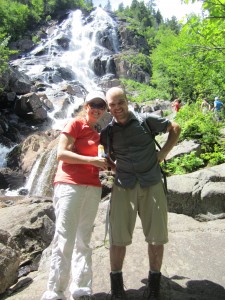 We had Mathieu who was very informative and also sensitive to our fitness level in deciding what activities to plan and which trails to take. You'll find 70km of built and marked hiking trails, in seven short and long, all level itineraries. The region is not very touristy, so you don't have to worry about crowds as you enjoy the nature around you.  It's very peaceful and loved by many locals.
A great way to see the city is to hire a guide to take you on a walking or driving tour.  We did this on Saturday morning for three hours to get a good feel for the city, which was great because in addition to learning and seeing the various neighborhoods of Québec City, she took us to see the Montgomery Falls, which are around 10 minutes away by car and beautiful.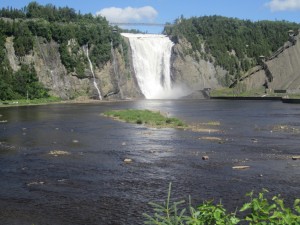 They are 30 meters higher than Niagara Falls.  If you decide to take a tour, you must take it with Sharon Frenette.  Originally from the U.S. she has been in Québec City for many years and is so much fun and informative.  You'll have a great time with her.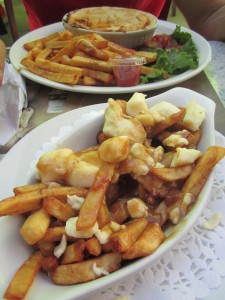 When you are in Québec, you must try a poutine, which is basically French fries, topped with melted cheese and gravy.  Not exactly a cholesterol friendly food, but I'm a firm believer of "when in Rome…" or when in Canada….that is why I also enjoyed some escargot, French onion soup and a Québec meat pie.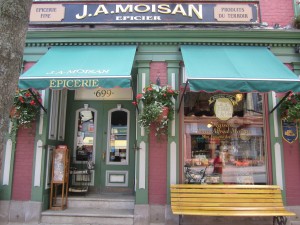 Don't miss one of the oldest grocery stores in North America, J.A. Moisan, or the Chocolate Museum.  I had the best sorbet and frozen yogurt topped with hardened dark chocolate…to die for!
So if you're looking for an extremely fun and romantic quick getaway, check out Continental Airlines, Air Canada or Porter Airlines for your escape to Québec City for a great time and wonderful memories!  Check out this video with tour guide, Sharon Frenette from the tourism board to hear more about the great city.  Note she looks gorgeous and I am a mess after having just gone hiking!  http://www.youtube.com/watch?v=cwDaV7cKPqs