The Cayman Islands have been on my list for awhile, and even more so since I became a certified diver.  Last year, I was on a cruise with NJ 101.5 and one of the ports was Grand Cayman but unfortunately the weather was not cooperating and they would not allow us to get off of the ship.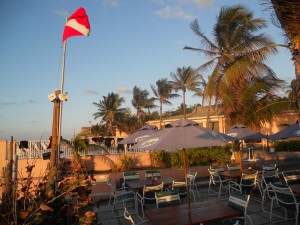 I was so disappointed so I made it a point to visit another time and for more than just the few hours the cruise ship would have allowed.
I flew in on Wednesday and stayed until Tuesday, which was a great length for the trip. However, I could've definitely stayed longer and seen more, but I'm not complaining. Originally I was supposed to leave Thursday, but we were expecting another one of our huge snow storms so I decided to leave the morning before and it was a good call because the original flight was cancelled. This trip was such a welcome respite from the freezing weather and snow we have been having all winter.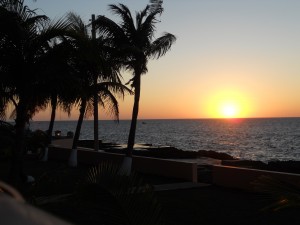 I decided to stay a few days at "The Sunset House" which is known as a diver's hotel, run and owned by divers for divers and a couple of days at the Marriott, which is along the seven mile beach stretch and is more of your traditional, romantic hotel. Sunset House is your no frills, but comfortable, friendly and clean hotel, perfect if you're looking for a trip focused on diving. It is also a great economical choice since many of the hotels along seven mile beach are a bit pricey. They have great shore diving right outside your back porch where you can see a famous mermaid as well as the many fish, eels and other creatures found in Grand Cayman. The shore diving allows you to go whenever you'd like as long as you have a buddy and even if you're traveling solo, it's always easy to find one since everyone there is interested in diving as much as possible. They also have five top of the line dive boats which go out each morning and some afternoons to Sting Ray City and to see the new U S S Kittiwake that was sunk just a few weeks ago. You'll get a locker as soon as you arrive so you can leave your dive gear there for the length of your stay. Everyone at the dive shop of Sunset Divers is very helpful but will also give you your space to do your own thing if that's what you prefer. When you go out on the boat dives, you have the option to follow a guided tour of the reef or explore on your own with your buddy.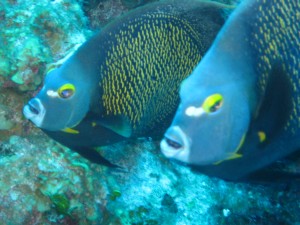 You are in charge of setting up your own equipment on the boat, but if you need a hand, they will assist and make sure everything is set up properly. If you are looking for a more VIP diving experience, you'll want to dive with their sister company, Red Sail Sports. They run a real nice dive operation and they will set up your equipment on the boat, so all you have to do is show up. If you are looking to dive Sting Ray City or the U S S Kitiwake, and your schedule does not mesh with Sunset's schedule for diving these sites, it's nice to have other options. I ended up diving Sting Ray City and the U S S  Kittiwake and the Angelfish reef with them. Red Sail Sports has a few locations throughout the island, including Seven Mile Beach and Rum Point, where you can rent sailboats, kayaks, the huge water bikes, and jet skis so no matter what part of the island you are on, you have options.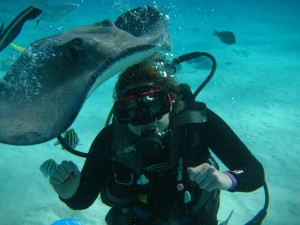 When you stay at Sunset House, ask for an ocean view room. It is spectacular sitting out on your terrace and watching the sunset or you can watch the sunset at the bar and restaurant and enjoy some good food and drinks while comparing dive pictures. I met a great group of people from Montana, some from Oklahoma, Texas, and Montreal. Meeting people from different regions is one of the best parts of the traveling and the Sunset House's environment makes this easy. It's nice to know too that the owner of the property is on site during the day and takes pride in the hotel and making sure everything is running efficiently.  
So the next time you're looking for a dive getaway relatively close to home (only 3.5 hrs direct), with the opportunity to see sting rays, huge moray eels, lobsters, beautiful french angel fish and so much more, think Grand Cayman and the Sunset House.