I just awoke for my first full day in Fiji to birds chirping and the warm air with a cool breeze.  Fiji has always been on the top of my list for places to go for romance and scuba.  However, I always thought it was so far away and I didn't know when I would get the time to go.  However, even though it is a 16 hour plane ride in total, it didn't feel long at all because the LAX to Fiji flight on Air Pacific was an overnighter (12:30am EST) so I slept almost the whole trip.  The Air Pacific flight was spacious with 67 rows and the service friendly.  The food was simple, but good and fresh.  For dinner, I had a turkey and cranberry sandwich and breakfast was fresh fruit, yogurt and a muffin with juice and coffee or tea.  The check-in process couldn't have been easier with no line even with the huge flight.  For my flight from NY to LAX, I took Jet Blue, which is still my favorite domestic airline.  There is always ample legroom and the in flight entertainment is top notch with Sirius/XM radio and multiple television and movie options.  If you'd like even more space, you can pay an additional $50 for their extra legroom seats in the first five rows and exit rows.   They are still the only airline I know who hand out little bottles of water and your choice of a few full sized snacks, so if you have a nut allergy, no worries!  They have blue chips, chocolate chip cookies, a pretzel and cheetos mix, and animal crackers.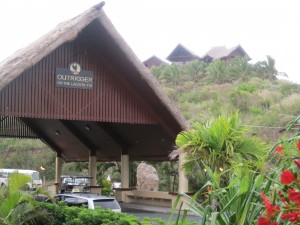 For my first day and night in Fiji, I stayed at the Outrigger Resort, about an hour drive from the airport.  The Outrigger is perfect for families looking to getaway.  From my terrace, I overlooked the lush landscapes and the blue ocean.  They have activities planned for the adults and children throughout the day so if mom or dad would like to do their own thing, they can drop the kids off with the great staff.   From what I saw, the Fijians were great with the little ones.   Since I was at the resort by 7:30am. I had the whole day ahead of me.  At first I was just going to relax and take in a spa treatment, but then I ran into Alfred from DiveAway Dive Shop and when he said you can see white tipped reef sharks at the Stingray site, I ran back to the room to get my wet suit and I was off to their dive operation, a short drive at a nearby resort.   They have many classes for beginner divers so if you're curious about diving or would like to complete your certification, this is the place to do it.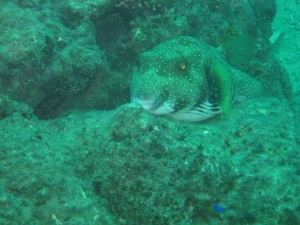 I went for a dive with Claire who pointed out so many fishes including a huge pufferfish, moray eels, and there it was…the big white tipped reef shark hanging out on the bottom of the ocean.  We hovered and watched him swim around a few times and I must admit that as we swam away, I did look behind me a few times!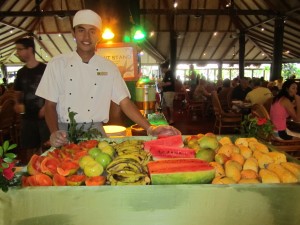 After a great dive, I had a delicious chicken and papaya salad for lunch with a fresh squeezed pineapple, passion fruit and ginger drink.  I love all of the fresh fruit here in Fiji.  For breakfast, they had a fruit bar with someone cutting up fresh mangos, papaya, passion fruit, watermelon, bananas, and pineapple and making fresh smoothies and juices.
From lunch, I hopped on a cable car and made my way to the top of the hill to the peaceful spa overlooking the resort and ocean.  They have a small chapel up there as well and as I was leaving, a bride and her wedding party arrived to the sound of four men playing traditional Fiji music on their guitars and singing.…what a great setting!   The hot stone and seashell massage I had was amazing.  She started with a regular massage and then introduced the shells, which really got out the kinks.  I was curious as to how they differed from the hot stones, so she used some of each, which was amazing! I tried the caviar facial mask which is scientifically proven to smooth out wrinkles, so I put it to the test!  It definitely left my skin really soft.   The two treatments were perfect for rejuvenating after the plane ride and getting on the right foot for my trip ahead.   If you are with your partner, you can opt for a couples massage and enjoy champagne and oysters before or after your treatment in the truly romantic setting.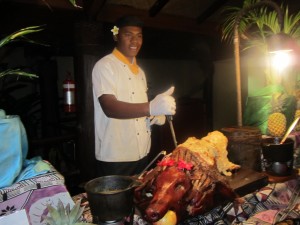 Dinner was a buffet meal of Fijian dishes and desserts with live entertainment consisting of men and women from the local villages singing and dancing traditional Fijian songs.  The whole pig sitting on the buffet with face and body is always a bit disconcerting, but hey, when in Fiji….
I am heading to the boat to go to Castaway Island for another day of fun, sun and relaxation in Fiji.  More to come…