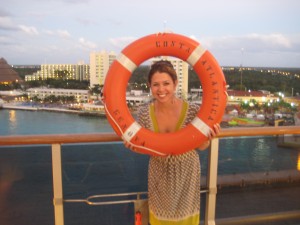 I'm sitting on the top deck of the Costa Atlantica, the sun's in front of me high in the sky reflecting on the glistening water below.  Many in our group are on the pub crawl, others  relaxing in the hot tub. This has been a phenomenal week.  With over 150 men and women on the Club Getaway Sports and Adventure Cruise, in addition to the few thousand already on the ship, there have been lots of new friends made, some hooking up, and possible budding romances.   The days were packed with excursions in the Western Caribbean, when not at sea, and the nights filled with cocktail parties, dancing, dinner and spectacular entertainment from the ship's performers.   Club Getaway did a great job in making sure everyone was having a great time from morning until night.  While in port, we had the option of doing set excursions with the group or going off on our own.
Since I love scuba diving, I had to dive while in port, considering Key West, Roatan and Cozumel are all known for their incredible reefs and wrecks.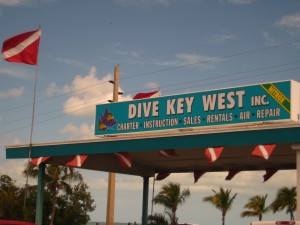 In Key West, I dove with Dive Key West and we dove the Vandenberg, a  world class wreck that's a 520 ft. long steel hulled troop transport and missile tracking ship.  It is the second largest artificial reef in the world and sits a mere 40 ft. below the surface making her accessible to divers of all levels.   Everyone at Dive Key West was top notch and they're definitely the shop to dive with while in Key West.  Bob Holston is the owner and has been operating for almost 40 years.  They really pride themselves on safety .  There was one person in our group who wanted to dive with me but since it had been awhile since his last dive, they turned him away rather than just taking the business, knowing he needed a refresher.  Greg was a great divemaster and lead us through the inside of the wreck which was really neat. 
For the second dive, we dove a coral reef and saw a nurse shark, midnight parrot fish, sergeant majors, french angel and squirrel fish.
Having been to Roatan a few months ago, I was excited to go diving again with Anthony's Key Resort.  Normally their dives are just for resort guests, but they also handle the cruise ship passengers.   I've been on four dives with them now and each one has been so enjoyable.  They really make you feel at home and are also very conscious about safety.  With every new diver, they do a quick check out dive to make sure you have the right weight and know the basics.    The first dive was beautiful through the "Spooky Channel"…Wayne's Reef.  We saw huge grouper, hogfish, cowfish, scorpionfish, lionfish and a huge king crab.   If you are taking a cruise into Roatan and you're a diver, this is the activity you'll want to choose while on the island.  With the time we had in port, I was able to do a two tank dive and for the second one, I had the opportunity to dive with the dolphins which was so much fun! Everytime I interact with them, they put such a smile on my face.  It was really cool to see them swim around in their own habitat.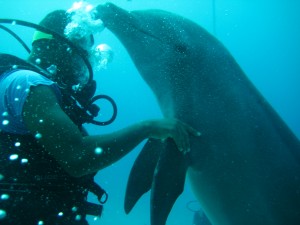 They seemed to love the camera and would swim towards you so you could rub and play with them.   If you are going to Roatan and not on a cruise, you definitely want to stay at Anthony's Key Resort.  The cottages are right across the water from the dive boats and they will ferry you back and forth all day.  In between dives, I put myself in a hammock and fell asleep to the sound of the birds chirping.
I was really looking forward to diving in Cozumel since the last time I was there for a day, I was not yet scuba certified.  At first when we arrived, the port was closed for all water activities because of the rough winds.   I went with the rest of the group to Chankanaab Park, which is a great place to go for snorkeling, diving, the beach, and playing with the dolphins.  They'll also give you a tour of their Mayan ruins.  About an hour in, they changed the flag to yellow and announced the water was open.  I ran to the dive shop and they hooked me up right away with gear and took me diving right off the shore.  It was a one on one dive and we saw a huge lobster, sting rays, and an eel in the cave we swam through.  After we got back, I really wanted to find a dive shop with whom to do a boat dive because I had been told that what you see by boat is incredible.  The dive shop in Chankanaab recommended I head to Mr. Santos and to the Ramon Zapata's Diver's dive shop.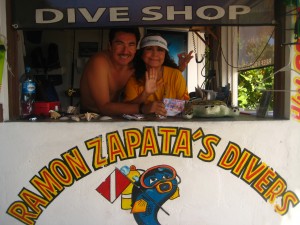 I had just missed the boat and normally they need to have at least four people.  It was already 2pm and I knew that if I couldn't go diving with them, I would be in Cozumel for a second time without having seen the magnificent underwater life for which it's known. When the owner, Ramon Jr., came back from the dive, his sister, Aldarita, who also helps run the diveshop, spoke with him and they said they would send me out with divemaster Abraham even though I was the only one.  I was so thrilled and happy I had found such a friendly operation.  Family run, their father, Ramon was a pioneer of diving in Cozumel.  Having been born in 1925, he started the dive shop and his son and daughter took it over.  Turns out the shop I went diving with in Chankanaab was owned by them as well.   The whole staff really made me feel welcome and was so enthusiastic to share with me their family history in diving.   In addition to the dives you can do from Mr. Santos Beach Club and Chankanaab Park, they will customize any dive for you depending on where you'd like to go, including bullshark diving in Playa del Carmen.   You can also do a discover scuba with them if you've never been diving before, and you can get your certification in just a few days.   Divemaster Abraham was great in pointing out many things on our dive.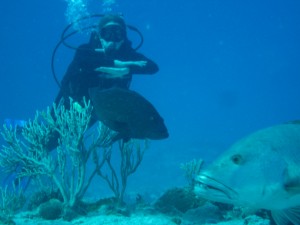 The coral was absolutely beautiful and the fishes magnificent.  Just as I was posing for a picture near some coral, a huge green moray eel crawled out from a rock under me.   I would highly recommend diving with Ramon Zapata's Divers if you're headed to Cozumel.  You can make a reservation by emailing them at ramonzapata_divers@hotmail.com.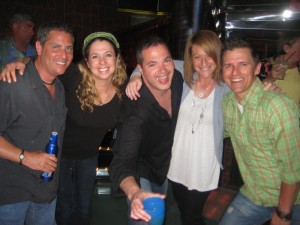 Overall the week was a ton of fun and if you did not make it on this cruise, you definitely want to make sure you're on the next one.  We  had some great laughs and met  new friends that we know we'll see again.  And the best part, while we were partying it up in the tropical Caribbean, the tri state area was getting hit with yet another snowstorm.