For most of my trip in Fiji, I stayed at beautiful and fun resorts and went diving as often as I could.  However, there is a part of Fiji, Pacific Harbor, known as the adventure capital of Fiji.  Of course I had to find out why.  I flew 16 hours and as much as I love relaxing at gorgeous resorts and spas, I wanted to experience the adrenaline pumping part of the country.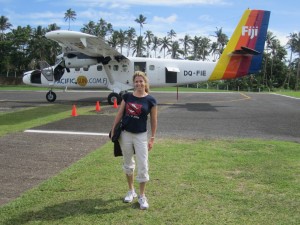 For that I flew into Suva, the capital city of Fiji, just a quick 45 minute flight on a puddle jumper from Taveuni.  I stayed at the Uprising Beach Resort for a bit of a different flavor and they sent a driver to pick me up at the airport, which made it super easy to get to the resort, which was about a 45 minute drive.  I was curious to see some of Suva, and the driver was  more than happy to stop at a market I spotted along the way, which made for an enjoyable ride and a way to see Suva instead of going right to the resort.
The Uprising Beach Resort is not your posh resort, but perfect if you'd like to meet other people who are backpacking or just looking for a reasonably priced place to stay with good clean accommodations.  The Uprising Resort caters to solo and couple travelers as well as those with families.  It has a dormitory that can accommodate many backpackers at a very reasonable rate of $35 Fijian dollars per night which is about $18 U.S. and the private oceanview bures go for $200 per night and the garden view $180 which have a queen and twin sized bed, a kitchen area and outside shower and separate bathroom outside your room.  My bure was oceanfront and I fell asleep to the sound of the waves each night.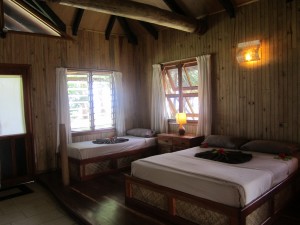 Uprising has two bars, one in the restaurant and one close to the beach, perfect for watching the sunsets and meeting fellow travelers.  It's the perfect setting for someone who has come to Pacific Harbor to take advantage of the many activities such as ziplining, white water rafting, shark and soft coral diving, fishing and hiking to the waterfalls.  If you don't feel like leaving the resort, they have an onsite company, Sublime Water Sports and Tours which offers jet skiing in the Beqa Lagoon, snorkel trips, kayaking, horseback riding, or you can simply choose to get a relaxing massage by the beach.  I chose the 1 hour full body massage and had two women slather me with coconut lotion including face, scalp and stomach in addition to the usual spots.  Definitely an massage like no other!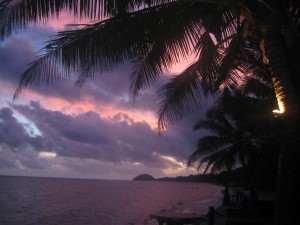 The owner and operations manager of Uprising Beach Resort are young hardworking guys and can understand what the traveler on a budget is looking for.  They've only been open for three and a half years, but already have started to expand.  In addition to their comfortable accommodations in their current bures, they are expanding over the next year and will offer a villas section which will include a bathroom and shower which are inside and attached to the bure and will have AC as well.  It will cost a bit more, but still within good reason for a night's stay in Fiji.
So if you're looking for a fun comfortable place to stay with a good staff and interesting people, the Uprising Beach Resort is the place to stay.