We arrived in Kiruna and took a quick 15 minute bus ride to Jukkasjarvi, home of the famous Ice Hotel in Sweden, the original and largest in the world.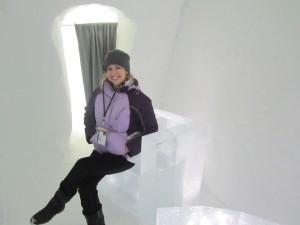 When we arrived, they showed us our warm locker space to keep our luggage during our stay in the cold accommodations.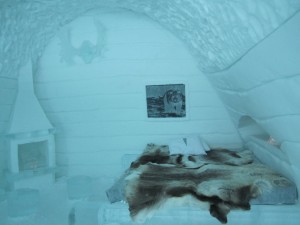 We are booked for one night in the  cold rooms made entirely of ice and one night in the warm rooms.   There is an area called the dressing room where you get changed for the night and can shower and warm up in the sauna and then when you are ready to go to bed, they give you warm sleeping bags which you lay on the reindeer skin on your bed.  There are briefings throughout the day and they explain how to sleep safely and warmly in the freezing rooms. 
Ninety percent of the ice hotel is built from the water from the Torne River out back.  There are tours that explain the history and making of the ice hotel which is quite interesting.
During the day, the ice hotel is open to the public to come tour and take pictures of the various suites and rooms until 6pm and then it is exclusively for the hotel guests to enjoy.  You can go for dinner at one of their two restaurants, have a drink in the ice bar in an ice glass or partake in one of the many activities like snowmobiling or dog sledding to see the northern lights.  Tomorrow we'll go meet some reindeer and go for a reindeer ride and have an opportunity to feed  them. One can spend all days just looking at the different art sculptures that make up the ice hotel.  Each suite and room is carved and decorated by an individual or group of artists.  Many couples get married in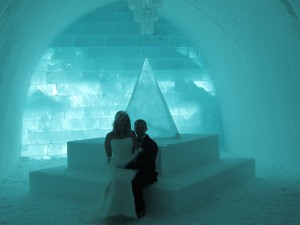 the Ice Church right inside the hotel.  I met one couple from the states who was getting married today and while the bride was probably very cold taking pictures in her wedding dress, I'm sure it was well worth the beautiful shots they'll get!
It's almost time for bed, but first I'm going to head out and see if there is a sighting of the Northern Lights tonight.  Then it's time to strip down to my sexy thermals and slip into the sleeping bag.  They say you can get one of your best night's sleep here, so I'm looking forward to a peaceful slumber and a wakeup call with warm lingonberry juice.  As of tonight, the connection is a little tough so I'm having trouble uploading more fascinating pictures, but will do so soon!