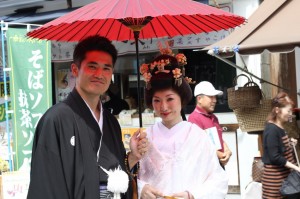 Nagano was the site of the 1998 Winter Olympics and is a wonderful contrast from the bustling city of Tokyo.  I took the JR East train from Tokyo station, which was about a two hour train ride.  I was headed there for a friend's wedding and the setting of the Zenko-ji temple couldn't have been a more beautiful place to have this traditional Japanese wedding.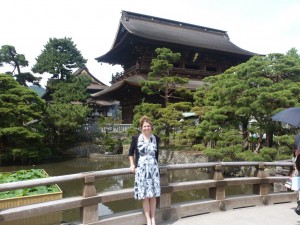 I didn't know what to expect, as many people had asked  me why I was headed to Nagano, as if to say there is not much to see/do there.  However, the temple was probably the most beautiful I had seen so far, and while there were plenty of tourists, it was not as congested as some of the others.   Nagano is known for their soba noodles, the buckwheat noodle that is part of so many Japanese dishes and get this, they even places that sell soba ice-cream and miso ice-cream!  Of course I had to try both, one right after the other!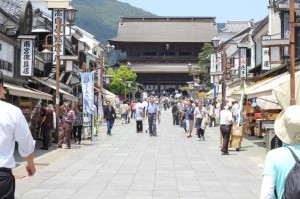 (It just happened to be that they were both next to one another heading to the temple!).  While Tokyo can be overwhelming when it comes to figuring out where to stay, Nagano City only has a few hotels within the radius of the train station.
I decided on Hotel Jal City, based on the reviews I had seen online.   It was not a luxury hotel, but a very comfortable and clean one with a terrific traditional breakfast.  Sure, luxury is nice, but it is not always necessary, especially when you are on the go, and don't have the time to enjoy the amenities.  I have a pretty basic requirement….clean with a bed that won't ruin my back for the night!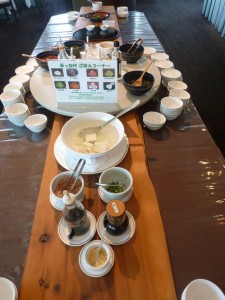 Hotel Jal City was great….very quiet, clean and friendly.  In addition, very reasonably priced.  It is situated in the perfect location, halfway between the train station, which is an easy ten minute walk or quick cab ride, and the Zenko-ji temple with it's beauty and shopping.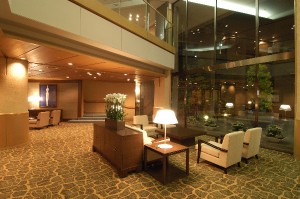 Since arriving six days ago, I have wanted to eat a traditional Japanese breakfast, and everywhere I had read, it said it doesn't really exist, but here in Nagano City and at the Jal City Hotel, I had my traditional Japanese  breakfast.  It was buffet style, consisting of many little dishes, so there was the opportunity to try everything, like rice topped with curry, tofu, varieties of Japanese pickles and vegetables, local fish, and a variety of western breakfast foods as well.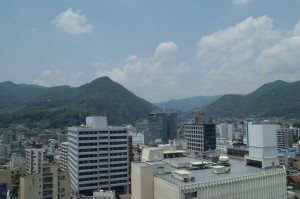 The view from the 16th floor where we ate was breathtaking with the mountains as the backdrop.  When looking at the room phone, there are buttons to call the front desk and other rooms and also one for massage.  While I did not have a chance to partake, it was nice to know the service was available, especially if you have been on your feet for many days.  There are also several foot and back massage establishments in the area for very reasonable prices.  A friend of mine got a face massage and said it was terrific!
I probably had one of my best dinners in Nagano in a place where we sat on mats and enjoyed fresh soba noodles, delicious sashimi, tempura and a tofu salad.    So if you're looking for a contrast from the exciting and flashy city of Tokyo, head north to Nagano, the home of the 1998 Olympics, and enjoy some great food, beautiful scenery and a hotel to make your stay most enjoyable.