For our downtown part of our trip to Nashville, we stayed at the magnificent historical Hermitage Hotel and enjoyed a delicious four course meal at the Capitol Grille on New Years Eve and a wonderful brunch on Sunday.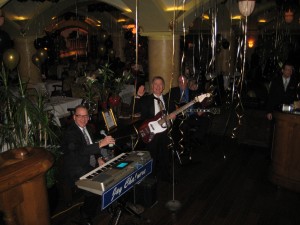 The restaurant is located inside Tennessee's only AAA five diamond and Mobil Five Star Award winning hotel.  The restaurant was decked out for New Years Eve with gold and black balloons and a jazz band to set the festive and romantic mood.  In the corner, one waiter was working hard to set the table for one couple by putting down rose pedals and champagne for the nervous guy who was about to propose to his girlfriend.  Executive Chef Tyler Brown prepared an exquisite dinner with a wide variety of choices including market fresh seafood, game, and fresh local Southern cuisine.   I had the smoked salmon belly, Maine diver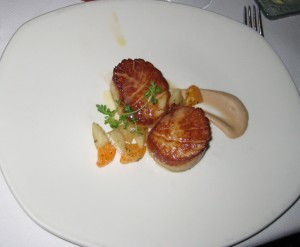 scallops, Moulard duck  breast and poached winter fruits for dessert.  My cousin tried the butter fish, squab, and porchetta.   I can't say I've ever had squab (pigeon) or butter fish (from Hawaii) before, but they were both very good.   Since the food was so good on New Years Eve, the idea of Sunday brunch sounded perfect when friend from Nashville suggested we meet there. We enjoyed a salmon omelet, steak and eggs, and a squash and pumpkin soup which was delicious.
Locals and tourists come to the Hermitage Hotel for tea in their spectacular lobby.  Commissioned by 250 Nashvillians in 1908, The Hotel Hermitage was named after Andrew Jackson's hermitage estate and opened on Saturday, September 17, 1910.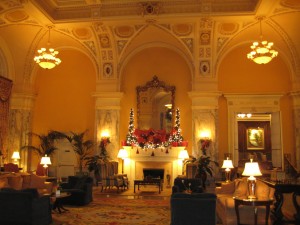 The hotel promoted itself as fireproof, noiseproof, and dustproof and only the finest materials of Italian sienna marble in the entrance, wall panels of Russian walnut, a cut, stained glass ceiling in the vaulted lobby, Persian rugs, and massive overstuffed furniture starting at $2.00 a night.
As Nashville's first million-dollar hotel, it was the preferred gathering place for the city's socialites and  attracted everyone from presidents and war heroes to actresses and gangsters. After switching hands a few times and a major renovation, today it remains a place for celebrities and businessmen as well as those  simply looking for a luxury experience  at this Nashville AAA five diamond property.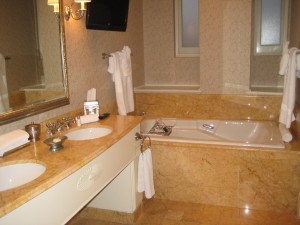 The average room is 475 square feet, has a beautiful marble bathroom with a soaking tub and separate shower, and double vanity. The bed was very comfortable and our room had a beautiful view of the capitol building.
So if you're looking for a luxurious experience in the heart of the downtown area of Nashville within walking distance of the honky tonks and shops, hands down, you'll want to stay at the historical Hermitage Hotel.