I love traveling to Los Angeles.  Everytime I visit, I vow to move out there. The weather is spectacular and there is always so much to see and do.  In the past I've stayed with friends, but this time I decided to stay at one of the newer, hipper hotels in Beverly Hills and see the scene from a new perspective.   The Thompson Hotel brand has hotels in cosmopolitan areas including New York, Chicago, Washington DC, Chicago and two in Los Angeles, including the Roosevelt in Hollywood and the Thompson Beverly Hills, built in 2008. Upon driving into the hotel, which is discreetly located on Wilshire Boulevard, the valet attendant will help you with your luggage and take care of your car.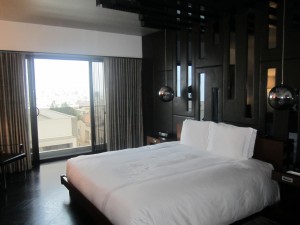 Right inside is reception with a cozy lobby.   The hotel is modern and the architecture, sharp.  When I stepped into my room, I knew this was different from any hotel I've stayed in.  With 107 rooms, 12 of which are suites, the architecture and furniture gave off a sexy, sophisticated and edgy feel.   It was upscale and smart, but reasonably priced.   The hotel and its fabulous rooftop bar and pool has been home to many fashion and television shoots, but is also a perfect spot for business meetings.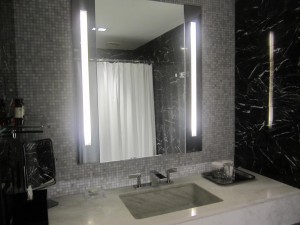 Overlooking downtown Los Angeles and the Hollywood Hills, one can order drinks or dinner and relax on couches and chairs under a heat lamp.   In addition to the traditional drink menu, they also serve up some delicious signature cocktails.
Many couples will get married at the nearby Four Seasons Hotel, which is quite beautiful and lavish, but also outside many people's price points, so the wedding party will stay at the more affordable, yet fun and hip, Thompson Beverly Hills.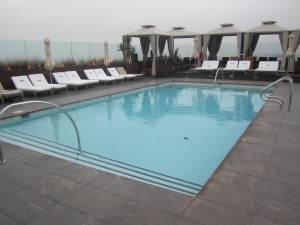 It's a great place for locals and tourists alike, and I would highly recommend staying here if you are looking for a sheek, comfortable hotel in the middle of the swank neighborhood of Beverly Hills. Plus, with the winter upon us on the east coast, there's no better time to visit Los Angeles, especially with fares as low as $149 each way from New York.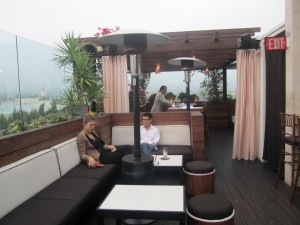 If you are traveling to this or any of the other Thompson property, be sure to check out their blog called Room 100, which talks all about the exciting events and openings in and around the property.  Whichever Thompson Hotel you choose, you'll enjoy a stylish, memorable stay in your city of choice.