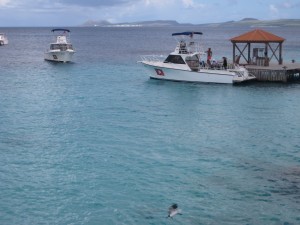 We arrived in Bonaire yesterday after we island hopped from Aruba to Curacao to Bonaire. The flight from Aruba to Curacao was 25 minutes and from Curacao to Bonaire, 12 minutes.  Located in the Netherland Antilles,  Bonaire is part of the Southern Caribbean and is known for it's incredible scuba diving, windsurfing, and kitesurfing.
We had a great BBQ buffet dinner at the Divi Flamingo Beach Resort and Casino, one of the first properties on the island of Bonaire.  We have set up shop at Captain Don's Habitat where they call themselves the home of diving freedom.  What makes Bonaire and Captain Don's so special is that right off the shore there is incredible marine life, so while boat diving is great, you can also go right off the pier of Captain Don's Habitat.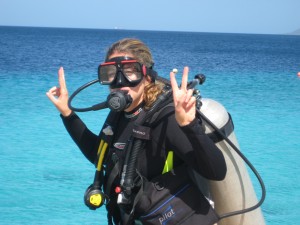 Today, I started the part of my confined water certification, which includes four dives in the ocean.  Roger Haug is my instructor and he does a great job teaching the scuba skills and making you feel comfortable and confident from the start.  Bonaire is a great place to learn how to dive because you can go from shallow to as deep as you want in increments right off the shore.
I was excited to use my new equipment from Sherwood Scuba and Henderson, a local New Jersey company that does a great job with their wet suits.  Many of the other divers had Henderson wetsuits as well.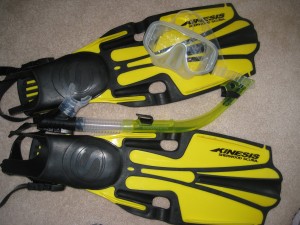 Sherwood supplied me with my mask, snorkel and fins, as they are a sponsor of DEMA's "Be a Diver Program."  The kinesis fins cut the water really well and the frameless mask folds up easily, so it makes for a great second mask.  I can't believe the variety of fish in size and color, some that can be seen close to the surface.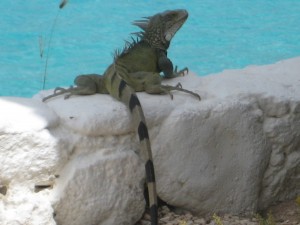 Captain Don's Habitat has a real homey feel with people from all over the world becoming friends as they dive together.  In my certification group there is a mother and daughter from Washington D.C. getting certified together and a 12 year old boy whose parents have been diving for years here in Bonaire.
I can't wait to finish my last two dives! I'll officially be a certified scuba diver with the rest of the week to enjoy the beautiful marine life of Bonaire!