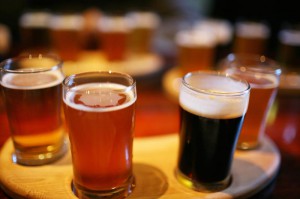 I flew out to Brussels Wednesday evening for  "Brusselicious 2012," the year Belgium is showcasing the gastronomy of the region.  The kick off of the event starts today, but we already  got a head start yesterday with a chocolate workshop and tasting with Laurent Gerbaud at his delicious chocolate shop.  It was the perfect afternoon activity to cure the jetlag.  While sipping an espresso and tasting the various chocolate covered fruits, chocolates mixed with nuts, learning about the three different types of chocolate and the importance of making chocolate with the finest ingredients with very little sugar, I was quickly on a high and enjoying Brussels already!  Laurent's shop is a must visit, as he has quite the background and when you go in, you should ask him how he got started and where his career has taken him up until opening this shop a couple of years ago.  He's quite interesting, extremely friendly, and a very talented chocolatier!
After the tasting, I explored the city with visits to the musical instrument and Jewish museum.  At the musical instrument museum, one can plug in and listen to instruments from many different eras from all around the world.  The Jewish museum was also neat, but all in French, and I unfortunately never studied French,  so I could just look at everything, but didn't always know what I was looking at.  However, it was still very interesting to see.
The shops around Brussels range from your typical souvenir stores to quaint European boutiques.  There are markets most days of the week including a fruit and vegetable and seafood market, as well as a tradition flea market with second hand goods.
As I was beginning to crash from my chocolate and caffeine high, and the jet lag was setting in, it was time for dinner and of course I had to have the traditional mussels and frites at the restaurant, "Taverne du Passage," where we also sampled some incredible appetizers local to Belgium.  They make their own mayo which can be used with the french fries, a shrimp and tomato appetizer we enjoyed, and just about anything else you'd like to spread it on.  It's definitely not your jar of mayo you're used to in the states.  As I was walking the streets after dinner to see the famous Manneken Pis (a fountain of a  young boy who is doing his thing: there are a few theories as to the meaning behind him), I passed some incredible waffle places, and if I wasn't so full from dinner, I would have gladly tasted any one of them.  However, today is another day!  Unfortunately, the fountain was not flowing, because it is just that cold here.  It's not usually this cold in Brussels, but a lot of Europe is currently experiencing a cold snap.
I'm about to run off to a Brussel Sprouts cooking workshop and lunch and will report more later as well as add pictures!