I'm always looking for great romantic getaways close to home because, let's face it, we can't all get away for a week or more at a time.  However, three days over a long weekend is usually doable, and can do wonders for your soul.   It can throw in that extra spark into an already amazing relationship or into one that has been missing that TLC for a little while.  For years, I have wanted to visit Martha's Vineyard and Nantucket and get back to Cape Cod.  On my last trip to the cape a few years ago, I drove past the Chatham Bars Inn in Chatham, stopped in to get a pamphlet, and said, I need to go there!  Well around five years later, I finally made it there, and the wait was definitely well worth it!
If you ask anyone in town how to get there, as we did a few times when finding our way, their eyes will light up when you mention the Chatham Bars Inn.  It really is second to none to every other property in the Cape Cod region.  If I did not have an agenda of checking out Martha's Vineyard and Nantucket, I would have loved to stay at the resort all day and night.  However, it is a fantastic place to stay if you plan on exploring Chatham and other regions on the cape while staying in a purely luxurious property with phenomenal restaurants, a private spa, and oceanview rooms bigger than my apartment in New York City.  I was spoiled with accommodations in the spa suite where the rooms have their own private steam shower, Jacuzzi tub, fireplace, and sauna, and an outside pool that can only be accessed by those staying in the spa rooms.   There is nothing like coming home at the end of a day of biking and exploring, and settling into a hot steam shower and sauna before crawling underneath the covers.
Complimentary transportation will take you around the resort and to various places close by, but there is also plenty of valet and self parking.  With the beautiful setting of the resort, you'll want to walk everywhere, and if awake early enough, take in the beautiful sunrise over the ocean as you make your way to breakfast or to the complimentary morning coffee and tea.
You can choose the breakfast buffet or a la carte menu.  The buffet is definitely quality with plenty of fresh fruit, lox and other fish, all of your traditional breakfast favorites, plus eggs benedict, various types of granola, oatmeal, muffins, breads, various juices and smoothies.   For dinner, there are various restaurants from which to choose, from casual to formal, with a wide range of food selections.
We dined one night in Stars, the formal steakhouse and seafood restaurant.  I ordered the half lobster with a shrimp and crabcake supplement and a side of sautéed spinach, while my friend ordered the NY strip with parmesan crusted steak fries.  Dessert was homemade balsamic vinegar icecream and a mixture of sorbet.  Appetizers were seared scallops and an amazing raw tuna dish.  My seafood dish was quite succulent and the spinach prepared perfectly.  You could definitely tell that the chef paid attention to detail, as the food far surpassed anything we had eaten outside the hotel.
The concierge was very helpful in suggesting ferry and tour companies for the trips to Martha's Vineyard and Nantucket.  We went on Labor Day for a few days, so it was right after the height of the season had settled down.  However, if you plan on going during the peak season, you definitely want to make a reservation, especially if you plan on bringing a bike or car on board.  We opted for the Hy-line high speed boat to both the vineyard and Nantucket.  They left from Hyannis, which was around a 30 minute ride from the hotel and around 40 minutes in peak season.  The boat company was terrific with easy parking right near the terminal ($17) and plenty of space on the top and inside the boat.
I would definitely recommend the high-speed line, as we arrived in about an hour compared to the two plus hour ride on the traditional ferry.  It is definitely worth the extra money, especially if you decide to do day trips like we did.  The ferry ride was more than just a way to get from Hyannis to the islands.  The scenery was spectacular and the sunset on the way back from the Vineyard was breathtaking!
There is so much to see and do while on Martha's Vineyard, so if you are on the day plan, I definitely think you should take an intro tour to get a sense of the island so you know what you're looking at as you explore on your own.  Ron Minkin was highly recommended . He sent Dave to give us a personalized tour and Dave had so many great anectodal stories to tell since he's lived on the island for over three decades and was even in the movie "Jaws" when they filmed it on the island.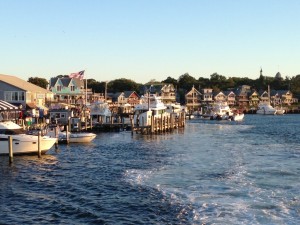 His personalized tours start at $80/hr for up to four people.   After the tour, we walked around the downtown area, checking out the various shops.
With so many great bike paths, given the opportunity, I would always rent a bike to explore an island, but with Martha's Vineyard, it is much bigger than Nantucket, and therefore, with our limited amount of time, we decided to rent a jeep from Sun 'n Fun to explore the rest of the island so we could make it to the end and see the gorgeous view of the lighthouse in Aquinnah.   At first we were going to rent a moped, but we were able to cover a lot more ground in the jeep.  It's really easy to get around the island, as there are really only three main roads, North, South, and Middle.  Sun 'n Fun has some of, if not the, best rental rates on the island for hourly or full day rentals.
On Nantucket, we also only had the day, and since we were already into off peak  season, the ferry back to Hyannis left at 4:30, leaving us only six hours to explore.  Therefore, we decided to call Gail of Gail's Tours, who was also recommended to us.  She fills her red Mercedes van with ten or so people and travels the island telling tales of its inhabitants and pointing out the best photo spots.  She charges $25 per person and can be reached at (508) 257-6557.  There are many bike paths leading to the gorgeous beaches.  We only had time to start on one towards Madaket, but the beautiful multicolored flora surrounding us on both sides was like a scene out of a movie.  I would definitely love to go back when I have more time to ride the trails, which for the most part are flat, with minor hills.  You can also explore off road with the many dirt paths that lead to places a car or moped couldn't get to.
So if you're thinking about getting away for just a few days or longer and want to really treat yourself to an amazing escape that will leave you feeling pampered and relaxed,  book your stay at the Chatham Bars Inn as a home base for your New England adventure or as your destination.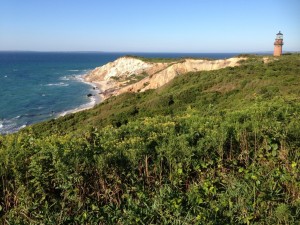 If you're seeking the perfect romantic retreat, girlfriend getaway or golf outing with the guys, you will enjoy every moment.