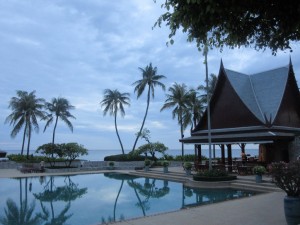 Wheatgrass and green juices with breakfast on the ocean,  hundreds of skin, body and mind treatments, fitness training and group classes, tai chi and yoga, and the most delicious buffets and sit down meals; all made with no processed ingredients.… for what else could one possibly ask? To me it was heaven on earth. My sanctuary for what was too short of a time…this sanctuary is Chiva Som in Hua Hin, Thailand. I paid a visit to the health and wellness resort after my ten days of travel throughout Thailand. I signed up for the three day program, the taste of Chiva Som.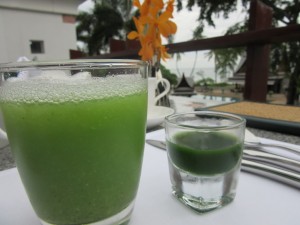 However, after my first incredible dinner there, I knew three days was definitely not going to be enough time to truly immerse myself and relax. However, I think I did a pretty good job in the few days I had. I met people from all over the world, and not one of them said it was their first time to Chiva Som. People had been back there numerous times and were staying for at least five days, but most planned to stay two weeks to a month! There were people there of all ages and visiting with various goals in mind.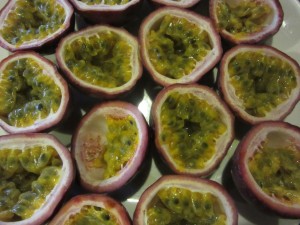 Some were there to take advantage of the detoxing program, while others were healing from an injury, and some to regroup after emotional trauma, or to become more focused in their daily life. Whatever the goal, Chiva Som provides the perfect peaceful setting and magnificent doctors, therapist, visiting consultants, and skin care professionals to address your concerns and put together the best plan of action for you. When I arrived, I met with the consultant who looked at the form I filled out to determine what concerns or issues I had, and talk to me about my goals while there. That night was BBQ night, and it was a far cry from your typical American BBQ!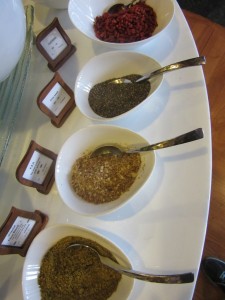 They had a huge spread of various salads, fresh sashimi, huge prawns, lobster tails and scallops, and healthy meat dishes prepared with seasonings that aid in digestion. The fruit selection for all three meals included succulent papaya, pineapple, passion fruit, dragon fruit, watermelon and pomelo; local and from their organic farm. A typical breakfast includes the buffet with the fresh fruit, homemade and greek yogurts, cured salmon, raw breads (made with nuts and seeds only), a selection of fresh vegetable and fruit juices, and then the option to order something from the menu, which included a wide variety of eggs, buckwheat pancakes, and sides like seaweed salad and pickled vegetables. The first night, I felt guilty going back up for thirds and fourths, considering I was at a health resort, but the food was so good, and as one guy said, everything is so healthy and you're doing so much activity, that you're still going to lose weight. Every dish on the menu and the buffet has the calorie count, so you can monitor how many calories you're consuming. Many who go to Chiva Som decide to do their detox program, which can be done with a minimum of three days. On the detox program, you will be given fresh vegetable and fruit juices throughout the day, along with soups, or light meals, depending on the day. There is a separate menu for those choosing to give the liver a rest. If you are considering a detox, Chiva Som is the perfect setting for it because you can relax as much as you'd like, and there are doctors and nurses to speak with if you experience any side effects.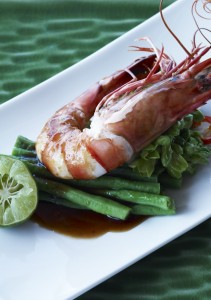 If you're not used to eating a certain way, you may get a headache the first day, but that's your body telling you it's getting rid of the toxins. Lunch was also the buffet plus menu, and for dinner, you could choose to eat at the Thai restaurant right on the beach, or the Emerald Room, which had a huge selection of healthy, whole food appetizers, entrees, and deserts from which to choose. For seating, many choose to sit alone and enjoy the serenity of the resort, but if you'd like to meet other people and share experiences, there is a talk table as well. Therefore, whether you come alone or with others, you'll have whatever experience you're seeking. While I was by myself, I enjoyed eating dinner staring out at the ocean. I also enjoyed how friendly everyone else was, and how easy it was to meet people who had come from places like Singapore, India, Katar, Switzerland, Denmark, and New Zealand. One night at dinner, the five of us were all from different countries. That is something you probably won't find at a health resort in the United States. Another benefit to going to Thailand for this amazing retreat is the alternative approach to healing and the eastern style treatments.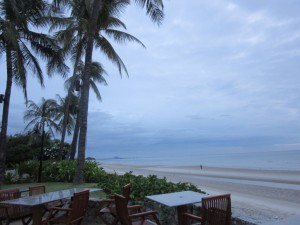 One day I had a consultation with the naturopathic doctor and we discussed a lot in an hour – time you don't normally get with your own doctor. He then made recommendations for things to do and try when back home. If you plan on staying longer, Chiva Som also offers blood testing and intolerance testings. The treatment selection and practitioners are outstanding. I was mad at myself for falling asleep through some of them, but when I asked the therapist to wake me up if I did, they told me it's best to fall asleep during a treatment, because it means you are in a deep relaxation, and that is when the body can accept the most healing from their work.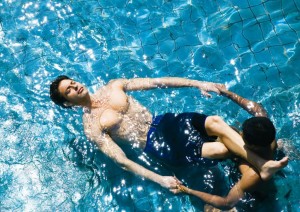 The therapists are incredible, so it was tough not to fall into a deep relaxing state. I had an acupressure facial treatment, in which they use a tool to press the points in your face that correspond to other parts of your body, craniosacral work, an invigorating massage in which they massage and chop your body, and an herbal signature massage, using warm packs. I also met with the physical therapist and she did a comprehensive analysis of my back and then I worked on their neural equipment (neuromuscular activation) with a therapist.  It's a great way to learn how to fire up those unused muscles. They also offer some great hydrotherapy treatments; my favorite including one in which you are gently swept through the water while just relaxing and letting your mind go.
 They say some equate it to being back in the womb. I did find myself having flashbacks, but not as far back as the womb! Chiva Som is really a magnificent health resort. No matter your shape, level of activity, or health condition, they will make sure you leave there feeling incredibly better than when you went in. If possible, I would spend at least five days on property, but some time is better than no time. Going there has inspired me to slow down, stick to my clean diet, and even add in a few spices to my cooking. You can read all about the various packages and more about Chiva Som here: http://www.chivasom.com