I have trouble relaxing and I'm always running around, so when I heard about the opportunity to jump aboard the spa train in Canada, I was very excited.  Not only did I want to explore parts of Canada I have not seen, but the idea of being pampered for a few days with no choice but to relax, was very inviting.  What a perfect escape for you to rejuvenate or escape on a romantic trip with your partner or grab some friends for the perfect girlfriend getaway.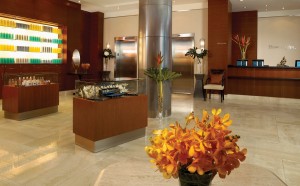 I flew into Toronto aboard Porter Airlines, a Canadian airline with great service and one of the few airlines that serves you a meal on board!  Many of the airports have lounges where all passengers can relax before the flight.  I flew out of Newark and was in Toronto in a quick hour and a half!  After arriving at the lovely Delta Chelsea hotel in the heart of downtown, I walked next door to the Elmwood Spa for what would be a day of complete relaxation.  After changing into my bathing suit, I enjoyed their water therapies for an hour, swimming and sitting in the steam room.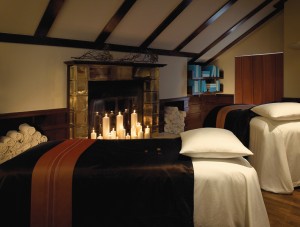 After that, it was time for the three course lunch which was made with all fresh, healthy ingredients, and even thought it was supposed to be "spa food," the portions were enough to have me leaving there very full from the spinach and avocado salad, salmon with asparagus and the rhubarb pie with a side of mango sorbet.  (normally comes with ice cream, but I substituted!)
After lunch, I had the elmline facial, which was out of this world!  The esthetician evaluated my skin and decided to go with the hydration line.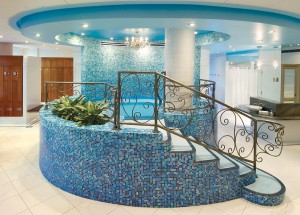 The combination of the face massage while applying the products, and the hand and feet massage while I was getting steamed was enough to put me into a very deep sleep! I left there looking very refreshed for someone who was on three hours of sleep and the wrinkle lines between eyebrows were not visible!  I liked that fact that she told me every step of the way what she was doing and explained a lot to me about how to take care of my skin after leaving there. If you are looking for a peaceful oasis in the middle of a big city, this is the place to go as part of the spa train or as part of your Toronto visit.
I would highly recommend staying at the Delta Chelsea for any occasion if you are in Toronto.  The hotel has every amenity, including two pools, one in the adult fitness center, which also houses top of the line equipment, a whirlpool and sauna.  There is no shortage of restaurants and bars, including everything from a gourmet serve yourself restaurant to their elegant bistro.  It is the largest hotel in Toronto and if you are traveling with kids, this is definitely the place to stay!  With a kids and teen center, there is plenty for them to do, from playing with the in house rabbit to video games and billiards.  If parents would like some time to themselves to explore the city or to go see a show, they can pay a nominal fee for babysitting.
I finished my stay at the Delta Chelsea with their great breakfast buffet filled with fresh fruit, yogurt, and eggs benedict.  After a quick taxi ride, I was at Union Station and hopped on VIA rail for my trip to Port Hope and the Dorset Manor Spa.  Could it get any better than this?