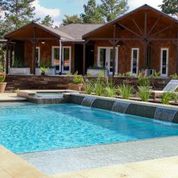 In Houston, the rodeo may have been in town, but after I landed at George Bush Intercontinental Airport, I was on my way to a lodge an hour outside of Houston to begin a very different roundup of health and wellness lodges and resorts for the week. First stop was the Deer Lake Lodge and Spa. The flight to Houston is not expensive on United Airlines, and the lodge offers a car service to pick you up at the airport. Brian from Creekside Limousine picked me up and gave me a great intro tutorial to the lodge on the way.
I originally chose to come here after meeting them at an organic spa event in NYC last year.   I have covered health and wellness facilities like Canyon Ranch (now known as Carillon Hotel and Spa) in Miami and Chiva Som in Thailand, but I've never done a true detox.   Based on what I knew about detoxing before arriving, I thought I was in for a few days of vegetable juices and wheatgrass shots throughout the day in combination with some light soups. When I first saw my program, the words shot out of my mouth, "Is this it for everyday?"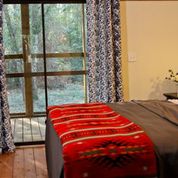 Normally, I eat very healthy at home, so I didn't think the whole program would be such a shock. However, it was a bit different than expected. Most of the time, I was very full, except for the second night after my soup dinner and yoga. Had I gone to sleep early, I probably wouldn't have realized just how hungry I was! But other than that, you are drinking vegetable juice once a day and making a detox drink twice a day, which consists of a choice of green powders, a detox powder made up of apple pectin, flax seeds, acacia, and Benonyte Clay, a teaspoon of Clark's minerals, and coconut oil. Mix that into a paste with some apple juice and add water. Very filling. Plus, in one of the food classes taught by the very informative and bubbly April Ree, you get to sample the amazing raw pudding she showed us how to make in the vitamix.   She is chock full of fun simple recipes you can take home for you and your family.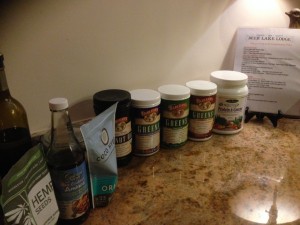 April, whose website is http://www.oceansofabundance.com, not only teaches some food classes, including the one about how to eat when coming off of a fast, but also will take you food shopping and show you aisle by aisle what you should be buying and items to avoid.   Again, even as someone who knows quite a bit about healthy eating, I still learned a few new tidbits, which were helpful. It also reinforced some of what I may know, but don't practice.   The lodge offers a variety of packages from which to choose, but you can also purchase additional services, including a full array of traditional spa treatments, as well as colonics, which are administered by a certified hydrotherapist, Paula Hobbart.
There are also lectures and sessions offered by a hypnotherapist, acupuncturist and iridologist, which I had not heard of before. It's the reading of your eyes.   While some alternative practices may seem "out there," she said this is based on true science. Cheryl Lemoine Kainer took a picture of my eye and then told me a few things I should know about my body based on the different areas of my eye.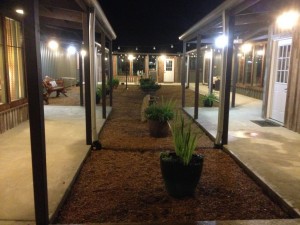 The setting of Deer Lake Lodge and Spa is one of pure serenity. It really is in the middle of nowhere, so there is no temptation to leave and explore the area. In your down time, you can enjoy the infrared sauna, which has many benefits over a standard sauna, or just sit on your screen- enclosed porch and listen to the sounds of nature.   As a girl who lives in NYC, with constant stimulation, it's forced relaxation that is sometimes needed to truly unwind. It was really nice to alternate my day with classes and treatments and hours that were just mine with nothing I needed to do, but could spend writing or reading.  The rooms are very comfortable with organic linens and Jacuzzi tubs.  It's simply a great escape for a few days if you need a long serene weekend away or can incorporate it into another trip to the Houston area. Be prepared to slowly go back to your eating regime, as I did experience some stomach pain and adjustment time. You'll also need to consult your doctor to get clearance for the colonics.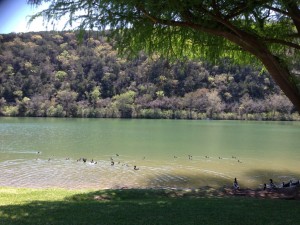 Next stop on the spa roundup was Lake Austin Spa Resort. A complete 180 from the Deer Lake Lodge and Spa, this resort is for those looking for a more active retreat with delicious healthy food and wine and beer selections. This gorgeous resort on the lake is great for girlfriend getaways, romantic retreats and just a relaxing getaway for one, which I thoroughly enjoyed.  In beautiful Texas Hill Country, this resort includes all food, fitness classes and informative classes in your package price.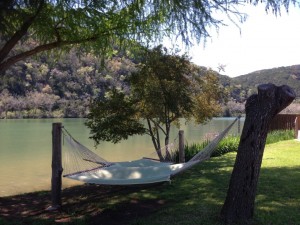 You can get whatever you'd like from the resort, from relaxing on a hammock by the lake listening to the ducks play, to working out and participating in the group hikes. My days consisted of taking out a kayak and paddling past blue herons, followed by a TRX class, a foam roller class, a NIA dance class, and a high intensity cardio and weight training class in the gym, and a relaxing swim in their pool barn.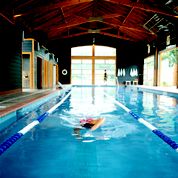 Enjoy the breakfast buffet, which includes fresh fruit and berries, yogurt, oatmeal and chia, flax and hemp seeds. There is also a menu of hot food from which you can order. Lunch was also a fresh buffet of vegetables picked from their organic garden. Dinner is a large selection of soups, salads, seafood and meat entrees, and vegetarian options. The spa also offers an alternative menu with healthy dishes such as their refreshing watermelon gazpacho soup and yellow fin tuna corn tortillas (I substituted bib lettuce for the tortillas) with vegan aioli sauce and avocado.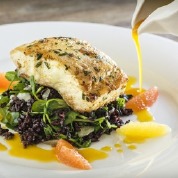 After a day of fitness classes, treat your muscles to a massage molded to your personal needs. Glen was my therapist, and not only gave me the most amazing neuromuscular type of massage for my persistent rhomboid stiffness, but also showed me some stretches to help target the area.   I opted to have my massage outside so I could listen to the relaxing sounds of the waterfall.
The very comfortable beds and pillows and the serene setting also made for some great sleeping. The stars and moon also shined bright at night. I highly recommend a visit to Lake Austin Spa Resort as a visit on its own or with a few nights to spend in Downtown Austin, as you won't want to leave the property during your stay.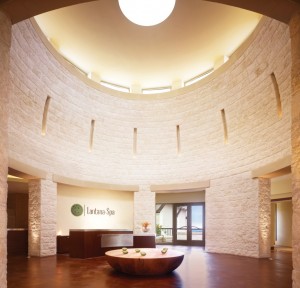 After an hour and 45 minute drive, the next stops on my spa roundup were in San Antonio.   The Lantana Spa at the JW Marriott San Antonio Hill Country Resort and Spa and the Mokara Hotel and Spa in downtown San Antonio on the River Walk. The two properties are very different, with the huge JW Marriott situated on a PGA golf course with a huge six acre water park, pool, and kids club. The JW Marriott is one of three resorts in the US with two PGA golf courses.   The hotel boasts 1002 rooms and 265,000 square feet of meeting space.   The beauty of this property is that the whole family can visit if someone is there on business.   Mom can enjoy the spa while taking advantage of the kids club, and because the property is so large, even though it can hold thousands of people, it never feels crowded. 18 Oaks, its fine dining steakhouse is a great spot for a romantic or business dinner. There are seven restaurants and bars on property.
The Lantana Spa is a full service spa with a fitness center and exercise classes with a Jacuzzi, steam room, and private outdoor pool. My experience began with a unique seven knots ritual-tying a ribbon with seven knots completing a circle to release your stress and start anew. The 26,000 square foot spa is the largest in Texas. I was treated to their signature massage of the Curanderos. Compresses are filled with a blend of organic herbs that not only relaxes, but works on sore pressure points. It was a massage unlike any I've had before. The compresses worked deeper than a hot stone massage, since there is the ability to place it under a certain part of your body and apply pressure.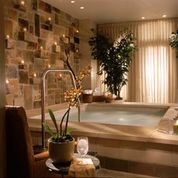 If you are staying in downtown San Antonio to be in close proximity to the River Walk, Alamo, and the Missions National Park, the Mokara Hotel and Spa is a beautiful property on the River Walk. When I was there, a wedding party from NYC was at the spa prepping for the big day. The high-end spa offers services for  both men and women including everything from an express mani and pedi to hour or longer treatments. I opted for the alpha beta peel facial, which was an amazing in depth 80-minute treatment. It was a chemical facial treatment consisting of alpha and beta hydroxyl acids to minimize the appearance of surface lines, smooth out rough texture, aid in clearing acne and help fade hyperpigmentation. The esthetician was terrific, telling me along the way about all the SkinCeutical products she used throughout. In the women's locker room was a Jacuzzi, steam room and sauna and relaxation lounge as well.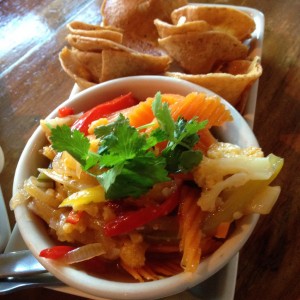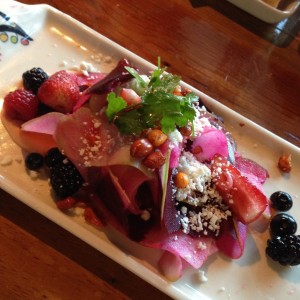 In keeping with the healthy trend, if you're looking for a Mexican restaurant that utilizes fresh fruits and vegetables in all its dishes, check out Chef Johnny Hernandez's The Fruteria, inspired by Mexico's beautiful and colorful fruit stands. The name means, "green grocer" and the space is modeled after a Mexican Botanero for tapas and cocktails.   During the day, the Fruteria serves smoothies made form fresh fruit along with tostados and tortas, and at night, the bartenders are mixing fresh fruit with regional tequilas.   The restaurant is a short five minute drive from the River Walk and also has other locations throughout Texas.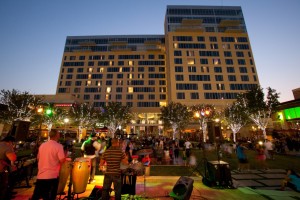 Even though I was on a spa tour, I always love incorporating other attractions into my travels if time allows. After I had finished my three and a half days at the Deer Lake Lodge and Spa, Brian took me back into Houston, where I did go to the final day of the Houston rodeo, a huge yearly event drawing hundreds of thousands of people. I stayed at Hotel Sorella CityCentre which was in a great new complex with shops and restaurants and a big green area with live music and a place for kids to play. It's a great business hotel as well. At the end of my spa tour, I stayed in the Galleria area at the Royal Sonnesta, which was also a great business hotel with a large lobby and bar. It's an easy thirty minutes to the airport and also close to downtown Houston with plenty of shopping and restaurants in the area.
So the next time you're looking to give your body a break from the everyday grind, learn a few new health trends, some wonderful spas and detox lodges are waiting for you not too far away in the Lone Star state! As they like to say, everything is bigger and better in Texas!