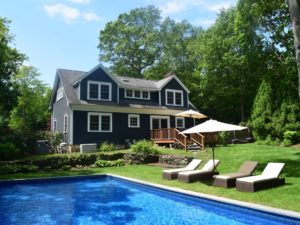 According to a recent study from HomeAway, 93% of Millennials would skip out on brunch if it meant they could go on a trip with their friends.  I personally love a good brunch, especially when the weather is nice and lends itself for dining outside.  However, now that I have a 15 month old, brunches are not nearly as relaxing as they used to be and I have found myself thinking I'd much rather be on the go doing something fun like traveling than sitting at a table holding it in place so my daughter doesn't kick it again and knock the water glass into the waitress.  So how many brunches would it take to save for a weekend away? HomeAway did the math to find out just how many orders of avocado toast and mimosas you'd have to skip for a weekend away in some of the country's top destinations.  Some destinations like the Poconos would require as little as two skipped brunches for a 2-night stay in a HomeAway vacation rental home.  You can find the brunch index here.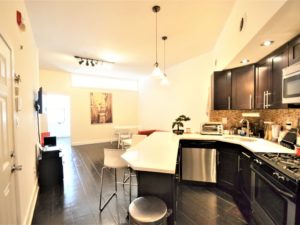 We decided to do just that and get out of the city for a last minute July 4th holiday.  Normally I avoid traveling during the holiday times because everything, including accommodations, are at their peak prices.  However, when I hopped on HomeAway.com, I was able to find a great place to stay for a very reasonable price. HomeAway, a site for renting beach houses, cabins, condos and more, offers vacation rentals in some of the hottest destinations for summer getaways, and because you're renting an entire home, you will end up paying a lot less than if staying at a hotel and paying for more than one room. Bonuses include kitchens, laundry and sometimes a pool on property.  I find it perfect for family travel.  You can find some great getaways here. 
Since beginning this article, I had a conference in Philadelphia and my family was joining me. By the time I decided to go to the conference, hotel prices in the area were well over $300 a night.  I found a great two bedroom apartment a few blocks from the conference in historical Old City for just over $100 a night. With the 1000 square foot apartment came a kitchen, laundry and free parking in the area, which is basically unheard of in Philly!   The apartment is newly renovated and spacious, and the owner, Avi Lasri, was great at corresponding and answering questions. My daughter had a great time in this apartment because she was able to walk from one end to the other without any safety issues.  It was furnished nicely and minimally, so we we didn't have to worry about hiding anything or guarding anything from her.  It is on the second floor of a walk up but we had no trouble.  We just left our stroller in the car so we didn't have to carry it up and down since we have the UppaBaby Vista which is awesome for traveling and storing things underneath, but can be tough to carry up the stairs if you are by yourself with your baby. His property is # 1349867 on HomeAway.com.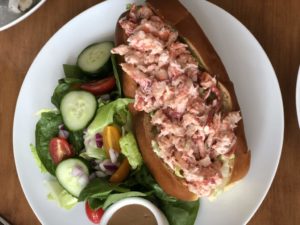 We stayed in beautiful Newport, Rhode Island for three nights.  The downtown area has some great shops and restaurants.  The Cliff Walk is a gorgeous 3.5 mile walk overlooking the water and runs adjacent to the mansions.  It does have some steps and in parts a lot of rocks, so if you're traveling with little ones, you'll want to skip the stroller and use a carrier.  With the seafood being so fresh, we had some terrific meals.  For lunch one day, we went to the Grace Vanderbilt Hotel.  The Colonial House existed on the 41 Mary Street Plot as far back as 1720.  A luxury boutique hotel, it is kid and pet friendly.  The Grace Hotel brand also has locations in other northeast coastal towns of the US, the Greek Islands, northwest Argentina, and in the exclusive Barrio residential and commercial district of Panama City.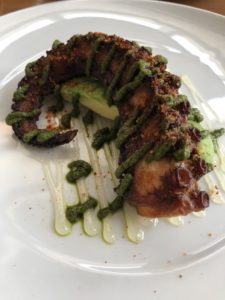 The restaurant, Vanderbilt Grill, is a great spot to have lunch or dinner.  If the weather is nice, meals are served in their peaceful garden area and if it's not ideal weather, their inside space still feels as though you are in a sunroom overlooking the garden.  The executive chef, Anthony Theocaropolous, specializes in Mediterranean and Italian cuisine.  He incorporates locally sourced seafood into his classic and contemporary sea-to-table dishes. I had heard that he had won the award for the 'Best Octopus in New York' by Ask Men, so naturally I had to try it.  It really did live up to its title. The octopus is braised in soy and marin with meyer lemon gel, smoked potatots, avocado, basil pesto and espelette.  The combination of flavors in each bite was heavenly!   I also enjoyed his seafood salad and lobster roll (yes, my eyes were bigger than my stomach!)  My 15 month old went to town on a plate of salmon, spinach and avocado.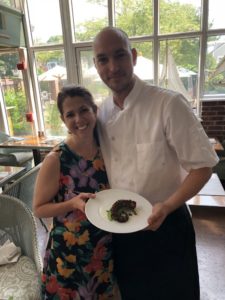 Newport is a great place to be on the water.  We took a sail in the middle of the afternoon with Classic Cruises of Newport.  Their boat was great – large enough to have plenty of space but small enough to make new friends while sailing.  You'll set sail  on their 72 foot schooner. For their aftenoon sails, they provide complimentary water and iced tea and for their sunset sails, champagne.  It was a very relaxing way to see Newport Harbor and Narragansett Bay while also learning about the area.
For more ideas and things to do, here is a great website that lists all of the activities going on this season.  Now's the time to enjoy all the beauty and great cusine of the New England coasline.