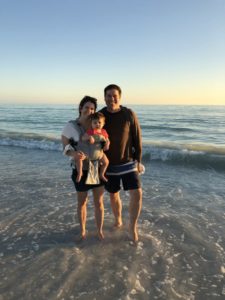 We decided to take a trip to Sarasota – only a two hour flight from New York and home to the beach ranked number one in the country – Siesta Key Beach.  This was our first trip that was not to visit family with our baby.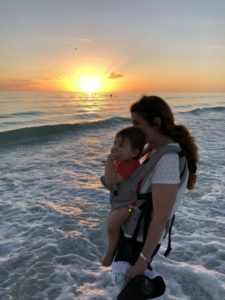 Because of that, we decided to stay  at a vacation rental property so we could have a separate room for our baby to sleep and nap and we would have all of the comforts of home with a full kitchen and washer and dryer so we could prepare her and our meals easily. It also saved us money because we went grocery shopping instead of eating out all the time.
We searched HomeAway.com. They have 2 million unique places to stay worldwide listed on their site.  Our trip was last minute during peak season in Sarasota, so this was also a great option because many hotels were already booked or their rates were out of our budget.  We found a very large home with much more space than we needed for just the three of us, but my in-laws came to visit one night, so it was perfect for all of us.  The house was basically two homes in one with two kitchens and two living rooms, so they could have one end of the house and we could have the other.  Here is the link to the property where we stayed.  https://www.vrbo.com/589863
According to statistics from HomeAway, the beach is the number one destination for vacation home bookers, with Panama City topping the list of HomeAway's hottest destinations based on overall demand, followed by Orange Beach and Gulf Shores, Alabama, Walton County, Florida, San Diego, Four Corners in the Disney area, and Hilton Head, South Carolina.  Internationally, Paris is currently the number one destination for vacation home rentals followed by London, Rome, Puerto Penasco, Mexico and Florence.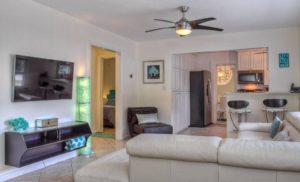 In addition to the bonus of having all of the amenities of a home while on vacation, for any group that would  normally book more than one hotel room, you'll save a lot of money.  You'll also get a ton more space. The average vacation rental home is 1850 sq ft. versus the average hotel room that is 325 sq. ft.  It's also easy to find a pet-friendly accommodation in most destinations.  You'll truly enjoy an authentic travel experience.
For more, listen to my radio segment about HomeAway and my trip to Sarasota here:  https://soundcloud.com/dana-barrett-clips/michelle-jersen-baby-biz-expert-on-vacationing-with-your-baby