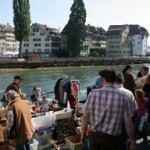 What a great few days it's been. I will catch up on yesterday's events, which consisted of touring the beautiful city of Murten and hiking through the wine path of one of Switzerland's smallest vineyards, "Mount Vully" and tasting some of the local wines,  but I was too tired and recovering from my chocolate and cheese binge the day before to write anything last night. Today we took a one and a half hour train ride from Fribourg to Lucerne and arrived around 9:30 when the fruit and vegetable and flea markets were in full swing. I love markets, and even though Lucerne is known as the number one tourist destination in Switzerland, and the market was busy, it did not take away from the beauty of the city.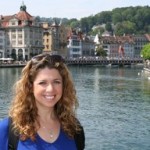 I loved the fact that there were so many people from all around the world in one place. The markets took place on each side of the Reusse River and there were locals selling breads, fresh organic fruit, cheeses, meats, a variety of antiques and anything else they may have pulled out of their attic today! The chapel bridge is a true landmark in the city and has original paintings from centuries ago hanging throughout. Unfortunately, there used to be close to 150 of them detailing the history of Lucerne, but a fire in the early 1990s took out a good majority of them. However, there are still about a third of the original artworks remaining, which are quite unique and striking to find gracing a bridge.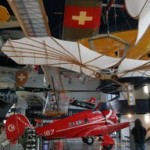 After buying some strawberries, kiwis, and local bread, we headed to the transportation museum. This is a must see for anyone coming to Lucern, especially if you have children. You'll learn the history and see actual trains and planes from back in the day. They have the first train ever built in Switzerland on display from 1847. A new section of the museum is opening in June, dedicated to automobiles of the past, present and future. A journey through this very well designed museum forces its visitors to recognize how the country of Switzerland has so masterfully focused on the importance of sustainability for more than a century in nearly every facet of life.  A close examination every day activities demonstrates how dedication and effort in caring for their own "green" contributions has truly goes a long way. 
Last night while dining at the most exquisite restaurant on the water, Relais-Chateau Le Vieux-Manoir, I felt a sore throat coming on and I hate getting sick while traveling, but it tends to happen sometimes from the combination of flying and not sleeping much. The food was much too delicious to let it get to me, but today as expected, I woke up with a cold and headache, so our fearless leader recommended some Kirsch. She said it is used in Switzerland to kill germs, so of course I took her advice, and tonight with dinner, I had this clear, colorless cherry flavored fruit brandy made from double distillation of morellos, a dark-colored cultivar of sour cherry….
…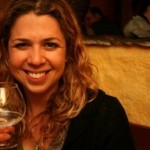 That's my way of telling you that I am headed to bed for now and I promise more stories and great pictures over the next few days! Gute Nacht!