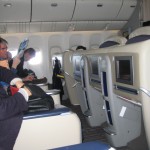 I love traveling, but absolutely despise the traffic you may get caught in on your way to the airport. I was so afraid we were going to miss the flight as the gate closed at 6 and we were still sitting on the Van Wyck in route to JFK Airport at 5:55. I was freaking out, to say the least. However, I called the gate and they were so nice to hold it open until 6:05 and at 6:04, I ran to the ticket counter…we made it! And not only did we make it, but we had the opportunity to upgrade to business class because of our type of ticket. I went from being completely frazzled to utterly relaxed and comfortable on my Air France flight to Paris, which would then connect to Montpellier.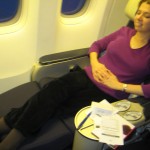 I was so excited to find out that my seat reclined into a bed with a push of a button. Since France is ahead by six hours, when we arrived, it was going to be time to start the day, so sleep was very important and I was so happy this time I wouldn't have to struggle with the perfect position so that my neck wouldn't end up in my lap. All the flight attendants on the Air France flight were so friendly and the food was delicious! We had an appetizer of foie gras with chutney and an assortment of breads and cheeses. The main course was snapper with greens and potatoes, and for dessert, a peach tart.
After arriving in Montpellier, we dropped our luggage and made a quick run to lunch in the middle of town. This weekend in Montpellier there is the international extreme sports festival, so the entire city is packed with locals and international tourists, mostly college students and younger. The city itself has a fairly young demographic all year around and has a constant buzz.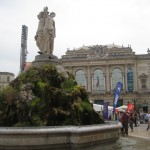 It's a creative city with beautiful architecture in the historic center. Comedie Square is in the center of it all with the beautiful opera house as the backdrop and this weekend, there is a book market as well as a craft fair with artisans selling everything including hats, earrings, shoes, bags, and plenty of bread and cheese. We took a tour of the Fabre Museum, which is the premiere art museum of Montpellier and features works from some of the most famous artists in the world. It takes you from the Renaissance Era through Romanticism, Impressionism right up into today's contemporary art and into present.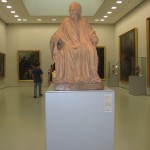 For dinner, we took the tram to the Odysseum, which is the newer section of Montpellier. In the Odysseum, there is an aquarium, ice skating ring, planetarium, go-carting, bowling, a rock climbing facility and several restaurants including Les 3 Brasseuer, a brewery of local French beer. It was a long, but great day and I'm looking forward to going to the market tomorrow and seeing a bit of the countryside.