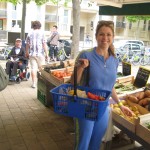 In the center of town in the tourism office where you can find all the information you need about Montpellier and you can rent bikes for free through their network of free public bikes called velomagg. Today we took a wonderful ride through the city and onto bike paths which led us to the beautiful Chateau de Flaguergues, an 18th century castle and wine-making facility, where we had a picnic lunch from the fruit, bread and cheese we picked out earlier at the local Halles Laissac market.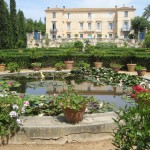 After lunch, we took a tour of the castle where Count and Countess Colbert, the owners of the vineyard, live and strolled through the beautiful French, English and Iranian gardens surrounding the property.
After biking back into town, we strolled through the market and then went to watch the FISE extreme sports festival, the largest European free-style sport competition, which is back for its 13th edition with BMX racing, skateboarding, slope-style mountain biking and wakeboarding. In the streets of Montpellier, even those not competing are extreme sports athletes this weekend. People are jumping their skateboards and popping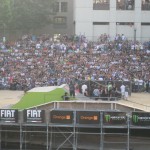 wheelies on their bikes, and everyone else, drinking beer and lining the banks of the Lez, hooting and hollering for their favorite competitor.    
Dinner was at a beautifully quaint restaurant called L' Artichaut in the historic section of the city. On a block off of the main center of town, it offers a quiet and relaxing setting for either indoor or outdoor seating. And yes, the artichokes in the lamb dish are delicious. After a delicious dessert of chocolate and a mango smoothie and raspberry crumble, I was stuffed to the brim and ready for bed. The walk back to the hotel was beautiful as the historic city was lit up and the streets were bustling with people enjoying crepes and gelato.