For anyone planning a trip to Lucerne, you must take a trip to Mt. Pilatus. While you can get there by train if you're on a tight schedule, I'd recommend taking the catamaran across Lake Lucerne, which is a beautiful ride as the mountains surround you. The boat drops you off right where the railroad ride up the mountain begins. And what a ride it was! It is the steepest cog railroad in the world and takes you right along the snow that's still on the mountains. After you step off the cog railway, you can hike up the stairs of the mountain for about ten minutes and arrive at the top of Mt. Pilatus which offers spectacular scenic views and great photo opportunities.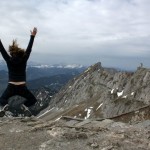 When you've spent enough time to enjoy this all, you can stop for a great cheese fondue lunch at one of the few restaurants on the mountain before taking a cable car back down. You have the option of stopping halfway down to go tobogganing, tree walking, or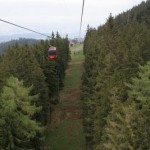 ziplining in very well set up activity area on the mountain, perfect for even the younger hikers. Then at your leisure, step into an individual cable car for your smooth ride down the rest of the mountain, allowing for full 360 degree views all the way to the bottom.
After you exit, you can take a quick bus ride back to Lucerne. We chose to take the bus to Lucerne and then hop on a train to Zurich. That's the beauty of the Swiss Pass, which you must get if you are planning a trip to Switzerland. For one price, you can ride all of the trains, buses, boats, get a fifty percent discount off most of the mountain-top cable cars and trams, and access to over 400 museums. We didn't have much time left in the day, but I wanted to see Zurich, so with the trains arriving every half an hour, it was really easy to hop on, spend a few hours checking out Zurich's city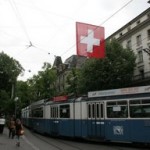 center, and be back in enough time for dinner in Lucerne. Our farewell dinner was held at the restaurant at the beautiful Romantik Hotel Wilden Mann, where we stayed for our time in Lucerne. The hotel extends along seven buildings in the historic Old City of Lucerne. Each of the fifty hotel rooms has it's own unique character. The hotel was first mentioned in Old Lucerne in 1517, and then again in 1529 as a pub without a license to operate as a tavern. The main building was originally a washhouse and the stables were removed from the ground floor when the Wilden Mann was listed as a hotel in 1860. To top it off, it's right near one of many of Lucerne's cathedrals, so with your window open, you can enjoy a cool breeze as you listen to the beautiful church bells ring throughout the city.