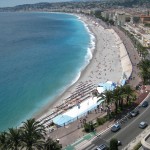 After our time in Montpellier, we took the EuRail to Nice.  I love the EuRail…it's such a great feeling that you can go anywhere in Europe with a simple train ride.  However, that day, the EuRail employees decided to go on strike and it took us a bit longer to get to Nice.  They advise reserving a seat on the train before going as they tend to fill up.  Our train was filled to the max, but I'm not sure how it would've been if everyone wasn't trying to get on the one train to Nice that day.  
Everything was really convenient.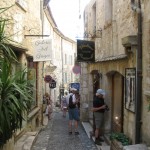 When we arrived at the Nice Rail Station, the rental car companies were right there.  While EuRail makes stops along the coast, we decided to rent a car so we could drive up into the mountains to the Medieval Villages and we wouldn't be locked into a schedule.  We made Nice our home base, as it's central to Cannes, Monaco, Antibes, and villages like Saint Paul de Vence and Eze.  We even had a chance to drive into Italy to San Remo.  
There are so many options when it comes to accommodations in Nice.  No matter whatyour budget  is, you can find a great place to stay right in the center of town.  We decided to split our stay at two different hotels.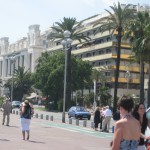 The Palais de La Mediterrranee, a Concorde Hotel, is a spectacular property  located on the Promenade des Anglais.  Overlooking the beautiful blue Mediterranean, and a few minutes from Old City, the hotel has been a symbol of the French Riviera for over 80 years.  While Palais de la Mediterranee is a luxurious and contemporary hotel, it retains its most symbolic features such as the monumental facade, and has been listed as a historical monument since 1989.   It also has a great casino, a turkish bath, pool, sauna, gym, and a great restaurant, which serves a delicious buffet breakfast including various breads and  pastries, dried and fresh fruit, salmon,  popular Nice dishes such as ratatouille, and fresh squeezed juices.  While it may be a bit of a splurge for some, I highly recommend staying here if you can.
As I mentioned, there are so many wonderful places to stay right in the heart of Nice.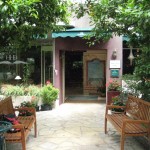 So if your budget doesn't allow you to stay right on the promenade, there is a terrific hotel just a few blocks in from the water.  If you are like me who was out from morning until night and only used the hotel to sleep and for breakfast, Hotel Brice is the perfect answer.  Set back in a beautiful garden setting, the hotel is priced very reasonably and also has a nice buffet breakfast.  The front desk is very helpful with directions and things to do.   You can also stop into the Nice Tourism Office located on the promenade, just a few steps down from the Palais de la Mediterranee.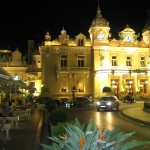 There is so much to do in Nice and the surrounding Riviera region.  I would give yourself at least five days in the area, so you can enjoy each place and not feel rushed to see everything.  While it was neat to see Cannes, the home of the famous film festival, and the neighboring coastal towns including Antibes, Juan les Pins, and Monaco (you must go to the Monte Carlo casino!), I enjoyed the character of Nice the most.  Its feel was both French and Italian with a wide array of shops, restaurants, museums, and attractions.  Definitely walk to Castle Hill  and take the stairs to the top.  It offers spectacular views of the Riviera and Nice.  The water was so buoyant and wonderful to swim in.  However, I wish I knew to bring my rock shoes.   Instead of sand, the beach is layered in rocks, which can be painful walking from your towel to the water!  Be sure to check out the local fruit and vegetable, flower, and fish markets.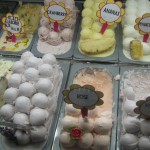 The food and wine was spectacular.  Some of the  local dishes you should try are of course the  salade nicoise, pan-bagnats, ratatouille, and  pissaladiere, an onion tart with anchovy fillets and black olives.   We also ate a lot of gelato, and it was delicious everywhere! 
 There are direct flights on Delta from NY to Nice or plenty of connections through Paris on Air France, which is what we did.    So if you're looking for a getaway mixed with romance, relaxation, and exploration, the French Riviera is calling!