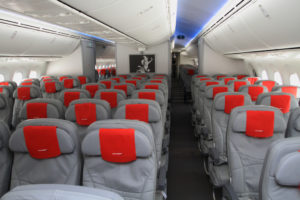 We had only taken our 14 month old on flights of two hours or less, so I wasn't sure how an eight hour plane ride plus a layover of another 2.5 hours would go or the two hour train rides throughout Italy. We took two and a half weeks and traveled to Rome, Tuscany, Venice and the Dolomites. In Tuscany, we stayed in Montepulciano and explored Pienza, Siena, Montalcino, Pisa and then stayed two days in Florence. It was quite an ambitious trip but surprisingly went a lot better than I was expecting and it made for wonderful family time and the memories that were made were  priceless. We flew with Norwegian Air because I wanted to keep the costs as low as possible without compromising comfort. We stayed in mostly vacation homes except for during a few days in Rome and during our time in the Dolomites that I booked through HomeAway. We took the train from Rome to Chiusi where we rented a car to explore Tuscany and then dropped it off in Florence and took a train to Venice.  We then rented a car in Venice and took drove to the Dolomites.  We brought our own carseat with us so we knew it would be clean and could save money on the rentals. However, if you'd rather travel lighter, you can always rent one with your car. We took the Britax carseat travel bag with us. It was wonderful for carrying the carseat like a backpack with the padded stroller straps or rolling it. It's also water resistant so when we got caught in the rain, it wasn't an issue. There was even some extra room in the bag so it helped up consolidate as we could put some items in the bag as well.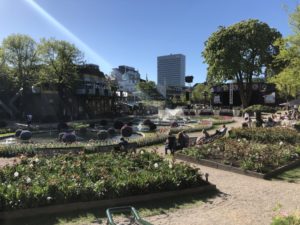 Norwegian Air hosted me on their flight and I bought tickets for my husband and daughter. We flew on their 787 Dreamliner aircraft. They have an interesting model for their international flights.  They offer four categories from which to choose – lowfare, low fare flex, premium and premium flex.  While they do charge extra for luggage, a seat assignment ahead of time, and meals, it allows you to pick and choose where you want to spend your money.  When I was looking for a one way ticket from JFK to Rome in May, my options ranged from $250-$400 depending on the day.  If you choose the low fare flex, you can check two bags, reserve a seat, get a meal and have the option to change your flight.  If you choose a specialty meal such as lactose free or vegetarian, be sure to call a few days ahead of time to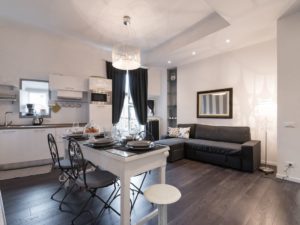 reserve the meal.  With their premium seats, you get substantially more legroom with a 43-46 vs 31-32 inch seat pitch giving you up to 55 inches of legroom, a three course meal and breakfast, complimentary drinks throughout the flight, a seat reservation, two checked bags, a touch screen entertainment system, and a USB charger and power outlet by your seat.  This seat is also the fraction of what a normal business class seat would cost.  It may not be the first class type of meal you're accustomed to if you fly business, but I would say the food was good and I would rather pay less because a comfortable seat with lots of space and one that reclines with a footrest is more important to me than the meal service.  Also, a quick note, if you are a mom who is nursing/pumping, you are allowed to bring your pump on as a medical device and it does not count towards your carry-ons. This applies to all airlines.  Just before this trip, I received an Ardo Calypso pump and it was terrific to take on the trip. My previous pump was great, but big and heavy and took up almost the entire carry-on bag.  The Ardo is Swiss made and is made to work with EU voltage as well as in the states, so you don't have to worry about it burning out if abroad.  It is small yet still very powerful and best of all – quiet!  It is also a closed system, so the most sanitary.  This is also my new favorite pump for when I'm on the radio too – I don't have to worry about the loud motor.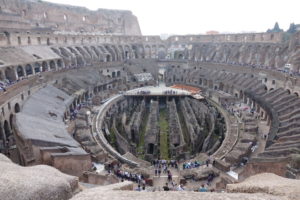 If you don't initially purchase a premium seat, the airline will send you an email a few days before your flight asking if you'd like to bid on an upgrade. I sat in premium on the way back with my 14 month old and it was a much more comfortable experience for both of us.  I felt there was a lot more breathing room and with the seat reclining further back and the footrest, it was easier for her to fall asleep on me.  She also loved playing with the light adjustment feature on the window in both premium and economy.  With the press of a button, you can control how much light you let in from the outside.
You'll pay 10 percent of the cost of a regular ticket for children under two to sit on your lap.  We chose a flight with a long layover in Copenhagen so we could go to Tivoli Gardens, which is very easy to get to from the airport.  You just hop on the train that goes to city center and as soon as you get off the city center stop, it's right there. It was  such a nice way to spend the afternoon.  It's a very relaxing and beautiful place with rides for both young ones and adults and a great food hall.  Norwegian Air also offers direct flights to and from Rome as well as to a host of other international destinations.
When choosing where to stay at all of the locations, I wanted to make sure the hotels and vacation homes were central to where we would be exploring.  Hotel Mediteranneo was in an ideal location in Rome to kick off our trip.  Right near the termini metro stop, one can easily take public transportation all around the city, as this is the main station for transfers to other lines. It is also a few steps from the bus and train station.  The hotel is part of the Bettoja collection and is a very comfortable place to stay.  The rooms are large, the beds comfortable and they easily accommodate toddlers with a crib.  The restaurant sits on the roof terrace with a beautiful view of the city.  They have a breakfast buffet and a fabulous dinner menu.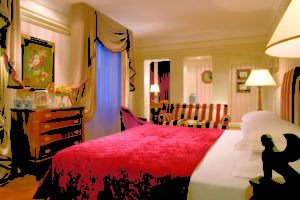 The hotel was designed by the Art Deco Architect Mario Loreti in 1936 and the beauty is still present in the hotel today.  With 10 floors and 245 rooms, the marble and mosaics can be found throughout the hotel alongside marble busts of Roman emperors.  The four and a half star hotel sits on top of Esquilino Hill, the highest of Rome's Seven Hills, offering magnificent views of Rome. Its central location allows you to reach the main ancient monuments with a short walk, including the Trevi Fountain, the Colosseum, the Forum, the Opera House, the Roman National Museum Romano, the basilica of Saint Mary Major and Via Veneto. The train shuttle to and from the LeonardodaVinci / Fiumicino airport, is located a few feet from the hotel.
For Montepulciano, Florence and Venice, I opted for a vacation home from HomeAway because I was trying to pack as light as possible and with laundry facilities in the homes, it's easy to wash and wear clothes again. It turned out to come in handy a lot more than I thought, as my daughter was always getting messy, whether with pasta sauce or crawling through the piazzas making new friends.   I had also had a great experience with HomeAway in the past and love that you can rent an entire home or apartment for less than the cost of most hotel rooms and you can have separate rooms for your children without paying for more than one hotel room.
The owners I rented from were so helpful when it came to recommendations in the area and logistics for getting there.  Erika Pellegrino from Casina Pellegrino in the renaissance city of Montepulciano sent me a long pdf of information on the house, area and recommendations before we arrived.  She was also very helpful in figuring out the best way to get to her from Rome and how to maximize my days in Tuscany.  Her home had the most spectacular view of the Tuscan valley with its vineyards, lakes and olive groves. It also has two terraces on which to relax with a bottle of wine for enjoying the views.  It's located just outside the medieval city walls and within walking distance to the shops and phenomenal restaurants.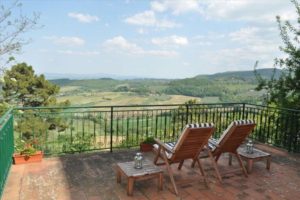 The property is a three tier house nestled into the hills and sits right outside the city's medieval walls. It is downtown with its own parking which is hard to come by.  All of our meals were incredible and the wine was delicious in Montepulciano.  Her property is VRBO # 376809 can be found on HomeAway.com.
In Florence, Giovanni rented us his modern designer apartment.  He owns three apartments, Cosimo, Catherine and Lorenzo de 'Medici, so if you are a large group of 10-12 people, you can have the full floor.  For us it was perfect because there weren't any stairs inside the apartment we stayed in.  Our daughter loved crawling and we didn't have to worry about safety issues.  The apartment was in a perfect location minutes from the Ponte Vecchio Bridge, Duomo, and the Pitti Palace.  He was also extremely accommodating and we had everything we needed including a washer and dryer.  Some homes in Italy don't have dryers as they hang their clothing outside, so it was nice to have both!  In the neighborhood were plenty of restaurants and a great gelato spot on the corner across the street. His listing is 6001197 on HomeAway.com.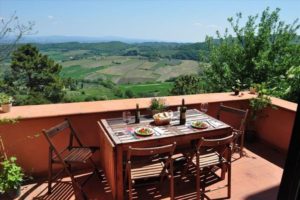 In Venice, we stayed at an apartment managed by Michele Marcello (Mike) in the heart of the Rialto neighborhood.  He was very helpful and met us at the water taxi stop to walk us to his apartment.  His love for Venice shines through as he offers guests so much more than just the clean and spacious apartments he looks after. The apartments are all in the San Marco district, making them particularly well located and a short walk from all the cultural spots, surrounded by the magnificent historic architecture of Teatro la Fenice, Chiesa di San Moise, Basilica di San Marco and close to many other destinations such as Scala Contarini del Bovol and the Music Conservatorio Benedetto Marcello, which still bears his family name.
He tries to convey a sense of belonging to his guests, telling stories about Venice and his ancient aristocratic family, making sure guests can feel on a different level, experiencing first hand what knowledge and experience a true local can offer.
There is so much to see and do in the major cities, so we chose the Roman Guy and LivItaly Tours to guide us in Rome, Florence and Venice.  They generously hosted us so we could sample their wonderful sightseeing and food tours.  In Rome, we had a personal tour with LivItaly.  They specialize in personal and small group tours and it was perfect for seeing the Colosseum in Rome.  It can get extremely crowded very quickly, so to have someone who can take you to some of the spots closed off to the general public for some amazing pictures is worth every penny!  We toured the newly opened top tier of the Colosseum.  We were the only ones up there while the rest of the Colosseum was packed, so we were able to learn about the history and take some spectacular pictures away from the crowds.  We also took some of LivItaly's food tours which you can read about in another article here on the Daily Meal.  Each of their tours were private so we really had the opportunity to learn a lot without getting lost in the crowd.  I've been on tours with ten or more people and most times unless you keep up with the person leading the tour, you will just fall behind and miss out on a lot of information.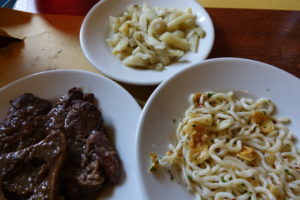 We took the Vatican Tour with The Roman Guy.  The Vatican was even more crowded than the Colosseum so you definitely want to hook up with a tour company so you can efficiently make your way through the museums and to the Sistine Chapel and St. Peter's Basilica while learning about everything along the way.  The Roman Guy offers a full and express tour with skip the line tickets which definitely will save you time.  If you are with young children or just want to leave time for other activities, I would suggest the express tour. It is still thorough and moves at a good pace. They also offer a tour in which you enter the Vatican an hour before everyone else, so if you really want to avoid the crowds, I would advise taking this tour.
In Venice, we did a walking and boat tour with the Roman Guy which included St. Mark's Basilica known as the "Church of Gold" and took a boat ride through the canals of the city which is connected by 400 bridges.  While at St. Mark's Basilica, we visited the rooftop terrace which offers a beautiful view of Venice. The boat portion of the tour through the grand canal and the minor canals offered a great way to see Venetian architecture, the Rialto Bridge, a must stop for a beautiful picture of the grand canal, and The Chiesa di San Polo. It was a great way to see the city, especially if you have only a day or two.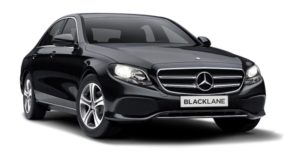 While we did get around mostly by trains and rental cars, there is a car service, Blacklane, which operates in 300+ cities around the world, so you can plan all of your transfers with them.  Their team is headquartered in Berlin and very easy to get in touch with while traveling. They work with professional, licensed drivers who will make sure you travel stress free and in comfort.  They offer carseats which means you don't have to lug one on your flight and they have up to 60 minutes of complimentary wait time at the airport and 15 minutes elsewhere.  There is also free cancellations as long as you cancel up to one hour prior to a one way ride.  Once they pick you up inside the airport, you won't have to worry about a thing.  Blacklane offers a concierge type travel service for passengers who want to feel confident they are going to get a great ride and service.   You can read more about their fleet and where they operate here.
I talk about all of the wonderful food and wine in my other article on Italy entitled "Eating Your Way Through Italy" and that talks about these and all of the other great places we visited.   Of course there is rich history throughout the country, but let's face it –  it's through the food and wine that we really get to know a place!