Now is the perfect time to visit beautiful Honduras, as there are numerous deals on top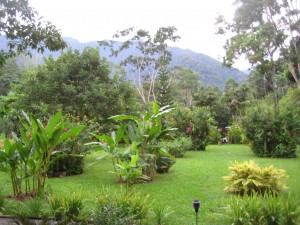 notch hotels and attractions. Why? In case you haven't heard, there have been some political issues with the recently ousted President Zelaya, and for awhile, the United States issued warnings against traveling to Honduras. However, while I was there, I never saw one riot or upheaval. The Honduran people are so friendly and eager to tell us how much they have always been peaceful people and don't agree with Zelaya's actions. While there have been a few protesters, the best spots for tourists have not been affected. They love Americans and miss the tourism that had been so popular in the past.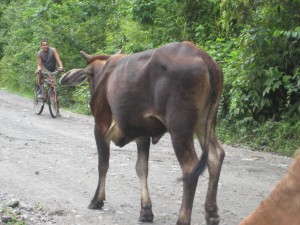 My trip to Honduras was a perfect mix of serenity and adventure. For the first part of the trip, we stayed at The Lodge at Pico Bonito, a quaint group of 22 cabins located on over 200 acres of land that belongs to the Pico Bonito National Park with the striking Pico Bonito mountains as a backdrop. Situated in the rainforest, the property provides endless hiking trails, and if you chose, a guide will accompany you and point out some of the hundreds of types of birds, wildlife, and plants you can see. A visit to the butterfly house and serpentarium on premises is also included in your stay. While walking through the rainforest, you'll see such vegetation as orange trees, pods of cocoa, and ginger plants.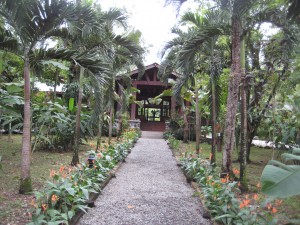 The cocoa pods were very interesting in taste. Of course since there were cocoa beans inside, I had to try it. Our guide, Jose, broke open a pod and inside were many slimy pieces, which we were told to let sit in our mouth and soon we got to the middle of it, which was the bitter cocoa bean. Definitely an interesting texture! You should be glad we don't normally have to do that to get to the good stuff! The food at the lodge's restaurant was fresh, with vegetables and fruits picked from their own garden. The freshly squeezed pineapple and melon juices were delicious, as well as their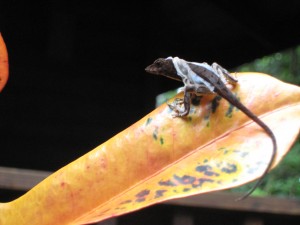 traditional Mesoamerican dishes. At night, I fell asleep to the sounds of nature and woke up with the birds. Definitely a nice change from the bussling city life. I woke up refreshed and ready to do some white water rafting with La Moskitia Ecoadventuras. While there are a few companies in La Ceiba that run white water rafting trips down the Rio Cangrejal, they are top notch. Our guide knew exactly how to navigate the Class III and IV rapids so we wouldn't end up spending more time outside the boat than in. The river borders the mountainous rainforest of the Pico Bonito National Park, so the views along the trip were spectacular.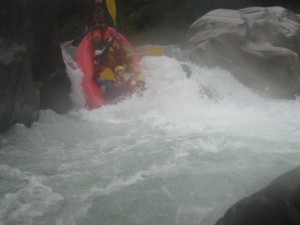 When we got back from rafting, we enjoyed a hike on property at the Lodge at Pico Bonito and stopped at the Butterfly House and Serpentarium. My only regret is that we didn't have more time to spend in La Ceiba, as it truly is a great place to get in touch with nature and unwind. You can include as much or as little adventure into your stay as you'd like.