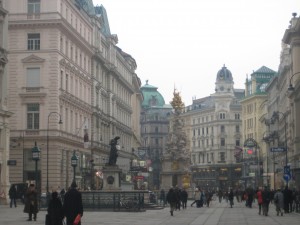 It was just two days after I got back from Ecuador and I was back on an international flight out of JFK, this time on Austrian Airlines.  I don't usually come back from one trip and turnaround for another, but when I heard that it was ball season in Vienna and I would have the opportunity to attend a real life ball, I had to go.  Just saying I was going to the ball sounded so elegant and intriguing to me.  Was I going to meet my Prince Charming in one of the most romantic cities in the world?   While this is ball season and one can attend a few balls in a week if they had the time and money, we attended the most popular one, the Coffeehouse Owner's Ball at the Imperial Palace.  From the beginning of our trip, we started preparing for our ball experience.  On Thursday, we had the honor of taking a waltzing lesson at one of the most prestigious dance studios in Vienna, "Elmayer."  Since the "Golden Twenties," Elmayer has combined manners and dancing to teach children and adults of all ages.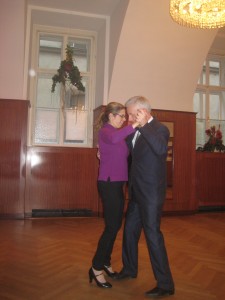 They base their lessons on the traditional Austrian Imperial system.   Considering I've never waltzed once in my life, I picked up some of the basic steps and turns rather quickly.  However, when it actually came time to put them to the test at the ball, well that was a whole other story!  I'll tell you about that later!
Friday afternoon before the big night, we browsed around Popp and Kretschmer, a dress shop that carries gowns imported from around the world.  Of course, I had to play dress up and immediately spotted this gorgeous  poofy green gown. I had never worn anything like it before and thought about how fun it would've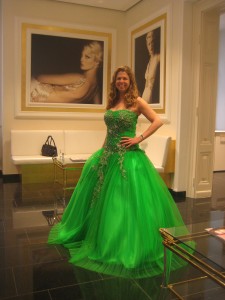 been to wear to the ball.  If only I had $3,370 Euros  (over $5,000).
Back at the luxurious Imperial Hotel, which I should mention was the perfect place to stay for our fairytale trip, it was time to get ready for the 53rd annual Coffeehouse Owners' Ball.   I slipped on my long black gown and heels, twirled my hair up and back with curls on the top of my head, put on my sparkling lipstick and headed downstairs and was greeted by a gentleman with his…get this… horse and carriage!  I stepped up with the assistance of Nicholas, the perfect gentleman, our Vienna guide, and my soon to be dance partner for the evening.
We arrived at the Imperial Palace and it was like walking into a red carpet event, but I imagine much more elegant and spectacular.  Magnificent Chandeliers were glimmering as debutantes in their long white dresses and guests in their gowns and tails filed in and up the long staircase and stopped to have their picture taken by the professional photographer.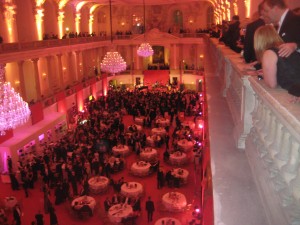 Once inside, Nicholas took me around the palace, which took more than an hour, and we just saw about a third of the rooms!  The Spanish riding school, which usually houses Lipizzaner horses, was enchanting.  We walked around the perimeter on the third level and then made it downstairs to the dance floor.  While there were over 10 bands and the orchestra in various rooms, we rotated between the marble room and the adjacent ballroom, the riding school, and the main ballroom where the opening ceremony took place which featured the State Opera Ballet, the Opera Ball Orchestra, the debutantes, many guest performers.   At the end of the opening ceremony, the master of ceremonies announced, "Alles Waltzer" which means "Everyone Waltz!"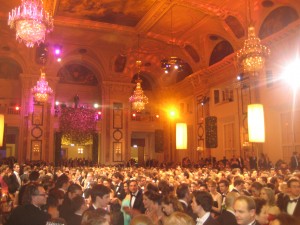 This is when everyone joins the debutantes in the first waltz to the Blue Danube.   I was excited and nervous at the same time to put my new dance steps to work.   However, that all went out the window real quickly and Nicolas spun me around the dance floor and kept spinning and spinning and spinning me!  At that point, it was a matter of how hard I could hold onto his arm so I wouldn't fall on my face in front of everyone in my long gown!  That is when I realized how cool it is that most Austrians start taking dance lessons at such a young age.   Now I have a new goal…sign up for ballroom dancing classes.   Even when we danced the Samba, Nicholas said he was faking it, but he had me twirling out and back into his arms so quickly…probably the best and most fun I've had dancing.  At midnight, it was time for the Publekums' quadrille, a dance they do at midnight and 2am in which we did a sought of square dance and polka.  Again, no idea what I was doing, but I had a blast doing it.  At one point, everyone made a tent with his or her arms and we ran through before joining the end of the chain.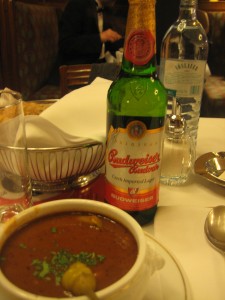 At about 2am, the music was getting even better and my body wanted to keep dancing but my sore feet had something else in mind, so we made our way back outside where the horse and carriages were lined up waiting to take us to the Landtmann Café for a delicious bowl of goulash soup and a beer, a tradition among ball goers.  The Landtmann Café dates back to the 19th century and was a great place to unwind.  As we sat down, the pianist was playing  "Michelle" by the Beatles, which made me smile…what a great ending to my night of feeling like royalty.
The next day I decided to take my sore feet and hamstrings to the Hotel Sacher and indulge in a thirty minute chocolate body scrub.  After the scrub and lotion, I relaxed in their spa, which had a sauna, steam room and thermal steam room with herbs, which was very relaxing.  For the rest of the night, I smelled all chocolaty which made me want to have even more chocolate, as if I hadn't already been enjoying way too much (or is there such a thing?).  I had already treated myself to a few of the Imperial Hotel's tortes, which were like heaven in my mouth with the layers of chocolate and marzipan.  After and incredible ballet performance of Romeo and Juliet at the State Opera House that night, I tried the Sacher Torte, which is reportedly the original torte of Vienna and this one which was made with dark chocolate and it was simply orgasmic.   The guy in the coat check told us it had 800 calories in it, but we got a smaller cube, so I'm guessing it was around half that, or at least that's what I'm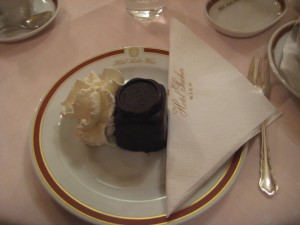 telling myself.  Whatever it contained, it was well worth it!
In addition to being such a romantic city, Vienna is definitely a hip fun place to walk about and shop.  From your typical souvenir shops selling Mozart candy to the noble and glass chandelier maker Lobmeyr, you'll find it all in the first district.  The naschmarkt is a great food market to walk through.  It opens early and has a few popular staples like the vinegar man from Gegenbauer selling everything from tomato to elderberry to Riesling vinegar and making his own coffee across the way.  You can find a huge selection of dried fruit and nuts and delicious falafel.  If you have a group of ten or more, a fun activity would be to visit the kitchen at the Palais Todesco and learn how to make apple strudel.  It is more difficult than you might think getting the dough perfectly thin and spread out without making a hole!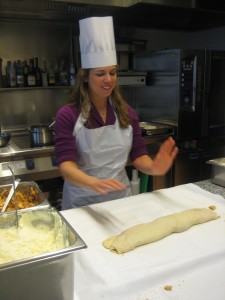 The Gerstner confectioners showed us how to make the Mozart balls and we decorated our own chocolate tortes, and of course they didn't need to show us how to enjoy our creations when all the work was done.    Other stops we made on the trip included the Austrian Gallery Belvedere, a beautiful garden palace and museum, the Schoenbrunn Palace, the summer residence of the Habsburgs, and the Imperial Crypt.
For our last Viennese meal, we had a Tafelspitz dinner at Plachutta, which I would highly recommend if you love beef.  We were given the option of over a dozen boiled beef specialties from Schulterscherzl to Tafelsptiz, with a diagram of the cow and with options ranging from the really meaty parts to the fat-free sections,  I say if you're going for the meal, go all out.  The fat-free just couldn't compare.  It was first time eating bone marrow as well, and while I know it was fatty, it was yummy and supposedly very healthy for you.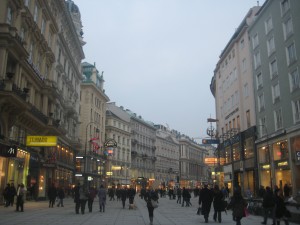 I spent four full days in Vienna and while I thought it might not be enough time, we saw and experienced so much in such a short time.  These are memories that will last a lifetime and for a brief period of time, I was starring in my own real life fairytale and one that I think everyone should experience as some point in their lives.