For all you women with curly hair, you know how difficult it can be to get a good haircut.  You try to get rid of the bulk around your face, so they take a razor to thin it out and before you know it, your hair never curls the way it used to.  So many places can give you a good haircut if you are willing to blow your hair straight everyday, but how many places really know the intricacies of curly hair, keeping each curl full of bounce and vibrancy so you're not a slave to your blow dryer or flat iron?  Don't get me wrong, for professional meetings and work, I blow my hair straight, but on an everyday basis, I would like to be able to throw in some gel and go.  
When I lived in NYC, there were a few curly hair salons that I heard about, but I had never tried one out…until now.  It was a Friday and I decided I needed a fresh look so I called up Ouidad, an upscale but friendly 5000 sq. foot salon specializing in curly, wavy and kinky hair on 57th street between 5th and 6th avenues.  I worked with Ana, the artistic director and educator, who has been at the salon for over fifteen years and before we even got started, she talked with me all about my hair..what I like, what I don't like, etc.  She made sure to know exactly what I wanted before getting started.  Right away, I knew I'd be in good hands.  She suggested brightening up my color a bit for the summer and added beautiful highlights around my face and to the crown of my head.  She knew the perfect color combination.  It came out looking natural, but bright with contrast.  She mixed three different shades to achieve the look, which also worked to fix a bad color job from another salon.
Next up was the cut, and again, we discussed the length and look I was going for.  I like my long hair, but I wanted something fun and sassy, so she cut a few inches.  But it was more than just a trim off the bottom.  Ouidad's stylists use a technique called carving and slicing as they address each individual curl.  Throughout my cut and color, Ana's assistant, Sondriel, explained everything to me, from how to shampoo and condition my hair for the best looking curls to the types of products to use and how to style.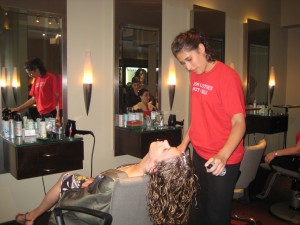 She also kept asking if I had any questions.  I think it's great how much time they spend with you explaining everything, unlike in many salons where you almost feel like you're bothering them by asking any questions.
A big part of managing your curly hair is how you treat and style it so Ana showed me a technique for getting a certain look when blow drying it straight and then explained the rake and shake technique they use for keeping it curly.  It definitely takes some practice, as I've not yet perfected it, but it's a pretty simple way of getting the full head of curls and volume you've always wanted!  Even without spending the time doing the shake and rake throughout my hair, it still comes out really curly with just some gel.  I was amazed at the all of the beautiful curls on the women as they left the salon.
After you are done with your appointment, they hand you a booklet with their products and directions for how to style your hair, but I was so surprised that they did not pressure me into buying any of the products.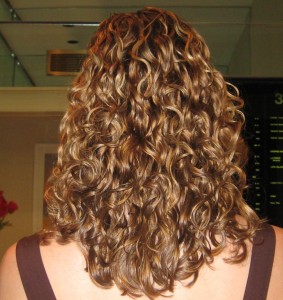 Usually at salons like these, they will tell you that you must buy their products to achieve the same look.  Instead, Sondriel suggested I finish the products I have at home first and then I can always go back in or order them online.  I know I will be getting the Ouidad products because I believe they work well, but it's nice to know there's no  pressure of adding a long list of products onto your bill that day.   I walked out of the salon feeling confident with my new found curls…ones that were always mine, but were hiding under a bad cut.  Thanks Ouidad!