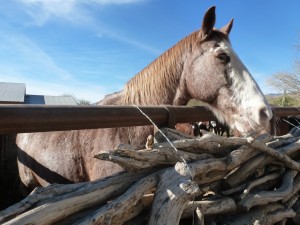 When you think of the wild wild west, what comes to mind?  In the movies, it's all about the cowboys with their big belt buckles, boots and spurs and cool cowboy hat with lasso in hand.   If you'd like to live your own real life wild west adventure, you can visit one of many dude ranches in the United States. The Dude Ranch Association's website will give you a list of the various ranches throughout the country.   I have always wanted to see what it would be like to put myself in the middle of a wild wild west adventure. That's why I chose to visit the Tanque Verde Ranch in Tucson, Arizona.  It is perfect for singles, couples and families alike, with a gorgeous backdrop of the Sonoran Desert and the Saguaro National Park.  The ranch sits on 650 acres, houses 180 horses, and is surrounded by the protected Saguaro National Park. This New York City girl has always loved country music, but has never owned a pair of boots or a cowgirl hat. That all changed when I arrived to the ranch.  As they say, when in Rome…or when at a dude ranch, this is your chance to have some fun and dress the part!   I signed up for my first horseback riding lesson and was led into the arena.  In no time, I was following a real life cowboy as he led us on horseback through the breathtaking mountainous terrain.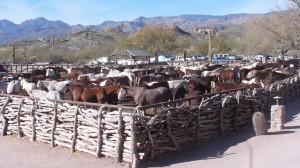 When contemplating a dude ranch, one may think of it as working the land and getting down and dirty.  However, there is no reason to have to completely rough it while getting the dude ranch experience.  When visiting Tanque Verde Guest Ranch, you will be spoiled with amenities such as a heated pool in which you can swim laps, a hot tub, and overly spacious rooms, casitas and haciendas, which can house up to six people per room with sweeping views of the Sonoran desert from your private terrace.  You can also take in the most gorgeous Tucson sunsets, which transform the sky into amazing shades of orange, red and yellow.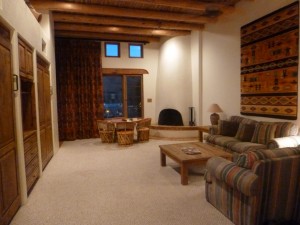 The food at the ranch is plentiful, and is a combination of healthy and traditional.  Breakfast includes a buffet, with fresh fruit, yogurt, pastries and oatmeal, and a menu to order, with all types of eggs, pancakes and traditional American options.  Twice a week, everyone usually gets on a horse or mountain bike and rides up to the homestead for breakfast, where the owner Bob, 80, still flips pancakes for everyone.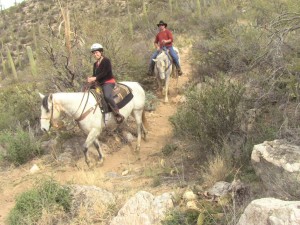 The general manager, and his wife, Debra, also make daily visits to the ranch and sit with families at lunch and dinner.  They are always open to hearing feedback to ensure your present and future visits are the best they can be. The ranch has been in Bob's family since 1957 and there are families who have been going to the ranch for almost as long as it's been open.  Perhaps that is the best testament to the wonderful hospitality and experience the ranch offers. Lunch is also a buffet with a salad bar, hot dishes and desserts, and dinner is either a sit down in the dining room or a cookout in the Cottonwood picnic area.  You'll sit around the firepit with live country music and selections such as sumptuous steaks, pulled pork, smoked turkey and ribs that fall off the bone, with collard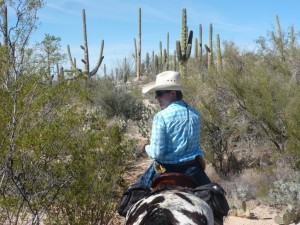 greens, baked potatoes, beans and mac and cheese.
So what is a typical day like on a dude ranch?  The schedule is chock full of activities for everyone in the family throughout the day and your toughest part will be figuring out which to do first.  The main focus of the ranch is the horseback riding and there are lessons and rides for all levels, including a "fun"damental class for beginners, and intermediate, and advanced classes.  If you are a first time rider or one who just prefers to take a beautiful ride through the desert, the walk rides will take you on various paths and up into some higher elevations for sweeping views of the surrounding mountains and the various types of cacti.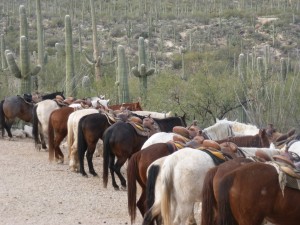 If you are more advanced and would like to try a loping ride (faster than a trot), they do make you take a loping test to verify you are extremely comfortable on your horse and have all of the skills you need to know.  In addition to the horse lessons and rides, there are daily activities such as team penning, and something they call Fontana, in which you go through various obstacles with the horses.
Because some decide riding isn't for them, or they would like to do more on the ranch than just ride, there are organized mountain bike rides for all levels, hikes, which range from one and a half to three hours, photo hikes to capture the best light and scenery of the desert, tennis lessons, fishing, nature talks, and water color classes. You can also choose to relax by or take a swim in their heated pool or rest your tired muscles in the hot tub. I tried a little bit of everything, and when asked which was my favorite, I really couldn't give an answer.  For someone who likes an active vacation with a good mix of relaxation and gorgeous scenery, you can't beat the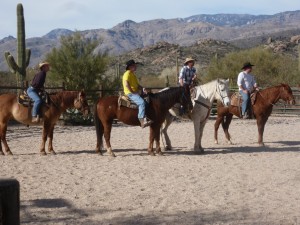 Tanque Verde Guest Ranch.
Speaking of relaxation, while there, you must get a treatment from their Sonora Spa.  My muscles definitely took a beating from all of the activities, and Paige, their lead massage therapist, with a specialty in sports injuries, did incredible work on my neck and back muscles.  Having experienced my share of therapists, I think she was one of the most knowledgeable, and her work was amazing!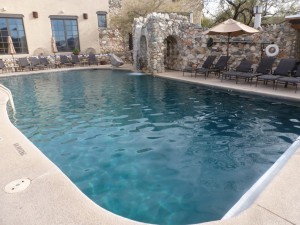 I highly recommend treating yourself to a massage at the end of your stay.  You can also choose from a list of beauty treatments.
I traveled to the dude ranch on my own, but the staff never made me feel as though I were isolated.   In the center of the dining room is a community table, so one can sit there each night and meet new people coming to stay at the ranch.  The hot tub is amazing for sore muscle recovery and also a romantic night of stargazing.  Tucson has a light ordinance, so unless cloudy, you will usually have amazing views of the night sky. You can also grab a drink in the doghouse saloon and play a little pool, or sit on the deck and watch the beautiful sunset. One of my favorite things to do was to sit on the lounge chair on my terrace and just enjoy the peaceful serene sounds of the desert.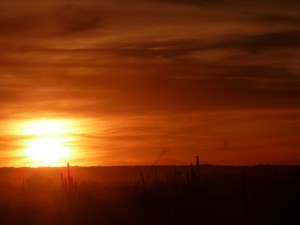 Perhaps what the ranch is most known for is its family visits.  They have a kid's horseback riding program so the parents can also enjoy themselves, knowing the children are being looked after with good care from the staff.  I spoke with one family who have been going there for 23 years!  Their parents took them and now they are taking their children. Their parents still go, and they have their family reunion there each year. Another family was coming up on their 50-year reunion.  The ranch has a very warm and welcoming feeling, and many make it their second home, with the kids looking forward to going back each year.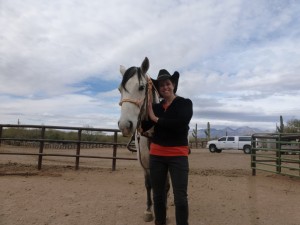 So grab your riding boots, hat, and gloves, and head to the Tanque Verde Guest Ranch. If you forget, or don't have any of your own gear, their well-stocked gift shop will help you fulfill all of your cowboy and cowgirl needs.  The fun pictures and experiences you and the entire family will enjoy will definitely make memories to last a lifetime!