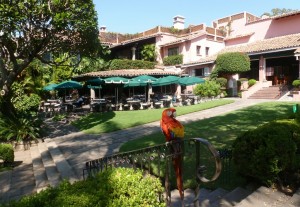 My goal for this website is to seek out the world's most romantic spots, and Las Mañanitas has got to be one of the most amazing places at which I have stayed.  It is a true gem in a part of Mexico that may not be as well known as some of the other more commercial regions.  Las Mañanitas is located an hour and a half from Mexico City in beautiful Cuernavaca, also known as the city for eternal spring  for it's magnificent weather perfect for growing and maintaining the beautiful flora all around the region.    If you are looking for a true escape in a charming setting, in which to enjoy a new relationship or maybe celebrate your honeymoon or anniversary, it is hard not to have a peacefully relaxing and romantic time here.  Among its beautifully lush gardens stroll peacocks and flamingos, and parrots say hola from the chair next to you at breakfast.  While there are very nice lavish chain hotels, the charm of this hacienda makes you feel as if you are in your own private oasis.  The rooms are extremely spacious decorated with traditional  Mexican Tallavera tiles, handmade from a special fired-earth process in Puebla, a city close to Cuernavaca, a king sized bed, fireplace, huge bathroom and changing area, and your own large terrace with chairs and a table.  Ours overlooked one of the two large swimming pools, the other located in the spa, which can be yours to use after one of their amazing treatments.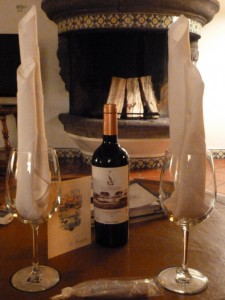 We devoted one day to just staying at and enjoying the resort, and what a treat it was.  We started off our four hour spa ritual (yes, I said four hours!) with water therapy in which we were guided through private time in the hot sauna followed up by a cold one minute shower, a steam room, a cool jacuzzi and then a warm one.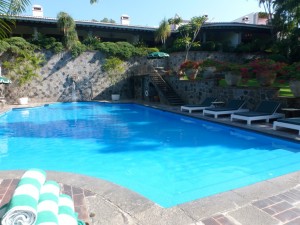 It was an incredible way to relax the muscles and unwind the mind before the hands on services.  Once in the treatment room, we were told to close our eyes and inhale some relaxing aromas while they wrapped our feet.  Upon lying down on our respective massage tables, our skin was exfoliated with a full body scrub and then we enjoyed a private bubble bath before having our bodies massaged for fifty minutes followed by a fifty minute facial.  I couldn't think of a more complete spa treatment and I definitely recommend treating yourself and your partner to this incredible journey.  Upon completion of your spa experience, you can relax on the indoor lounge chairs or around the pool to the sound of running water and peacocks strolling around the colorful garden.   It had to have been one of the most romantic experiences I have had the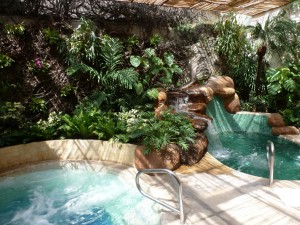 opportunity to enjoy with someone special.
After some time passed, we settled down to dinner in the garden with only the light of a candelabrum.  The menu for all the meals was quite extensive with everything from traditional Mexican dishes to succulent seafood dishes prepared with a Mexican flair.  All the dishes were absolutely amazing with such attention to detail using only the best ingredients.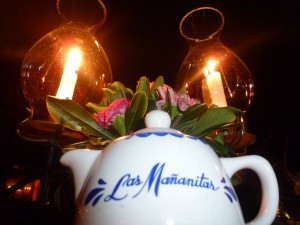 For dinner, I had salmon and sea bass one night, the traditional Mexican skirt steak, Arrachera, which was so tender, another night, and bone marrow tacos the third night.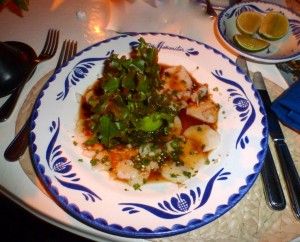 The tuna sashimi, ceviche, and salmon carpacchio appetizers were terrific, as were their soups and salads.  I am not usually a big dessert person, but I had to try their sorbets, which were bursting with fresh flavor.  Other nights we shared a heavenly frozen chocolate cake and a hot molten chocolate cake.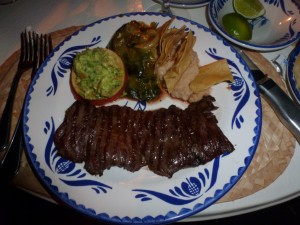 Las Mañanitas is a ten minute walk to the center of Cuernavaca, which is worth a stroll around at night.  You'll see vendors selling their hats, jewelry, and food stands.  The property is also within an hour of Chisco Tubing, and if you're looking for a little adventure and activity, you can go biking through the gorgeous scenic mountains, tubing, rafting or camping.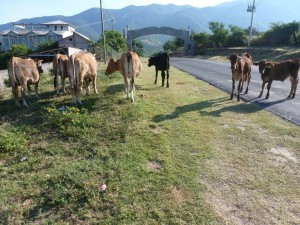 We went mountain biking one day and relaxed at the spa the next, which was a perfect balance. We really could have stayed a week if we had the time.  It was such a wonderfully rejuvenating and romantic experience at Las Mañanitas and Cuernavaca, and the staff made sure we were well taken care of the entire time.  Many locals in Mexico City go to Cuernavaca for the weekends and with properties like the beauty of Las Mañanitas, I can understand why.