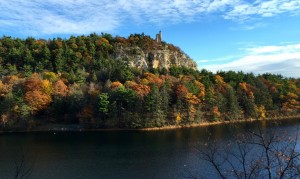 The Mohonk Mountain House, located in the Hudson Valley, just 90 miles from Manhattan, is an amazing place to call home for a few days. The resort is a member of the Historic Hotels of America. It was founded by Albert Smiley is 1869 and over 145 years later, the Victorian castle is still a site to see and experience. The magical Mohonk Mountain House offers unspoiled beautiful scenery, cuisine made using local ingredients, a serene spa and wonderful hospitality. Nestled among 85 miles of hiking trails of the Mohonk Preserve, its backyard is the spectacular Catskill Mountains. I had heard the property was something to see, but nothing prepared me for the thousands of acres of incredible fall foliage that was displayed in red, orange, yellow and green rows of trees  With so many possible paths to explore, each turn offers an even more spectacular view than the last.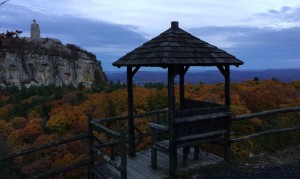 The Mohonk Mountain House has something for everyone. It's an incredibly romantic resort, as you can find so many secret nooks with benches within the hiking paths where you can sit and take in the views. The rooms are spacious with their own private fireplaces. There's nothing like cuddling up with your loved one by the fire with a good glass of wine. The spa offers an array of massages, facial and body treatments for individuals and couples. Each locker room also has a sauna and steam room and there is a co-ed heated mineral pool outside. A solarium also offers a peaceful space with lounge chairs in which the two of you can just relax and stare at the gorgeous outdoors. Looking to unwind even more? They offer an array of meditation classes and private meditation instruction.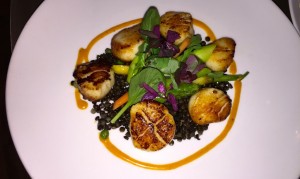 Mohonk is also great for families. There were many children enjoying the fun Halloween theme, haunted house and Halloween Ball. However, with the property and dining areas being so spacious, it did not affect the quaint romantic vibe. There is a ton of activities no matter the season. The property transforms with the season.
While it will be tough to choose what to do in a day with so many options, one thing you'll be doing a lot of is eating! For breakfast, you'll enjoy a large breakfast buffet with an omelet and waffle station. If you're there on a Sunday, you'll have the breakfast buffet and also a huge brunch buffet which includes a cheese spread, lox, shrimp cocktail, an array of hot and cold dishes, salads and omelet and carving stations. Lunch is also a buffet consisting of salads international hot and cold dishes and carving stations along with an extensive dessert spread.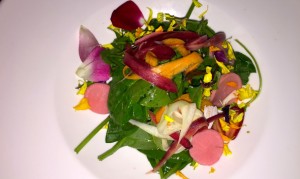 For dinner, you can choose the casual buffet option or dress to impress for a formal sit-down dinner with a quality three-course meal with an extensive wine list. They also offer alternative vegetarian, vegan and gluten free options.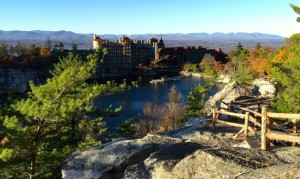 The award-winning chefs definitely go out of their way to make sure your dinner is prepared with your specific dietary needs and requests in mind.
So if you're looking for a gorgeous retreat, romantic getaway or a fun family weekend, you can get more information at www.mohonk.com. Keep your eyes out for special themes and activities for the holidays