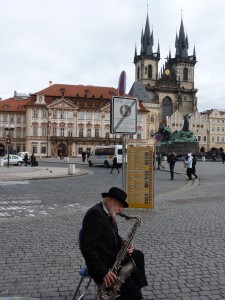 Ever since a friend of mine went to live in Prague for a few years, I was intrigued to see the country in the Czech Republic that so many people speak about with admiration.   I arrived in Prague by way of Easy Jet, which can be an economical way to get around Europe, but if you tend to travel with a lot of baggage, the price can add up, as they have a strict one carry-on bag policy and up to 20 kilos per bag, and you must pay for each bag you check.  I would recommend paying online if you know how much you'd like to check, as it's cheaper than paying at the airport.  I hopped on the airport express bus to my hotel and for about $3.50, it took me to the train station stop about five minutes from Hotel Jalta, the place I'd call home for the next four nights.    This hotel is in a great location, especially if you are going to connect to another country via train.  It is also in the middle of Wenceslas Square, also called the main square, filled with shops, casinos, restaurants, and theaters.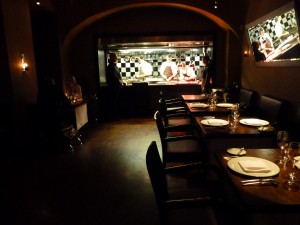 The Black Light Theater shows are very popular in Prague, and you should try and catch one while you are there.  I went to see WOW's version, which was fun, but I had gone straight from a phenomenal dinner and wine pairing at La Degustation Boheme Bourgeoise, so watching the performers lit up in some parts of their bodies but wearing black clothing on others, as to appear invisible, was pretty interesting to watch, and especially while one is a  little tipsy.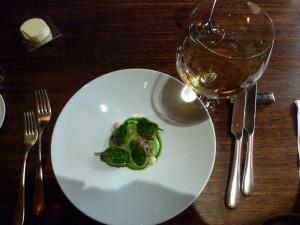 La Degustation Boheme Bourgeoise is quite the culinary experience.  When in Prague, you must try the local food, which can include some very heavy foods.  However, the chefs at this fine international restaurant will give you a taste of many kinds of local food while keeping the portions small, but bursting with flavor.  They offer a choice of either an international or local menu, and of course I went with the local one.  You should really allow yourself plenty of time to enjoy this restaurant leisurely, as it is an experience, and you can have wine paired with each course.  I'd say you should allow about 2.5 hours.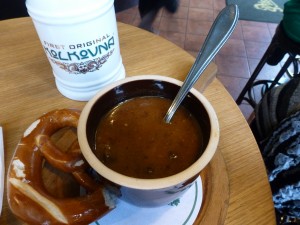 However, I had tickets to the black light theater show, and only had about 1.5 hours, so I told them this at the beginning, and amazingly they still had all 7 courses completed in that time.  The waitstaff is extremely attentive and waits by the open kitchen for the next course so they can bring it directly to you as soon as it is prepared.  Each day, they prepare a new menu with the fresh ingredients available.  As I mentioned, each dish was prepared meticulously and the flavors were incredible.  Tomas Brosche is the general manager, and makes you feel very welcome.  I was thrilled when he told me they had just opened a restaurant in New York, called Hospoda at 321 East 73rd Street.  I'll definitely be going to check that out!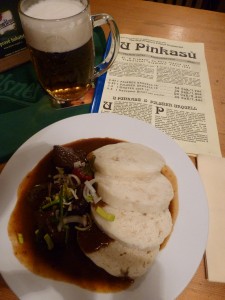 If you'd like to balance out your fine dining with some casual places, Kolkovna is a great spot for some goulash soup served with a pretzel, and definitely give the fried cheese and Bavarian sausages you can get at any stand on the street a try.
Hotel Jalta is the perfect place to stay while In Prague.  Centrally located, you can walk to Old and New Town, and over the Charles Bridge to the castle from there.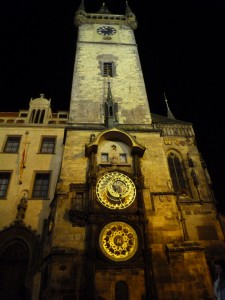 Every person who works there was so helpful when it came to giving directions, advice on restaurants and what to do.  Their restaurant Como serves up a great breakfast and spectacular dinners with fun entertainment.  It is a hotspot for both locals and tourists.  I had the lamb dish my last night for dinner, and the meat just fell off the bone…so yummy!  However, I think the best part of that restaurant is its general manager, Adriano Figura. Originally from Sicily, he makes it his duty to make sure every single person is having a great time.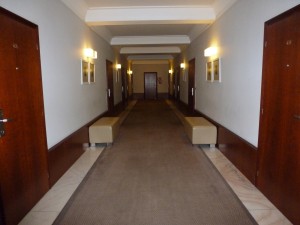 I was by myself at the bar just enjoying the live music, when he approached me and insisted on getting me a drink and invited me over to sit with him and his friends.  The next night was the same.  He definitely uses his Sicilian charm to make everyone feel at home.  The rooms on each floor are spaced far apart from one another, so I never heard anything except for what was going on outside.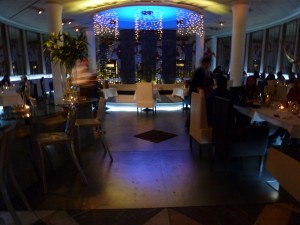 And you have to love a hotel that always has apples out on each floor and in the lobby!  Did I tell you they also greet you with a glass of champagne upon arrival?
With so much history and architectural styles in Prague, you'll definitely want to hire a guide to take you around, not just to point out all of the sites, but to really explain the history and meaning behind everything.  The first day I arrived, I took a free tour which many cities offer throughout Europe.  These guides work solely for tips.  It was a great tour and the guide was very lively, but it didn't even come close to the tour I was given with my private guide Milos Curik the next day.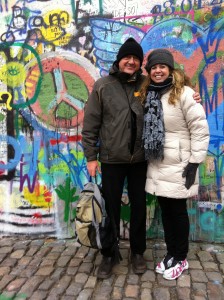 Milos has lived his entire life in Prague and has seen it in its Communist days and of course since the Velvet Revolution in 1989.  He has been through a lot and also has some very interesting friends.  He is very well traveled and extremely intelligent.  The five hours I spent with him went by fast, as he always kept the tour intriguing and personable.  I learned a lot from him and he took me to some of the off the beaten path places that you wouldn't know to go to on your own.  If you are visiting Prague, you must have Milos as your guide.  His email is arts.music@volny.cz.  He specializes in art and music history, for which Prague is quite known.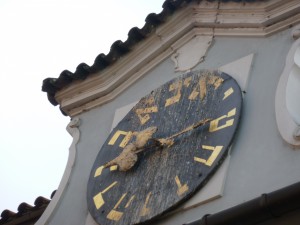 There is a lot of Jewish history in Prague as well.  Not always the good kind, but there is a lot to learn and you must visit the Jewish Quarter.  You can buy one pass that will gain you entrance to the synagogues and cemetery.  A very touching synagogue is the Pinkas synagogue, where every Bohemian and Moravian Jew murdered by the Natzis has their name, personal data, and the names of the communities to which they belonged written on the wall.  There is also a collection of over 4,000 drawings done by the children in the concentration camps before they met their evil fate. Among the Terezin prisoners, there were over 10,000 children under the age of 15, and of the 8,000 that were deported to the East, only 242 survived.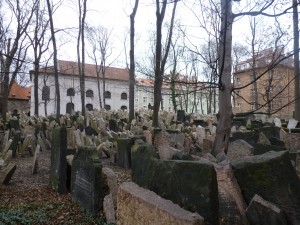 The Old Jewish Cemetery was established in the first half of the 15th century and is one of the most important surviving monuments in Prague's Jewish Town.  The cemetery contains almost 12,000 tombstones, although there are many more people buried there, including some very famous writers and rabbis from Prague's history.  It is said that bodies were buried in layers on top of one another, as there was not enough room to accommodate everyone.   If you're in the market for some Judaica, you can also find it in some of the shops in the Jewish Quarter.
Be sure to walk over the Charles Bridge to the castle one time at night, as Prague is beautiful all lit up.  As I was crossing the bridge, I was thinking to myself how romantic and beautiful it all was and then there was a guy down on his knee proposing!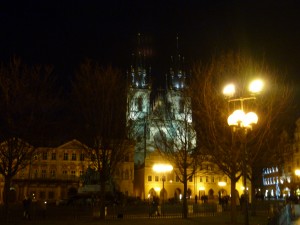 Smart man!  There is also plenty of nightlife, depending on what you're looking for.  Beer is cheaper than bottled water in some places, and there are plenty of bars where you can take advantage of this and try some beers you wouldn't find at home.  They also have a big clubbing and jazz scene and being that it is such a strong cultural city, there are plenty of performances to choose from, ranging from the State Opera and Philharmonic to the Black Light Theater Shows,  the Magic Lantern, a popular show in Prague and the National Marionette Theater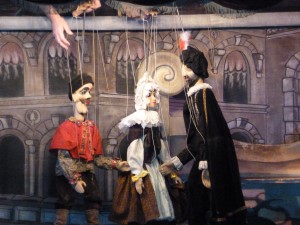 where you can see the opera Don Giovanni performed by the famous marionette puppets.
So grab a hot chocolate, hot spiced pear juice or grog and walk the cobblestone streets of Prague and enjoy the beauty around you.