As some of you know, I went skydiving in Fiji back in November and I was petrified, but it was a thrill of a lifetime and I was so glad I overcame my fear and jumped.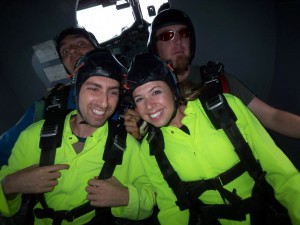 Well, when I returned, my brother said he'd love to try it one day, so I decided I would brave it once more and go with him so he could share the same experience.  We decided back in March to go for his birthday, and it's taken us until just a couple of weeks ago to finally go, and I'm so glad we did!  I have to admit I was nervous all over again, but also enjoyed seeing how excited yet full of fear he was.  At one point he said he thought he'd vomit as they opened the door to plane 14,000 feet in the air.  I watched him jump in horror, but when we met up in the sky ( I jumped 30 seconds later), he was so thrilled and was having the time of his life.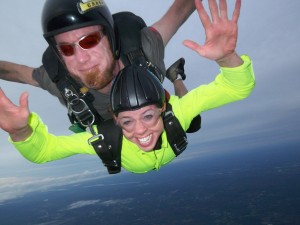 This time around we went diving at a place called Skydive the Ranch in Gardiner, New York, near New Palz.  A friend of mine had gone diving there before and had told me what a great operation they run, and he was absolutely right.  I was very impressed with how organized everything was.  I almost felt completely at ease when we got there and looked up to the sky.  There were so many parachutes up there at once with people having just jumped from the plane.  When I went in Fiji, it was just me and I didn't see anything beforehand except the training video.   I have to say the scariest part of the whole process was filling out out the waiver!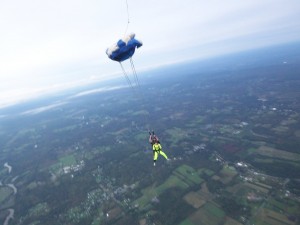 After the waivers were completed and I acknowledged that skydiving could lead to death more than enough times, we were given detailed instruction on what would go on in the plane and for the jump.  Then it was time to suit up and get paired up with our tandem jumper and cameraman.   They offer the option to jump with someone who will take pictures and video of the jump and since this will probably be a once (or twice) in a lifetime opportunity, you should take them up on it.   The guys who we were jumping with went over our equipment several times to make sure everything was tight and secure and explained to us again how it would all go.  Next, we were all lined up in the plane and climbing high in the sky.  As they opened the door and the wind rushed in, that scary but exhilerating feeling came over me and before I could really have a chance to question myself, I arched back, leaning into him, and we were off out of the plane and falling several thousand feet per second.  The free fall was awesome and then before I knew it, we pulled the parachute and were floating through the sky gazing out at the sunset over the horizon.  When it was time to land, I lifted my feet in the air, and John landed us safetely on the ground (ok in a mud puddle, so it's good I was wearing their jumpsuits!)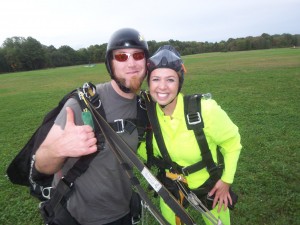 As we were getting ready to leave, one of the other intructors began explaining how the parachute system works.  Not only do they dive with two parachutes, but there is also a jump computer that figures out when to launch the parachute if for any reason you don't.  He said most of the jumpers feel safer outside the plane than inside, because outside, they have full control over where they will land.   He said that despite what people think, jumping out of a plane is probably the safest thing you'll do in your day.
I have to say I was very impressed by Joe's operation at Skydive the Ranch .  Everyone I spoke with over the phone was always very friendly and informative and once I was there, I knew I was in good hands.  If I were to go again, I would definitely feel confident in coming back to Skydive the Ranch.  I think every couple before getting married should dive together or make it part of their honeymoon! It's also great for family bonding!  Check out the videos here:  http://www.youtube.com/watch?v=N3Smq15Ly7A and http://www.youtube.com/watch?v=OkMwJEOOJNM