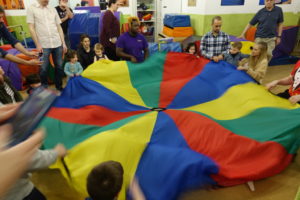 I couldn't believe my little girl was turning two already! I feel like we had just done a cake smash and celebrated her first birthday party at New York Kids Club.   I was brainstorming things to do for her second birthday party.  We lived in a small apartment in NYC, so we couldn't have it at home, and in March, the weather was not nice enough to do something in the park.  The beauty of living in NYC is that there are just so many options of venues and places that throw toddler birthday parties.  However, I thought back to how much fun everyone had last year and how convenient and easy it was for us, so I decided to hold her 2nd birthday party at the NY Kids Club location on 68th street and Amsterdam Avenue.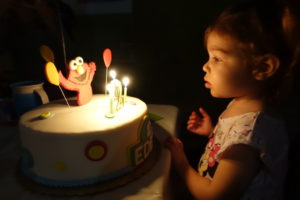 It was right around the corner for us and on top of that they really made my life easy last year with planning and executing the party.  I felt badly because this year we were in the middle of a move and prepping for baby number two, so I had very little free time, but I still wanted to give her a fun birthday party.  I knew that with the incredible staff and party planner at New York Kids Club, I would be able to throw her a really great party with not a lot of work on my part.
I talked and met with Brant beforehand and he asked me a quick checklist for the amount of food I needed, the desserts I desired, the theme of the party along with a few other details.  You have the option to bring your own food, dessert, decorations, cutlery and party favors or they can provide everything for you at a very reasonable price.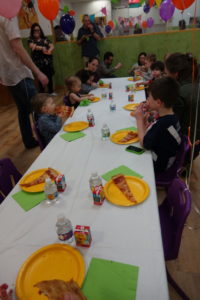 The only thing I brought were some snacks they set up for the adults and an Elmo cake because I had already ordered it before we decided on NY Kids Club.  However, we decided to take them up on the dessert option as well and had a few dozen sesame street cupcakes made which came out great.  They even personalized them with Eden's name on some of them.   For the Elmo cake, I worked with Belly Joy Bakery  upon a recommendation from another mom.   Anastasija is such a talented artist and baker.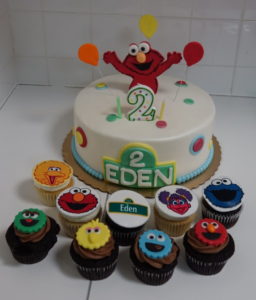 I sent her a few pictures of what I was thinking and she came up with a great creation.  She also delivers, which made it so easy.  My daughter absolutely loved the cake!  She also made some chocolate vegan cupcakes, which were delicious and very much appreciated by some of Eden's friends who have lactose allergies or sensitivities.  She  uses all organic ingredients in her baking.  I think I saw this as a good excuse to have my fair share of cupcakes and cake, but then remembered organic does not necessarily mean calorie and sugar free.  But part of me still felt a little less guilty indulging!
I chose a circus theme for the party, one of New York Kids Club's newest offerings.  It was a lot of fun for the kids.  They do parties for 1 – 12 year olds, but offer a variety of options catered to each age group.  Even once we were there, they customized things like the music on the spot.  My daughter (and probably most of her friends) happens to love "Baby Shark," so they played that a few times!  The ringleaders were with the children the entire time guiding them across the balance beam or spotting them as they jumped on the trampoline.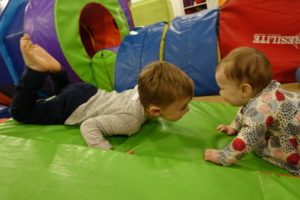 They played with bubbles and led songs with the parachute.  We had kids there from a few months to 10 years old and everyone had a great time!  Their team really has it down to a science and knows how to throw a tightly run, engaging and fun birthday party.
In addition to birthday parties, New York Kids Club also has a terrific preschool program, enrichment classes, camps, and playtime for your little ones beginning when they are just a few months old.  For more information, you can go to NY Kids Club or check out their You Tube channel.