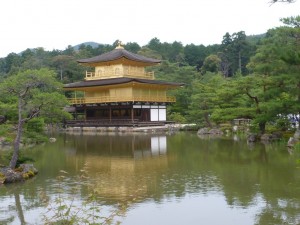 While Tokyo is an awesome city with so many distinct sections, try to allow yourself to get out of the city and head to places such as Kyoto and Nara.  I am so glad I extended my trip to include these areas which are just 2.5 hours on the bullet train from Tokyo.  If I had  more time, I would have gone to Hiroshima and it's adjacent island where you can find a shrine in the water, Hakone, known for it's mineral onsets and beautiful views of Mt. Fuji or to Mt. Fuji if in the months of July and August when people begging climbing.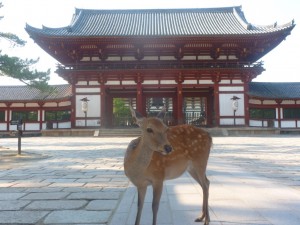 Make sure you do your research when it comes to train passes and accommodations, because if you know at least four days in advance of heading to Kyoto, you can get discounts online that will cut your train pass by almost one hundred dollars and you'll find packages that include hotels and tours.  Because i made a last minute decision to stay, I unfortunately had to pay full price for my roundtrip ticket, which was 270 yen (close to $300).  Another thing I wish I knew is that if I had purchased the Japan Railways pass for just 15 dollars more, I could ride anywhere the JR trains go (and that's pretty much everywhere) for one week.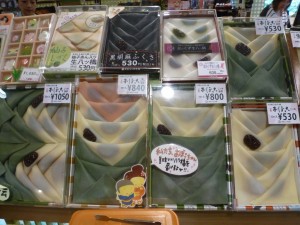 This would've included my trip to Nara, Nagano, and other destinations as well as the Narita Express back to the airport (this will usually cost 3000 yen).  Since I did not take advantage of the Japan Rail Pass, I decided to take the rapid train service to Narita, which took a half an hour longer than the Nartia express but it is the local train and only costs 1280 yen.  You won't have the option of reserving a seat either.  Other transportation trips to keep in mind is that you can buy what is called a pasmo card and refill it as much as you'd like and when you return it at the end, you get your 500 yen deposit back.  You can also purchase day passes for 710 yen in Tokyo and take unlimited trains and in Kyoto, you can get a day pass for the bus for just 500 yen (individual rides cost 220 yen) and in Tokyo, they calculate your trip amount depending on how far you go.  It can get extremely confusing trying to figure out how much you will need to pay, especially with transfers, so I definitely recommend just getting a pasmo card and refilling it as needed.  You can also elect an option in which you can put in your credit card info and it will automatically refill when needed.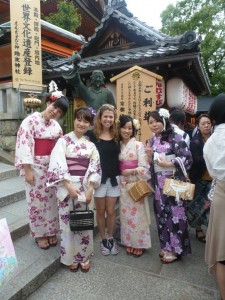 Since my trip to Kyoto was a last minute decision, I needed to find a place to stay quickly.  I got online and started emailing a few places to see who had availability.  The Nishiyama Ryokan got back to me immediately with a great rate for their Traditional Japanese Inn.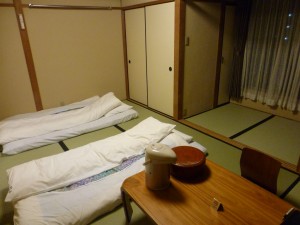 I was comforted by the fact that they spoke English and the place looked quite nice on the websiite.  I was looking for a traditional Japanese Inn to experience, which also means you sleep on mattresses (futons) placed on the tatami mats on the floor.  The ryokan also includes a public onsen and an optional traditional breakfast and dinner.   In the mornings, there is always green tea in the lobby and a very friendly woman offering you matcha tea and the option to try making it yourself  as you would in the traditional tea ceremony.  While it is not a standard luxury western property, it feels very homey.  There is free wifi in the lobby with a few laptops for you to use in their dining area if you don't have your own.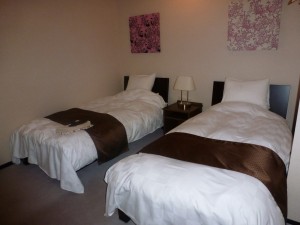 I was going to check out after one night because while I felt safe in the centrally located hotel, my back didn't like sleeping on the floor.  However, the manager at the front desk informed me that they have rooms with beds in them as well, so I opted to stay and again, while it was not a standard hotel, the room was spacious with two beds and there was an adjacent room with a table and legless chairs for enjoying a meal together.  It was a very comfortable place to stay, so I ended up calling it home for a total of four nights.  While it is situated on a quiet side street, it is very close the main street with all the shops, restaurants and arcades, so you have the best of both worlds.  A you're walking home, you feel a sense of tranquility as those on their bikes wiz past you.
I also have to point out that in addition to the hundreds of temples and shrines located in Kyoto, as well as the Geisha district of Gion with its restaurants and bars, the people of Kyoto are extremely helpful.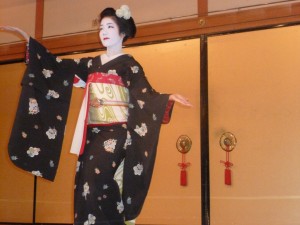 While the hotel is easy to find once you get acquainted with the area, I was lost at first when getting off the bus and one guy heard me asking two women for directions, pulled over on his bike, called the hotel for me and then walked me there.  That same night, I was trying to figure out how to get to Gion and upon asking a guy in the local 7-11, he walked with me 10 blocks and when I said I would take a taxi from there, he pointed for me to get on the back of his bike.  Of course I was a bit nervous, but I did it anyway and he drove me all the way to Gion and then said goodnight!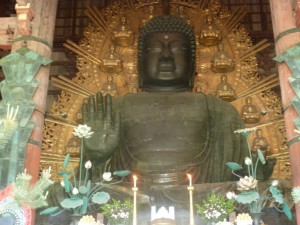 Kyoto is a fairly easy city to get around, once you have a bus map.  Be sure to check out the gold temple, Kinkakuji, the Arashiyama  district, and a show in Gion.  When people were telling me not rush and try to do in Kyoto in a day, they were absolutely right.  While there are day trips from Tokyo, definitely try and stay a few days.   Also leave yourself a half of a day to take a train to Nara, about 40 minutes from Kyoto.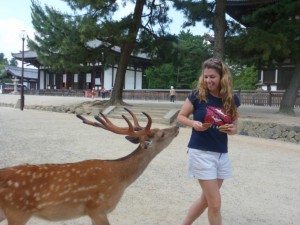 Here you will see tons of deer just hanging out in the park on the way to seeing the Big Buddha at the Todai-ji temple.   You can buy deer crackers and get some great pictures and video feeding the deer. Watch out because some can be aggressive if they are hungry, but you'll find others just sitting in front of souvenir stores and ice-cream shops!  Be sure to try the green matcha ice-cream missed with brown rice on the street filled with shops on the way to the park.  You will also be treated to alike of turtles on your way to see the deer.  Nara is a beautiful escape from the busy cities of Tokyo and Kyoto and should definitely be a place to visit while in Kyoto.