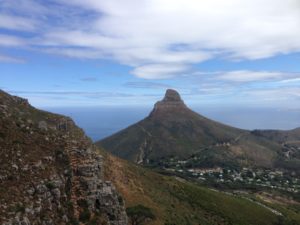 Africa is a huge continent – it covers the same surface as thirteen countries including the United States, China and India and the whole of Eastern Europe. With just two weeks for a honeymoon, our itinerary just scratched the surface, but it incorporated the ocean, mountains, luxury safari lodges and gorgeous resorts around the country and in the Seychelles. The itinerary was quite ambitious, as one can easily spend two weeks just in Cape Town or are on a safari, but we wanted a taste of it all, including the total relaxation of a beach destination. With the Seychelles under a five hour flight from Johannesburg, it made for the perfect addition to our South African adventure.
Cape Town, South Africa is a spectacularly scenic destination of mountains and ocean filled with fresh cuisine and the extensive picturesque wine regions of Stellenbosch and Franschhoek about an hour from the city center. There is so much to see and do that one can spend a few days or up to a couple of weeks exploring the regions surrounding the city. With so many options and the fact that the driving is done on the opposite side of the road, we decided to hire Kabura Travel, a tour company specializing in tours in and around the city. Kabura was started by a couple, Remondy and Allain Kabura. They offer both group and personalized tours and guests will travel in luxury Mercedes-Benz vehicles. They offer tours of the Cape Peninsula, the Winelands, Table Mountain, as well as historical city tours, safaris, shark cage diving, whale watching in Hermanus, the Cape Agulhas (the southernmost point of Africa), the Garden Route.  They also offer tailor-made tours.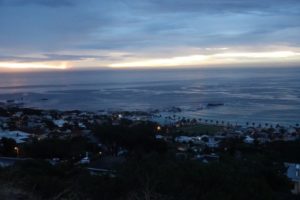 With three days to tour, we covered a lot of ground with their experienced and knowledgeable guides. Day one consisted of a visit to seal island, a fun ferry ride to see the seals in their natural habitat, a stroll through the Kirstenbosch Botanical Gardens, a stop at Signal Hill to watch the beautiful sunset, plus a bonus double rainbow, and lunch at a terrific local African spot in town called Marco's. We tried an oxtail curry, a meat plate consisting of ostrich, kudu and springbok. On day two, we took a cable car to the top of Table Mountain for fabulous views of Cape Town and took the peninsula tour around the Cape of Good Hope and to the Cape Point lighthouse with breathtaking views of the ocean and mountains. For the third day, we bargained for some souvenirs to take home at Greenmarket Square in the city and then drove out to the gorgeous wine regions of Stellenbosch and Franschhoek.   One can spend an entire day or a few sampling the various South African wines of the region.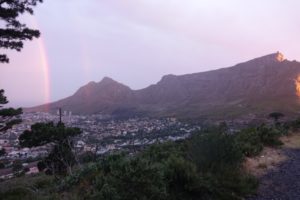 Camps Bay is a great area to stay in while exploring Cape Town. It's a gorgeous region overlooking the beach and just fifteen minutes from city central and easily accessible to all attractions. We split our time between the Twelve Apostles and the boutique hotel, Atlanticview Cape Town. Twelve Apostles offers an extensive hot and cold breakfast buffet including raw oysters one can enjoy overlooking the ocean. Also on property is a cinema, two restaurants, a bar and wonderful spa consisting of a full line of treatments as well as a dead sea pool, which allows you to float to relaxation, a hot tub and plunge pool, all included with a treatment. It is the perfect spot for a singles rejuvenation or a romantic couples experience. Twelve Apostles is part of the Red Carnation group of hotels which pride themselves on luxury and giving back. They are part of The Travel Cooperation and the Tread Right Foundation, a not-for-profit, working to ensure the environment and communities we visit remain vibrant for generations to come. If you have additional time to spend in the area, Bushmanns Kloof is a five star wildness and wellness retreat and just a couple of hours from Cape Town, and the Oyster Box is a gorgeous property in Durban.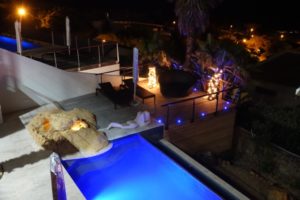 For a more personalized experience, the Atlanticview Cape Town Boutique Hotel is second to none. With their sunset view duplex suites including a pool outside the room overlooking the water and their attention to detail in both the decor and their service, they will make your trip a memorable one. Owned by Greg Boki and Ranier Pires, they have thought of everything to make their guests feel at home.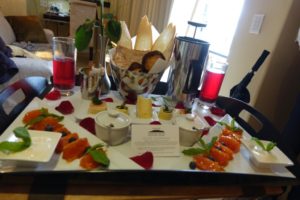 Many of the staff's management are also registered tour guides with a fleet of range rovers and Mercedes – Benz and can put together itineraries based on your interests. Greg has also compiled a list of his favorite restaurants and wineries in the region. We took his recommendation and headed to Codfather in Camps Bay for dinner for fresh seafood and sushi. Their waitstaff take you to the counter to explain the various fishes. You pick a combination of whatever you'd like. There is also a rotating sushi counter and one can pick any number of sushi rolls and salads.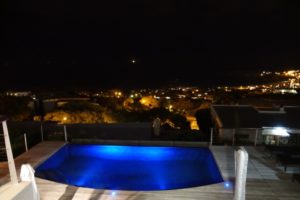 My husband and I ordered a combination of two king clip pieces of fish (the local fish in Cape Town), a piece of tuna, and two langoustines, three pieces of sushi, edamame and a tuna salad all for just $60 US dollars. Now is a great time to travel to South Africa because the exchange rate is in our favor (14 RND = 1 US dollar). The staff at Atlanticview Cape Town Boutique Hotel will prepare your cold and hot breakfast for you to enjoy in your room, giving you the opportunity to sit and relax in your own kitchen equipped with a refrigerator, microwave, and toaster, or on your deck besides your pool overlooking the ocean. Each evening, Atlanticview Cape Town Boutique Hotel offers complimentary snacks and appetizers and drinks in their quaint bar filled with couches and tables. The owners and staff care very much about your experience both at the hotel and in Cape Town, and will work hard to make sure it is the best one possible.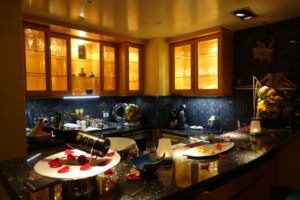 After three and a half wonderful days in Cape Town, we headed for the Seychelles on South African Airways from Cape Town to Johannesburg and Air Seychelles from Johannesburg to Mahe Island. You can read about the Seychelles part of our trip in the next post.