Before I left for my trip to Fiji, I had read about the famous Shark Dive and I knew I had to do that at some point in my trip.  However, when I got to the airport, I saw the brochures for Skydive Fiji.  Skydiving has been on my radar for awhile but honestly I've been petrified.  However, when I expressed interest, the appointment was booked for my last day and I figured now I had no choice.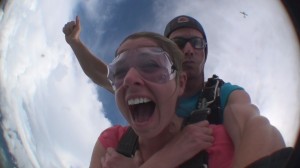 I had also posted to facebook asking people who had done it before me to encourage me and I was surprised at how many people had done it before, so I knew I had to jump and what better place than in beautiful Fiji.
Let's start with the Shark Diving.  I was picked up at Uprising Beach Resort by Beqa Adventure Divers, the first operation in Fiji to do the shark diving.  We were suited up, and taken out for two dives.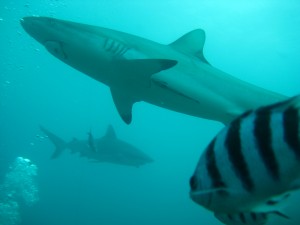 On the first dive, we first went down to 100 feet and saw some bull sharks and then we followed the divemaster up to a more shallow area and were surrounded by white tip and black tip reef sharks.  It was an unbelievable show.  I had to duck as they swam right over our heads.  They looked as though they were coming towards us and then wanted nothing to do with us and kept going.  The divemasters had plenty of food for the sharks so the big fish showed up  too.  It was quite spectacular and I recommend it to anyone who is a certified diver.   I know a lot of people are fearful of diving with sharks, but I was more hesitant to go skydiving and Ziplining!   I figured these guys have been going down with the sharks for ten years…they wouldn't take us down if any of the divers had been bait before!
ZipFiji is the of eight thrilling Ziplines, some over 200 meters long. I had been Ziplining in Costa Rica years ago and loved it, but for hadn't done it since then and for some reason has been a little afraid.  I think I've developed a fear of falling over the years.  However, knowing that it is a highlight in Fiji, I went for it and while it was pouring rain, it was still a fun time flying from platform to platform 100 feet above the forest floor at speeds of up to 60 km/hr!  Daniel, who builds these Ziplines around the world, showed me their plans for a new Zipline and it looks even big and higher than this one!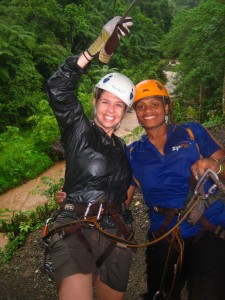 The staff who goes with you is great.  It is a double line Zipline, so if something were to happen to one line, the other one will hold you up and they are thorough in hooking you up and keeping you safe. They will take your camera and snap photos and video of you, but will also be there to catch you if you don't break in time, so don't worry about flying into the trees!
On my last day, I awoke at the Uprising Beach Resort and their transfer service drove me three hours to Nadi, where I was to fly out later that day.  But before my flight, I had one other flight to take…one in a sesna plane with Brent, the man I would be strapped to for the next 15 or so minutes and we made our way up to 14,000 feet in the sky and then jumped out of a perfectly functioning plane.  I was nervous and more so as we kept climbing higher in the sky, but Brent had this confidence about him that made me feel like nothing would happen to me.  I did ask him and when he said I wasn't going anywhere without him, I knew I just had to take a deep breath and focus on enjoying this once in a lifetime experience. (Although it may not be just a once in my life experience after this!)  We reached our max height of 14,000 feet (they do give you a choice of different heights, but if you are going to do it, you may else well go all the way!) and I was securely strapped to Brent.  I'm glad everything after we got up there happened pretty fast because when he opened the door to the plane and the wind was soaring in our faces, I freaked out…what am I doing? 
I can't believe I'm about to jump out of this plane, but I did get my legs to hang out of the door (probably the toughest part) and as soon as I my head was back on his shoulders and arms crossed, he said here we go, and there we went freefalling  at a crazy fast speed through the sky!  All I could do was scream from excitement and had an exhilarating smile on my face the whole time.  After freefalling for about a minute, he pulled the parachute and we floated through the sky for around five minutes.  He took us for a whirl around, spinning in the sky and then showed me how to control the direction of the parachute.   I couldn't have asked for more spectacular scenery.  We were flying over the ocean and I could see the various islands of Fiji.  The greens and dark blue spots of coral were breathtaking.  We did a beach landing on Denarau Island.  It's so cool landing on the sand!  If you are heading to Fiji, you must try Skydive Fiji.  If you have never been, your first experience will be amazing and if you've been skydiving before, you must add Fiji to your list because seeing the islands from the sky is a perspective you must have!  Be sure to get the DVDs and pictures!  You'll want to relive your experience over and over again! Here is the link to the video   http://www.youtube.com/watch?v=9ABSckCJkZY.