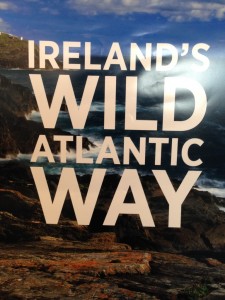 There are many regions one can visit on a trip to Ireland and each has its own unique flavor, whether a big city or small coastal town along the Wild Atlantic Way.   While many will fly into Dublin, we flew into Shannon, just an easy 5.5 hour flight from JFK on Aer Lingus. We began our journey on the gorgeous Wild Atlantic Way, a fairly recent term given to the Southwest coastal region of Ireland, which consists of the dazzling coastline, quaint towns and villages with locally owned shops and pubs, small hotels, and cozy Bed and Breakfasts for all budgets.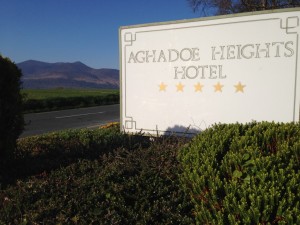 In just 90 minutes we were in the middle of the gorgeous Killarney National Park at the Aghadoe Heights Hotel and Spa. One glance outside the window and I knew we were going to have an amazing couple of days in Killarney, The Ring of Kerry, and Dingle.   While we only had two days in the area, if you can afford more, I would take your time to explore this gorgeous region. If you are on a time constraint, or even if you're not, I highly recommend calling Con Moriority of Hidden Ireland Tours, as he will zip you around the area from morning until sunset showing you places you probably wouldn't have known existed if trying to explore on your own.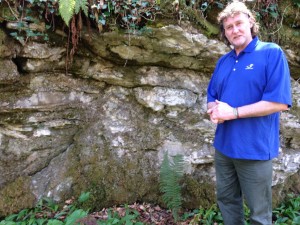 In addition, if you are not used to driving on the other side of really narrow roads that only fit one car at a time, you will definitely want to save yourself time and stress by hiring a guide and driver to do that work for you. Another benefit of hiring a private guide is that you don't have to get caught up in the traffic of tour buses, as the buses are only allowed to drive in one direction around the peninsula, but if you're in a car, you can move along a lot faster, which means you can experience a lot more.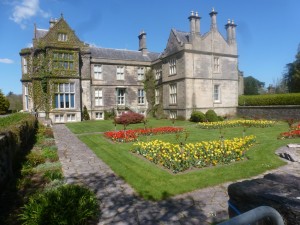 Con was chock full of information that one could never find online. His enthusiasm for the region where he and his family grew up is contagious and inspiring.
Aghadoe Heights Hotel and Spa is a beautiful five star property with scenic beauty from every vantage point in the hotel, including the relaxation area of the spa, the fitness center, pool and dining room. It is in the middle of Killarney National Park, one of the most iconic and spectacular pieces of land in Ireland, and in close proximity to such attractions as the Mucross House and Gardens, Tarc Waterfall and Ross Castle. It is also an ideal spot for a destination wedding. Their penthouse suite is more than just a room. It includes your own private kitchen, self -service bar, office center and private wrap around patio.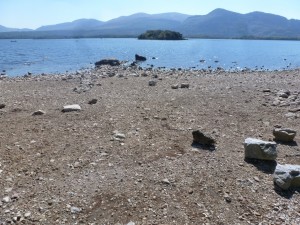 The entire coastline of the Ring of Kerry and Dingle Peninsula afford amazing views of lakes, mountains and sunsets. Killarney and Dingle are great little towns, but unfortunately we were in Dingle on Sunday when most of the shops are closed. On other days you can check out the shop and workshop of jeweler, Brian de Staic, where you can get your name written in Ogham, the language from 2000 years ago still used today. Siopa Ceoil music store is a great stop for both intimate music shows and unique instruments and history.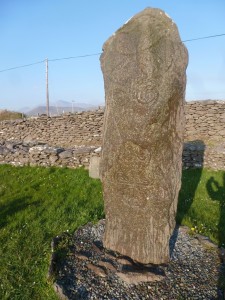 The peninsula is forty miles long and five miles wide and is home to over 3,500 archeological sites, including the standing stone from the bronze age in 1000 BC.   Slea Head Drive is on the western most part of the peninsula and is home to Coumeenole Beach made famous in the movie "Ryan's Daughter" with Robert Malcolm and Sarah Miles.
You can begin your drive on the Ring of Kerry from the Killarney National Park.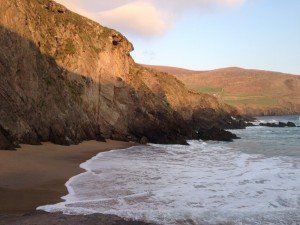 The Ring of Kerry is a 110 mile touring route separated by the Atlantic Bay and Kenmare. Around the ring, you can drive through the Black Valley and over the gap of Dunloe, one of the most dramatic mountain passes in Ireland. It divides the mountains of Killarney National Park and Purple Moutain in the east and McGillycuddy's Reeks in the west. The Skellig Mountains can be seen from the coastline, or if you have additional time, they are accessible by boat. The 800 steps to the top were cut out by monks 1500 years ago. In the evening, be sure to hike over Bolus Head for the most amazing sunset you will see in Ireland.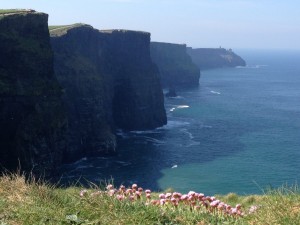 After spending two full days along the Ring of Kerry and Dingle, I didn't think it would be possible to see anything more beautiful. But I was in for a surprise as we made our way to County Clare and the Cliffs of Moher. I had read about them when I used to report for Travelzoo.com, but even the best of descriptions on paper can't do them justice. They are the most visited natural attraction in Ireland with over a million visitors a year. At the highest point, they reach 702 feet high and five feet out over the Atlantic. We met Pet Sweeney, who was one of the key farmers, whose family has lived on the land for five generations, and was instrumental in donating some of his land to help build the cliff walk that now allows tourists to walk on the Cliffs, as opposed to just driving on a tour bus or taking a cruise beneath them.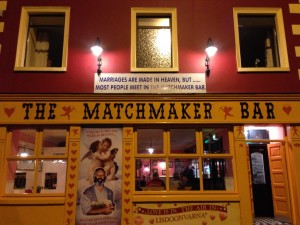 He led us on a three hour walking tour back into Doolin and we were richly rewarded with lots of water (and guinness!) and a delicious lunch at Gus O'Connor's Pub.   Doolin is a great spot to visit, as it is centrally located to so much, yet has that small town feeling. The Seaview House Bed and Breakfast sits on a cliff and offers spectacular views of the Cliffs of Moher while the Doolin Hotel is a standard hotel, but small enough so it still feels cozy. From here, you can visit Doolin Cave, which is home to the largest 24 foot free hanging-stalactite and the Burren Smokehouse, and see for yourself where the very popular smoked fish originates. In New York, you can find it sold in Dean and Deluca.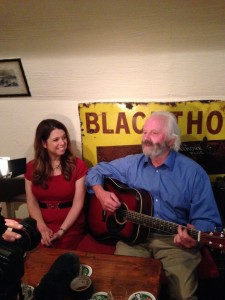 Just about a ten minute drive from Doolin is the little town of Lisdoonvarna, but this little town turns into the hub for the largest matchmaking festival in all of Europe in the fall. But what if you're single and can't make it to the matchmaking festival? There's a good chance you'll still have the opportunity to meet with the only traditional matchmaker left in Ireland, Willy Daly at his bar called Dalys in Ennistimon. Even if you're not looking to be matched, he is quite a character and you can bet you'll be serenaded by him and his friends if you pay him a visit.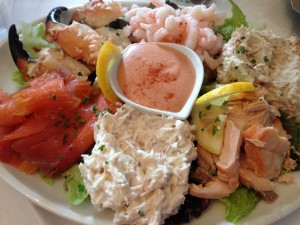 From Doolin, take a ferry to the Aran Islands in Galway Bay. We took the one hour and forty five minute ride to the largest of the islands, Inishmor, which is home to Dun Aengus Fort, perched on the edge of a 300 foot cliff. Once on the island, you can get around by horse and carriage (jaunting cars as they call them), a guided van ride, or by bicycle. If you'd like to see most of the island in a few hours time, you may want to go for the van. Otherwise a leisurely bike ride is a great way to spend the day.
Named one of the best places to holiday in Ireland by the Irish Times in 2013 and the winner of sustainable travel awards, The Loop Head Peninsula is a great spot for those who love watersports. It is on the west coast of County Clare and in the center of the Wild Atlantic Way. Amazing views can be seen from the lighthouse in Kilbaha. After you have taken the tour of the lighthouse, head into the quaint town for a cup of tea and some local souvenirs handmade by artists in the area, with a visit to Kilbaha Gallery and Crafts.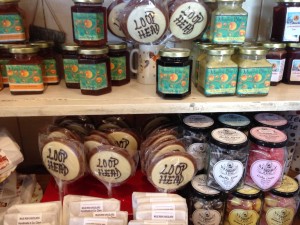 From there, take a car ferry into Limerick. In Limerick, you must pay a visit to the traditional milk market, which has been in existence for over 100 years. There you will find people selling everything from traditional Irish food, produce, and jams to creative vegan treats, as well as local products such as jewelry and clothing. It is a fun atmosphere and you'll want to arrive hungry! The Limerick Craft Hub is another great spot a mix of for local artistry, showcasing over 40 different artist under one roof.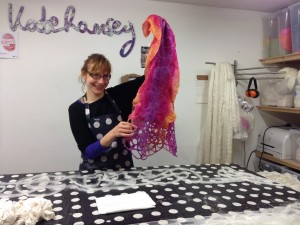 Those who visit also have an opportunity to learn from craftsman on site. Kate Ramsey makes beautiful scarfs and it's very interesting to see what goes into making her  beautiful felt and silk creations. I made a shamrock charm with the silversmith while sipping tea and enjoying local snacks.   They sell everything from handmade dog lip balm to gorgeous ceramics.
Of course no trip to Ireland is complete without a visit to Dublin for at least a day.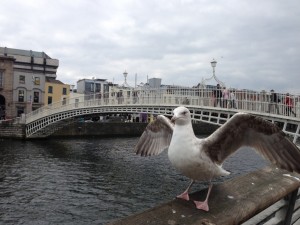 However, I recommend two…one for sightseeing and one for shopping and just taking some time to relax in one of the beautiful green spaces such as St. Stephen's Green, Merrion Square or the courtyard of St. Patrick's Cathedral.   At night, duck into one of the many pubs and listen to some good Irish music. While the Temple Bar area is well known, you may not hear just Irish music and the bars tend to get really crowded, or at least they were when I was there on a Saturday night. On Sundays, the shops don't open until 11 or noon, but there is a certain peacefulness and charming feel of walking the city before the streets get packed.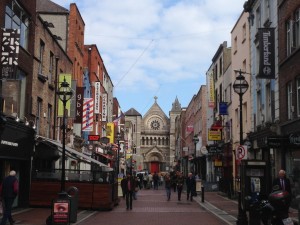 We stayed at the Morrison Hotel, which is centrally located on the north side of the city and right over the bridge from the south side where you'll find many of the great sites, parks and pubs. It is part of Hilton's Doubletree brand and a comfortable, hip place to stay. If you'd like to stay on the outskirts of city center, Clontarf Castle is an option and there is a bus five minutes from the hotel that will take you into the city every ten minutes in just about twenty minutes.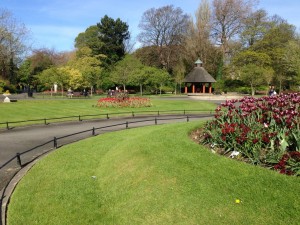 If you just have a day or two in Dublin, I would recommend staying in the city, as it's much easier to get around and go back and forth if you want to take a break.
As you'll see after making your own trip to Ireland, the country and particularly the Wild Atlantic Way is filled with spectacular beauty and people rich in character. Whether you're single, dating or have been in love for many years, I challenge you not to fall in love all over again upon laying your eyes on Ireland.